Who We Are?
A Unique Branch of Viet Vision Travel based on real experiences
Go Bhutan Tours (https://www.gobhutantours.com/) is a branch of Viet Vision Travel; the corporate was established in 2006 and since then we've got presently become one amongst the leading tour operators in Vietnam, Lao, Cambodia, Nepal, and Myanmar. In 2016, we had a tendency to engineered the new website https://www.gobhutantours.com/ within the purpose of providing Bhutan Tours & Vacation Packages services combining your value vacation to have one more option to travel to Asian countries.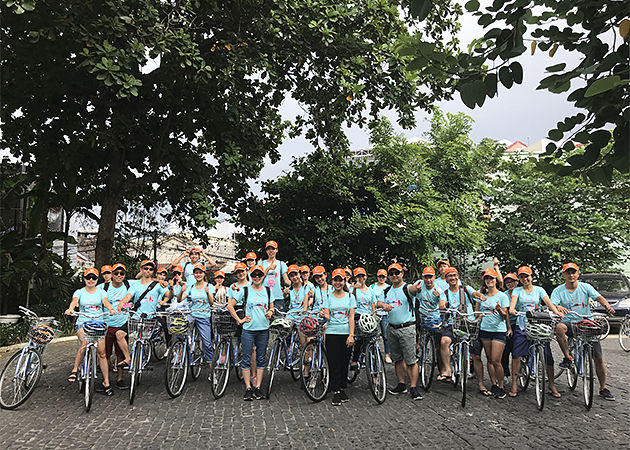 Who are Behind Go Bhutan Tours?
We are a team of people who have a huge passion on traveling, venturing, and we always stay hungry experiencing and exploring something new and unique to help you, our clients, have a dream of traveling to Bhutan come true. Despite the fact that we are not authentic Bhutanese, we are still totally confident to say that you will absolutely have the best and the most memorable Bhutan vacation together with us. We promise!
What We Can Do?
Safety
As a professional travel agency in Bhutan & Asia, we always ensure the safety of any tour group from small to big. Our Safety Management covers the following elements of your trip:
Safety First: We consider safety is our first priority, so on any trip, you will be well caring and all of our tours will avoid any risk that may arise during the trip.
Hotels or resorts: All of the accommodation must be well chosen and arrange (central location, services, facilities, etc), we make sure that all the booking is the process exactly the same Confirmation Voucher
Transport: Good conditions vehicles (air-conditions, clean, tidy…) Experience driver/s and always on times. The driver must be trained on how to serve tourists
Tour guide/s: All of our tours guides are well trained and have tour guide licenses and based on the performance. We always arrange the most experienced tour guides for our clients.
Travel Insurance: We do not put the Travel Insurance in our tour packages to Asia. Insurance is compulsory when you travel with us.
Pre-tour inspection visits: Since we build any tour Itineraries, our Bhutan tour operator, as well as the travel advisor, must inspect all of the sites, restaurants, hotels… to make sure we offer the best available services to customers. In most of the cases, our tour operators are aware of all unexpected things that may arise during the trip
Services Confirmation Vouchers: All of the services we provide we always issue the Services Confirmation Vouchers. In that voucher, we have listed clearly all the services bought by clients.
Well-plan: All of our Bhutan tours are designed to strike the balance between touring, relax and fun. We always create some unique experience for you to participate in the local culture and activities. All trips are well-organized to the last details.
Flexibility
In all of our Bhutan tours, vacation packages and excursions or travel services for travelers on offers, you will find a selection of our best selling tours in Bhutan. Those Bhutan tours were experienced by some many of our customers and we also have very good feedback for those too. If you can't find any tours that suit you on our ready-made itineraries, please do not hesitate to contact us for tailor-made tour program, as the holiday-maker experts; we customize and program to meet your unique needs to all parts of Bhutan.
Specialized Knowledge
Our well-trained travel advisors have a lot of experiences, knowledge, efficiency to enable us to provide you with the best possible advice, itinerary, information
Excellent service
Many of our customers have returned to travel with us year after year and from one country to another (we operate tours and travel services in Vietnam, Laos, Cambodia, Myanmar, Thailand, Bhutan, and Nepal) because of our excellent services. We are an entire team who proud of our selves on providing a friendly, personal and professional level of service to ensure that any tour in Bhutan will be operated well and effortless.
Outstanding Value
We have many long-established partnerships which ensure that the prices we offer are highly competitive, without compromising on quality and safety. We are big enough to have power in buying good prices from our services providers, and we pass that to our clients. And we are small enough to offer great personal care.
Why Choose Us?
• Best Tour Plans Designed by Real Insiders: We aim to give you perfect tours and vacation packages, with well-arranged schedules and highlight attractions all your way.
• Expert Guide 10+ Years' Experience: Our guides are versatile assistants that will enhance and enrich your holiday; they have you back while you enjoy our tour.
• Selected Brand Hotels: Our professional quality assurance team test every bed, for we know that a sound sleep really makes lots of difference.
• Luxury Vehicles with Veteran Drivers: The best local drivers are ready to serve you with luxury vehicles, and will attend your every travel wish. Enough individual space is given by 30-40% vacant seats.
• No Shopping Stop: We promise no tourist shops or factory stores to waste your time and money. All we need to do is enjoy a pure tour experience which is worth every coin that you spend.