Soi Yaksa Trek is absolutely another majestic and adrenaline pumping trek in Bhutan. The trek is full-filled with breathtaking vista with some climbs as high as 4700 m. Soi Yaksa Trek does not require any special technical skills and every trek is led by a qualified Bhutanese guide. The level of difficulty is moderate and at times demanding.
Duration: 12 days/ 11 nights
Start/ End: Paro/ Paro
Tour Route: Paro – Haa Valley – Paro – Thangthangkha – Jangothang – Tsho Phu Lakes – Dhumzo Chhu – Thombu Shong – Shana – Paro – Thimphu – Paro
Tour Customizable: Definitely! (Tell us your specific requirements in the inquiry form)
Tour Highlights:
Hike through one of the highest passes Bonte La (4890m)
Overnight at the highest camp (4189m)
Marvel at the spectacular vistas of Mt. Jumolhari (7314m) – Jichu Drake (6989m)
Tour Category:  Bhutan Trekking Tours
Tour Guides: Local Guide (English speaking guide or other languages depends on your requests)
Transportation: Private first-class-air-conditioned vehicles
Accommodation: Listed below or equivalent. Rooms with private bath or shower, hotel taxes, porterage, tips, and service charges.
Brief Itinerary
Day 01: Paro Arrival
Day 02: Paro – Haa Valley | Return to Paro
Day 03: Paro – Thangthangkha
Day 04: Jangothang – Camp Base of Jumolhari Mountain
Day 05: Day Halt in Jangothang
Day 06: Jangothang – Tsho Phu Lakes
Day 07: Tsho Phu Lakes – Dhumzo Chhu
Day 08: Dhumzo Chhu – Thombu Shong
Day 09: Thombu Shong – Shana – Paro Town
Day 10: Paro – Thimphu
Day 11: Thimphu
Day 12: Paro Departure
Full Itinerary
Inclusion & Exclusion
Day 01: Paro Arrival
Welcome to Bhutan! Touching down at the Paro International Airport, our guide will be waiting to meet you and escort you to the hotel in Paro. The rest of the day we will take it easy to acclimatize to the altitude. Relax at leisure and if you want to find some entertainments, feel free to ask your guide.
Day 02: Paro – Haa Valley | Return to Paro
Drive to Haa Valley through Chele La pass (3,988 m). From the pass, you can see Paro valley on one side and then Haa valley on the other. You can also have a picnic at Chele La if you like to.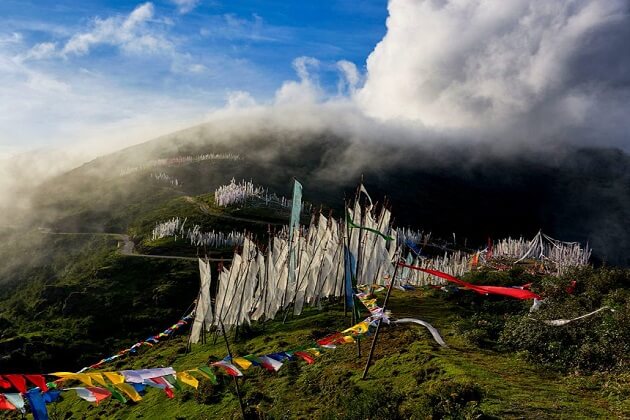 In Haa, some sightseeing and then going to Katsho village and visiting the Katso Lhakhang. The valley of Haa was only opened to Tourist in 2002 and Haa is the least visited valley in Bhutan due to the lack of Tourist infrastructure. Due to this, Haa Valley has always been what they been, with Bhutanese families living their traditional and simple life. There are no tourist standard hotels in Haa valley, so we return to Paro for the night.
Day 03: Paro – Thangthangkha
Today, we get up quite early and drive from the hotel to Shana.
Today's trail follows the river through a densely forested area with a few rural farmhouses. As we climb up, the valley gradually becomes narrower, wilder, steeper and winds up and down along the drainage. We pass a junction en-route, where another path leads over the Tremo La to Tibet. This route was once used by the locals as a trading route to Tibet. We cross several traditional wooden bridges finally arriving Thanthangka. Our camp is in a meadow with a stone shelter. From our campsite for the first time in case of lovely weather, it is our opportunity to marvel at the Mount Jomolhari.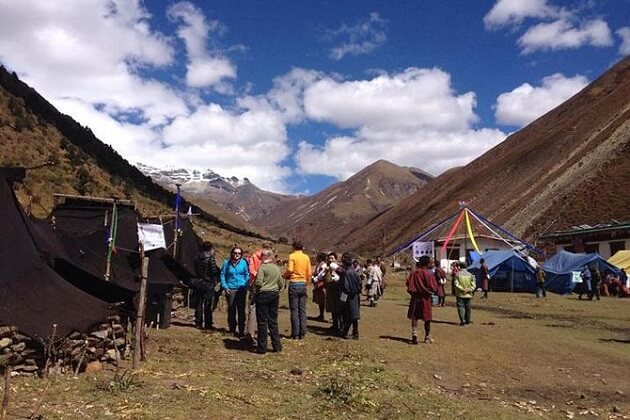 Day 04: Jangothang – Camp Bas of Jumolhari Mountain
Today's path ascends for a while until we reach the army camp. Then, we follow the river above the tree line, getting into beautiful views of the surrounding peaks. Enjoy hot lunch at a yak herder's camp. Take a short walk from here into the valley taking us to our campsite at Jangothang (4,040m). As we reach our campsite, the majestic sceneries of Jhomolhari and Jichu Drake will wildly appear open for us to admire.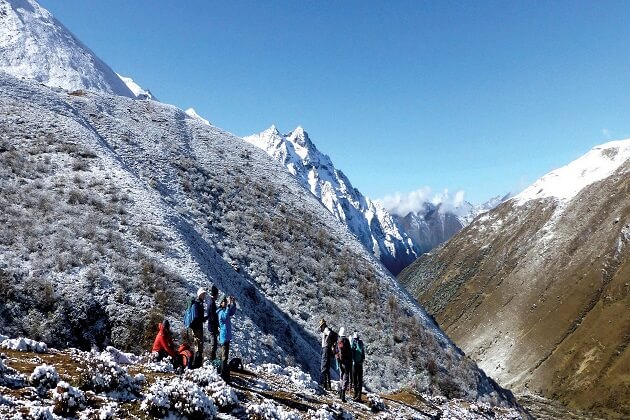 Day 05: Day Halt in Jangothang
Most people will feel the effects of ascending 1800m within 3 days clearly; thus, we will take a rest day at Jangothang. We will also get into a short-day hike to acclimatize ourselves with the height. Keep following the standard rule: We trek high, sleep low. The area is truly rich in livestock, which has always been very precious at these high places. Day halt at Jangothang and indulge in the scenery possible.
Day 06: Jangothang – Tsho Phu Lakes
Leave the camp at Jangothang behind, we follow the trail to the poetic river with two bridges. We cross the first bridge and climb up to the trail that zig-zag up the mountainside. The trekking trail climbs steeply after the bridge and then, ascends roughly 300m in a very short distance. There are literally marvelous sceneries of Mt. Jumolhari (7,315m), Jumolhari 2 (6,942m) and Jitchu Drake. It is our opportunity to witness a flower carpeted meadow with several yak herders' tents indicates the end of the climb. The rest of today's walk will be easy and flat. Our possible campsite tonight is the first lake.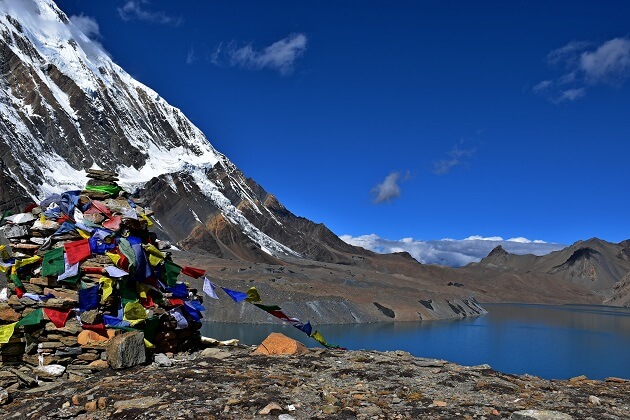 Day 07: Tsho Phu Lakes – Dhumzo Chhu
Today, the highest pass on this trek is crossed; hence, it is important that we get an early start. In the morning, the weather in the mountains tends to be most settled giving us great chances of fantastic views. The highest trek of the pass is Bonte La (4,890m). There are some cairns and prayer flags. Take time to immerse in the vista or put up some prayer flags. Our campsite at Soi Yaksay valley is a stunning site with magnificent rock cliffs, waterfalls, deep side valleys, and snow-capped peaks.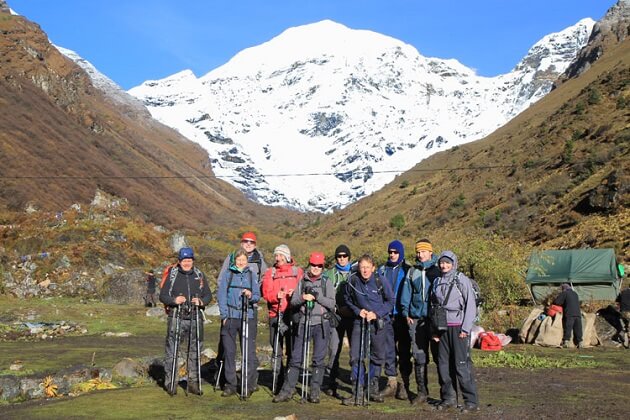 Day 08: Dhumzo Chhu – Thombu Shong
This stage offers a number of beautiful sceneries. You will have gorgeous vistas into the valley where our last camp has been put up and also the glaciated peaks to the South-East. Get into a walking distance which is up to 11km, the difference in altitude of ascent is 700m, the walking time is 4.5 hours.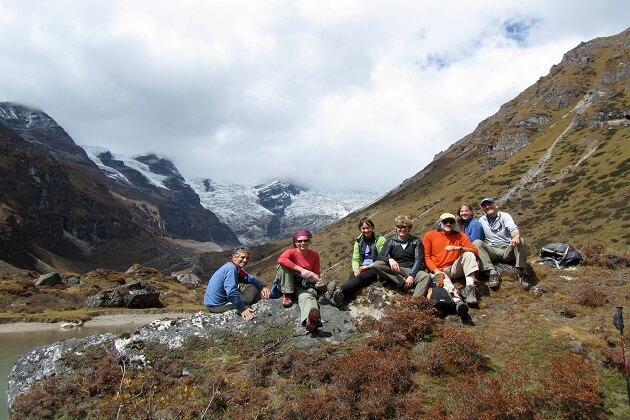 We pass through the village and there is a steep and steady climb taking us an hour. The pass has manifold cairns which are covered with a prayer flag. We climb a bit and you can see some of the impressive mountains like Jumolhari, Jitchu Drake, etc… Take a look back and you will see the pass we crossed yesterday and if we look to the other side, there is definitely our tonight's campsite. Our trail first stays high to the left with several exciting drop-offs, then winds gently downhill to the campsite. Thombu camp is the second-highest camp for this trek.
Day 09: Thombu Shong – Shana – Paro Town
The ascent overcomes a difference in altitude of 180m, the descent 1560m.
Cross the valley through a swampy area to find a clear trail through rhododendron bushes that climb steeply to Thombu la (4270m). The ridge walk from the pass is one of the best parts of the trek: very high above the valleys on a good trail with a beautiful view. Spend an hour reaching a big descent. The trail ends near the military helipad next to the Bhutanese army camp. We drive back to the hotel for the night.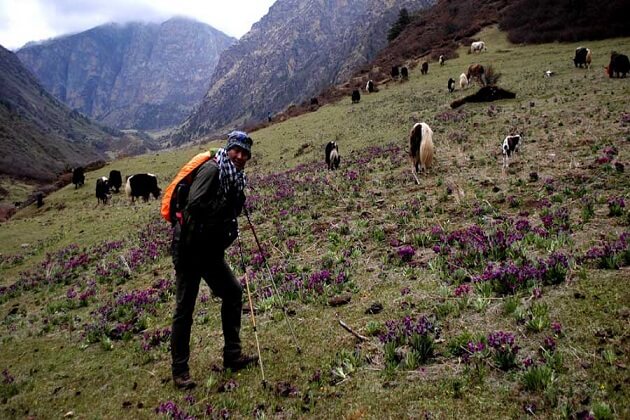 Day 10: Paro – Thimphu
Today, we take a pretty drive from Paro to Thimphu. Upon arrival, discover Thimphu your way as the rest of the day will be yours.
Day 11: Thimphu
This morning, we take an easy walk and with a bit ups and downs followed by a couple of short steeps which then turns into descending a vertical cliff just before we finally reach the last stretch to Dodina. Today's trails descend through lush bamboo forests, following the mule trail high above the river and then reach Dodina where the driver will meet us and escort us to the capital of Bhutan – Thimphu (30 minutes). The capital is made up of just three lines of shops and is the only capital in the world without traffic lights.
Day 12: Paro Departure
Time to say goodbye Bhutan. Enjoy breakfast and relax until getting escorted to the Paro International Airport for a flight back to home. Your Bhutan tour ends. Hope you enjoyed the journey immensely and wish that we could serve you next time in Bhutan.
What Included:
Domestic Airfare
Daily Meals (B – L – D)
Private Transportation
Entry Fee and Road Permits
Mineral Bottle Water
Gov Fee – Royalty – Taxes – Surcharges
Accommodation (3* hotel)
What's Excluded:
Visa Fee ($40)
International Airfare
Meals at 4-5* restaurants
Personal Expense
Travel Insurance
Alcohol Drink
Tips