Bhutan, the unspoiled pocket of the Himalayas, is not just known for its breathtaking beauty but also for its marvelous Buddhist monasteries. Situated far away from the crowded towns along with tourist attractions, these Bhutan monasteries take you on a peaceful journey. From the gorgeous Taktsang Monastery to the spectacular Punakha Dzong Monastery, Bhutan has so much to offer; visiting these monasteries during festivals is altogether with an incredible experience for tourists. So, If you going to enjoy exhilarating Bhutan tours, let take a look at the top 10 most stunning monasteries in Bhutan.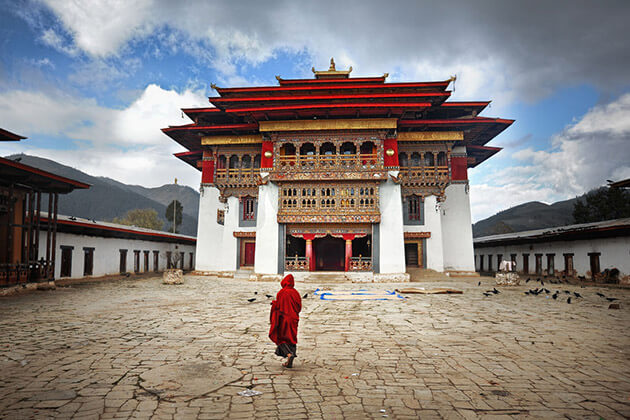 Monasteries in Paro – Bhutan
Taktsang Goemba – Tiger Nest's Monastery
Taktsang Goemba or Tiger Nest's Monastery is one of the most renowned monasteries in Bhutan. The white building with a gold-plated dome, colorful flags, golden prayer wheels, and a cave temple mesmerizes every tourist and devotee. Located at an altitude of 3120 meters in upper Paro valley, this serene abode of guru Rinpoche was demolished in fire & re-constructed in 1998. You can enjoy a trekking trip (about 1.5 – 2 hours) up to the monastery to enjoy the breathtaking views of the surrounding valley or relish sumptuous Bhutanese food at Taktsang café.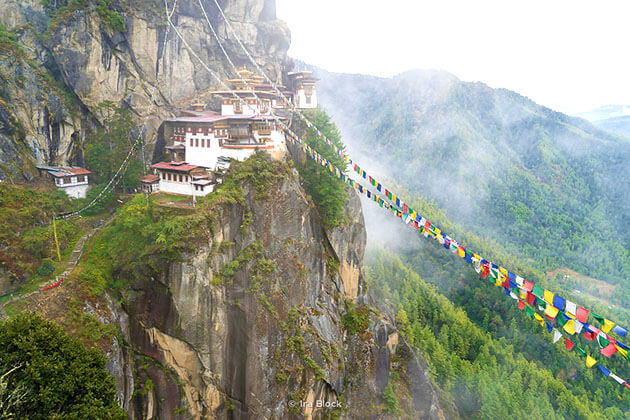 Kyichu Lhakhang
Kyichu Lhakhang Monastery, with lofty sculptures of Guru Rinpoche and Red Kurkulla, the temple of Guru Lhakhang and chorten with ashes of Dilgo Khyentse Rinpoche, is another popular religious structure in Paro after Taktsang. The Bhutanese, especially elderly pilgrims are seen spinning the prayer wheels, encircling the stupa. Most of these monasteries resemble Buddhist monasteries in India.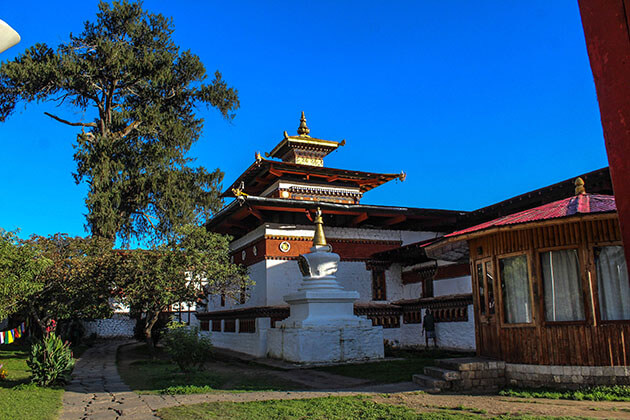 Paro Dzong – Rinpung Dzong
Paro Dzong – Rinpung Dzong Monastery, locally known as 'fortress on a heaped jewel', perched on a hill slope is definitely worth to pay a visit to. Also. this Bhutan Monastery is the administrative headquarters of Paro. The towering walls, wonderful wall paintings, and 14 shrines, as well as chapels, are some fascinating elements here. Just outside this stunning abode, one can also marvel at another fortress called Ta Dzong housing the National Museum of Bhutan.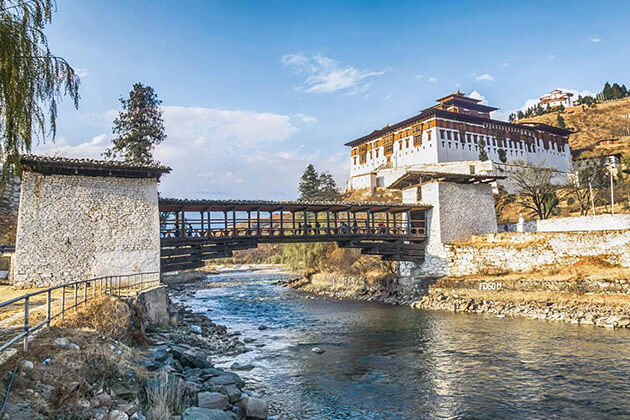 Monasteries in Thimphu – Bhutan
Cheri Monastery
You can reach Cheri Monastery by an hour-long trek up the Dodena Hill. Built-in 1620 by Ngwang Namgyal, this Bhutan monastery is now a chief learning & retreat hub of southern Drukpa descent. The trek up to Cheri Monastery is thrilling through lush green pine along with rhododendron forests. The Cheri Monastery, encircled by bright prayer flags swinging in the air, serene prayer room & a temple with Buddhist paintings not only makes it one of the popular tourist places in Bhutan but also the finest.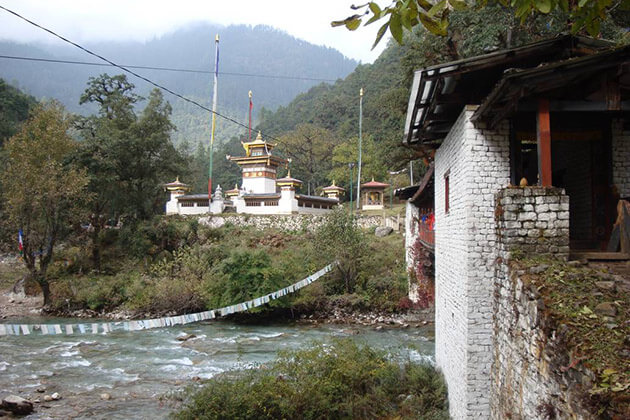 Tango Monastery
Tango Monastery, built on the meditation cave of Ngawang Namgyal, was named after a horse-head shaped rock found inside the cave itself. Built-in the 13th century, it is one of the chief Buddhism educational institutes in Bhutan. Head to this monastery to witness 6 temples namely Trulku Lhakhang as well as Choeku Lhakhang, Guru Lhakhang, Longku Lhakhang, Gonkhang, and Namsey Lhakhang in the same premises. Trulku Lhakhang is the main temple having beautiful gold and copper statue of Buddha. If you plan to traverse to Tango Monastery in August and September; mark the dates of 'Yarney'- the summer retreat festival celebrated with great pomp & grandeur.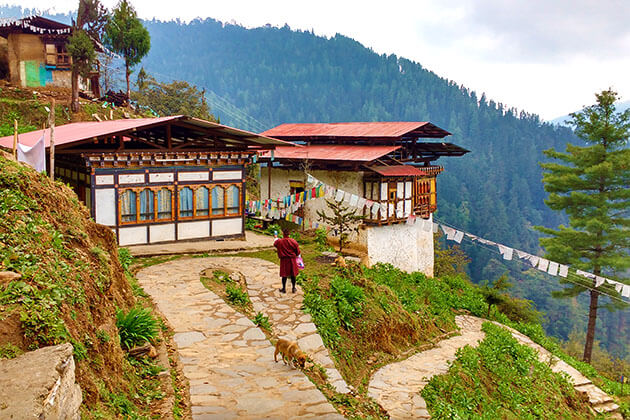 Memorial Chorten
Popularly known as Memorial Stupa and Thimphu Chorten, this sacred abode includes golden spires, bells, assembly halls, paintings, and a renowned photograph of Druk Gyalpo in ceremonial attire. Unlike other Bhutan monasteries, Memorial Chorten doesn't enshrine human residues. The stunning garden surrounding the stupa, the gate with slate carvings, statues & murals appeal to every traveler.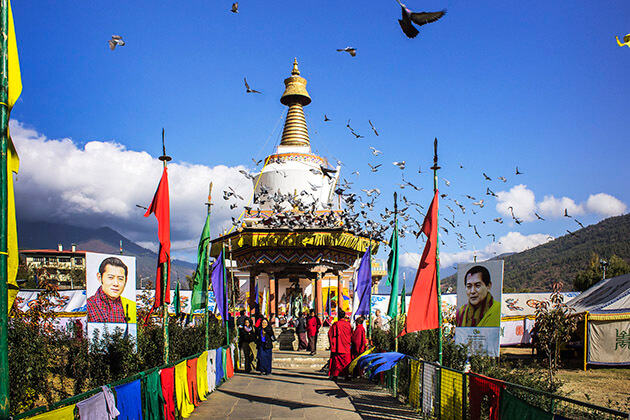 Monasteries in Bumthang – Bhutan
Kurjey Lhakhang
Kurjey Lhakhang is one of the most ancient monasteries in the country. It is believed that Guru Rinpoche left his body print in the monastery's cave temples. Also. this is the resting place of the first three kings of Bhutan. A tall cypress tree is situated beside the main temple assumed to be the walking stick of Guru Rinpoche.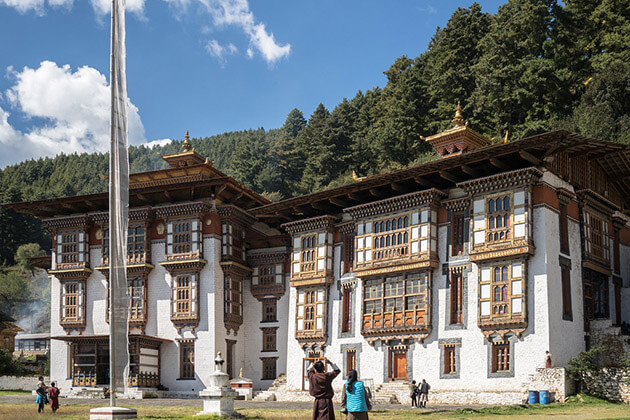 Tamshing Lhakhang
The place of Buddhist sacred mask dances and the Tsechu (festival), Tamshing Lhakhang is another monastery in Bhutan. This monastery is visited by numerous locals and devotees to perform religious ceremonies and prayers. This is one of the few monasteries in Bhutan which preserves the teachings of Pema Lingpa.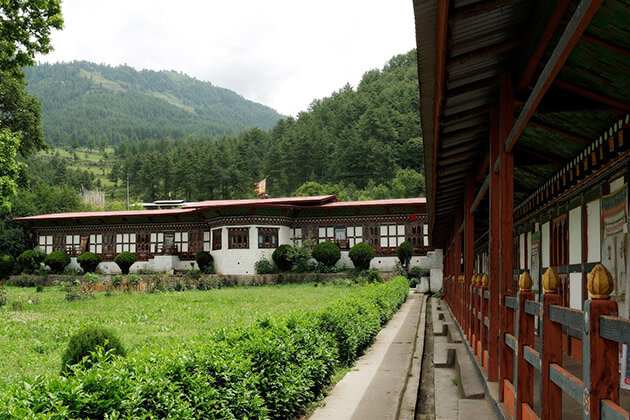 Lhuentse Dzong
Indulge in the overwhelming spirituality of Lhuentse Dzong – this expansive fortress overlooking the picturesque Kirichu River. This Buddhist Bhutan monastery was originally constructed by Kuenga Wangpo, but revamped by Mingyur Tenpa in 1654. The main temple is dedicated to Lord Padmasambhava. Trek for about an hour from the monastery to reach Khoma village – popular for the weaving of Kishu Thara cloth.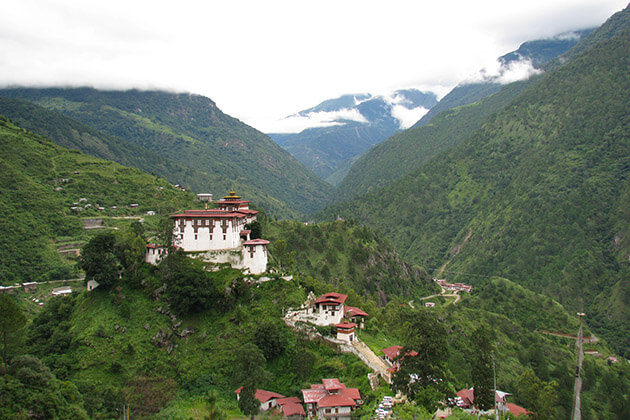 Jambay Lhakhang
One of the 108 temples constructed by Songstan Gampo who is the mighty Tibetan King, Jambay Lhakhang Monastery pulls thousands of visitors during its grand long annual festival of midnight holy naked dances. Located on the borderland of Tibet, it is a vintage Bhutan monastery, comprising of murals, wall paintings, and small temples.