Those who intend to plan a Bhutan tour for the upcoming days or years, at least you should know about the Bhutan public holidays to plan your trip perfectly.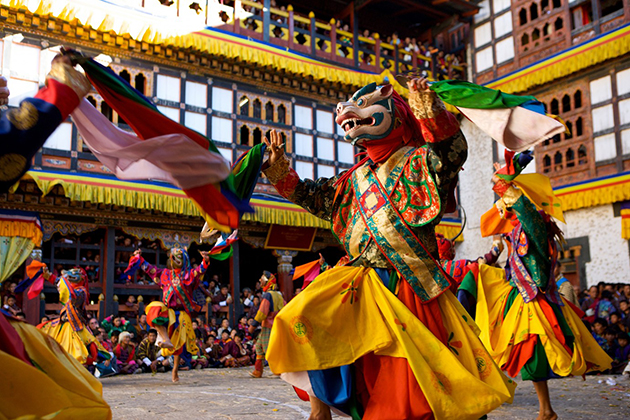 Here is an overview of Bhutan public holidays:
Bhutan Spring Public Holidays
Winter Solstice (2 Jan)
This Bhutanese holiday is celebrated among people of western Bhutan as their New Year. During the Winter Solstice holiday, people play archery, the elder visits religious monuments. Famers, however, do not enjoy the event as their farming work days become longer than ever into spring.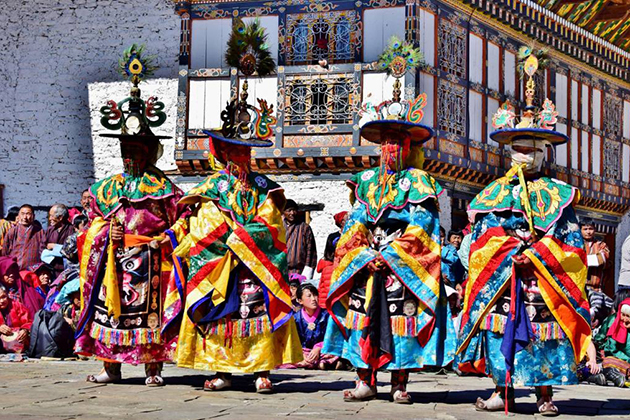 Traditional Day of Offering (17 Jan)
This is an event that is considered a New Year event for people of Eastern Bhutan, however, in general, the main aim of the Traditional Day of Offering is to give thanks to Zhabdrung Ngawang Namgyal (the founder of Bhutan) and to offer food for hungry creatures. Men play archery, dice, darts, cards, and so on during this day, and women sing, dance, and picnic.
Birthday of King Jigme Khesar Namgyel Wangchuck (5 Feb)
This event is celebrated as the birth anniversary of Jigme Khesar Namgyel Wangchuck the 5th.
Losar (New Year) Year of Male Dog (16-17 Feb)
This is the official New Year for all Bhutanese people. It is a little bit different from celebrating the Losar between Bhutanese people and Tibetans. Bhutan people celebrate for 2 days while it will be 15 days in the Tibetan community. The popular greeting is "tashi delek".
Birth Anniversary of Fifth King HM Jigme Khesar Namgyel Wangchuck (21-23 Feb)
This two-day event is held to memorize the second birth anniversary of Fifth King, the eldest son of HM King Jigme Khesar Namgyel Wangchuck (fourth king).
Shabdrung Kuchoe (14 Apr)
This day commemorates the passing of Shabdrung Kuchoe in 1651 at Punakha Dzong. The holiday is a national day of mourning.
Death Anniversary of The Zhabdrung (25 Apr)
This day is celebrated to memorize the contribution for the unification of Bhutan and the system of Dzongs of Saint Zhabdrun Kuchoe.
Bhutan Summer Public Holidays
Birth Anniversary of Third King HM Jigme Khesar Namgyel Wangchuck (2 May)
This day is celebrated as the birth anniversary of Jigme Dorji Wangchuck the 3rd who lead Bhutan to step toward modernization.
Lord Buddha's Parinirvana (29 May)
Memorizing the day when Buddha passed away in Kushinagar, India, for nirvana life.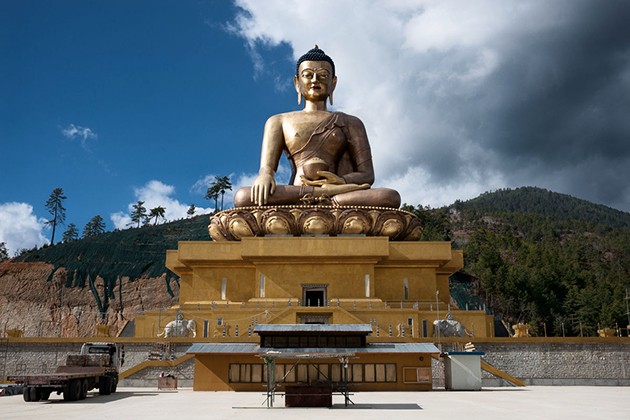 Coronation Anniversary of Fourth King Jigme Singye Wangchuck (2 Jun)
June 2 was the time that HM the King Jigme Singye Wangchuck crowed as the fourth king of Bhutan. Also, it doubles as the Social Forestry Day that school children plant trees around their schools
Birth Anniversary of Guru Rinpohe (23 Jun)
This Bhutanese holiday marks the birth of Guru Rinpoche, the saint introduced Buddhism to Bhutanese people in the 8th century AD. It is commonly known as Swat in Pakistan.
First Sermon of Lord Buddha (16 Jul)
This day is celebrated for the day when Buddha's first preaching to arhats at Sarnath.
Bhutan Fall Public Holidays
Death anniversary of Third King HM Jigme Dorje Wangchuck (5 Aug)
Bhutan people, during this day, memorize the day that HM King Jigme Dorje Wangchuck passed away in 1972.
Thimphu Drubchoe (15 Sep)
This holiday is only celebrated among people in Thimphu city. This Thimphu Tshechu is also the largest one in Bhutan.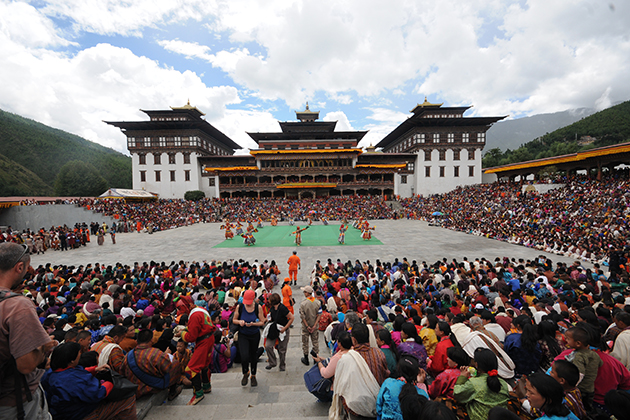 Blessed Rainy Day (23 Sep)
It is not likely a public holiday, however, is rather recently reinstated to official status. The event itself blesses all natural water then people do not bath early in the morning because, in the faith, this action will bring bad luck, bad, and disease to them.
Dashain (19 Oct)
Dashain or Nepali Hindu festival celebrated by Southern Bhutanese. During the Dashain, houses are cleaned, replastered and painted, gifts are exchanged, and families gather.
Descending Day of Lord Buddha (31 Oct)
The national public holiday in Bhutan on the twenty-second day of the ninth month on Buddhist calendar to memorize Buddha's mother (Queen Maya Devi) who passed away when Buddha was seven years old.
Bhutan Winter Public Holidays
Coronation of Fifth King HM Jigme Khesar Wangchuck (1 Nov)
November 1 was a turning point of Bhutan when the HM King Jigme Namgyel Wangchuck officially crowed.
Birth Anniversary of Fourth King Jigme Singye Wangchuck/ Constitution Day (11 Dec)
This day marks the birth anniversary of King Jigme Singye Wangchuck and also known as the Constitution day.
National Day (17 Dec)
This day is held to mark the coronation of Sir Ugyen Wangchuck crowding as the first king of Bhutan.