I know you guys have immensely lot of questions before making up your mind to enjoy a Bhutan vacation. To be honest, traveling to Bhutan is quite complicating because of the country's policy about tourism. However, do not worry too much. Working in Bhutan tourism so many years, I myself understand your concerns and below, I would like to list several FAQs about Bhutan for you. Hope that it is helpful and if you have another concern, let me know.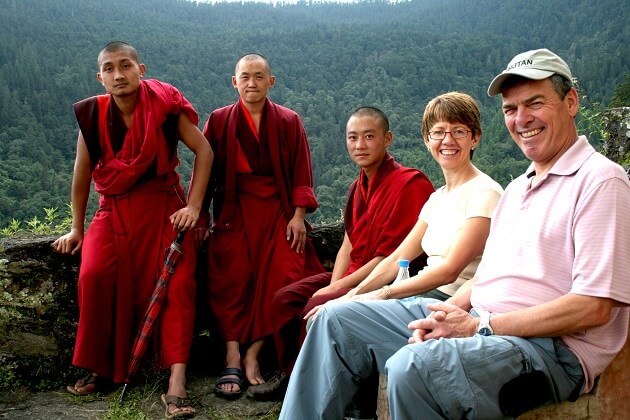 Where is Bhutan?
The kingdom of Bhutan, approximately the size of 47,000 square kilometers (18,147square miles) is idle on the southern slopes of the Eastern Himalayan by China in the north and Indian states of West Bengal and Assam in the south. Bhutan's landscape ranges from subtropical plains in the south to the sub-alpine Himalayan Mountain in the north.
Do I Need to Book a Tour Package via Travel Agency?
As per the policy of the TCB – the Tourism Council of Bhutan, all travelers to Bhutan are required to arrange all tour itineraries through registered tour operators or one of their international partners. Tourists are to be guided by licensed Bhutanese guides.
Do I need to obtain a Visa to Travel to Bhutan?
Yes, absolutely. International tourists visiting Bhutan (except Indian, Maldivian, and Bangladeshis nationals) must obtain a visa clearance. Visas are provided by your licensed Bhutan local tours. While Indian, Maldivian, and Bangladeshi nationals are not required to get a visa; however, must obtain a permit at the port of entry/Exit at immigration offices.
How Much Does the Visa Cost?
$40 (USD)
How do I Get to Bhutan?
There are two options for you to choose from:
Number 1: the road entering to Bhutan is through Phuentsholing, in the south, through Gelephu, in the central region and Samdrup Jongkhar, in the east.
Number 2: take a flight to Paro by either Drukair or Bhutan Airlines which are the two carriers operated in Bhutan at present.  Paro International Airport is the only one that covers the destination like Bangkok, Dhaka, Kathmandu, Delhi, Kolkata, Bagdogra, Guwahati, Bodh Gaya, and Singapore.
When is the Best Time to Visit Bhutan?
Normally, there is no best time to visit Bhutan because Bhutan is stunning all year round and each season has its own beauty. However, Months of March, April, May (spring season) as well as September, October, November (autumn season) are high/Peak season for the tourists. The summer and winter season (June, July, August and December, January, February) is usually a low season for the tourists. The winter months can be cold at night, yet the days are quite warm with bright and the sky is clear and blue. Sometimes, in the summer season, Bhutan receives heavy monsoon rain causing difficulty in traveling.
How Much Does It Cost to Visit Bhutan?
In the peak season (March, April, May & September, October, November) visitors have to pay a minimum daily package rate of USD 250/ person/ night consisting of the onetime visa fees of USD 40 per person. However, the tourists are required to pay USD 200 per person per night in the low season (June, July, August & December, January, February). Of course, this is inclusive of a Royalty payment known as the SDF – the Sustainable Development Fund of $65/ person/ day, accommodation, food, English speaking guide services and land transportation within Bhutan.
What is Bhutan Currency?
Bhutanese currency is known as the Ngultrum, the same value as the Indian currency is known as rupee which is widely accepted in Bhutan. Tourists must make payment in the dollar. The transactions of foreign currency are done in Bhutan National Bank, it's a head office at Thimphu.
Is It True that the Number of Tourists Visiting Bhutan is Limited?
No, there is no limit to the number of tourists entering Bhutan but The Royal Government of Bhutan adheres strongly to the principle "High Value, Low Impact/volume" to guide all the tourism activities in Bhutan and a means of achieving socioeconomic development especially a developing country. Bhutan tourism was founded with a vision of promoting Bhutan as an exclusive travel destination based on GNH values.
Is Bhutan safe to Travel?
Globally known as the happiest country in the world, Bhutan is surely the safest country on earth. Bhutan has been gaining popularity and everyone's neverland. Bhutan is a Buddhist country and greatly believes in karma literally means "action" or "doing" and the consequences it brings.
What is the Food Habit in Bhutan?
If you want to travel to Bhutan, get ready to burn up your tongue. Chilies are the main ingredient and are generally acceptable favor in any dish in Bhutan.  Popular Ema-Datshi, (made with chilies and cheese) is known as the national curry in Bhutan. Western and Indian cuisine can also be found in wide varieties almost everywhere in hotels/restaurants. A common eating pattern is three meals – breakfast, lunch, and dinner/ day.
Do Bhutanese People Speak English?
Yes. Over 90 percent of the Bhutanese population speak English. Even monks can be bilingual. Bhutanese gives equal importance to English as that of Dzongkha which is the official Bhutanese language. English is taught from kindergarten in schools and used as a medium of learning and international language for communication.