Have you ever gotten bored of enjoying a romantic trip with strolling hand-in-hand on the sandy beaches, having candlelit dinners, or relaxing with couple spas? Do you want to experience something new? How about marvel at sunsets over snow-capped peaks, get into lovely woodland strolls, and indulge in breathtaking valley vistas? If you are going to enjoy Bhutan tour packages with your beloved partners, let check out a list of top 10 honeymoon destination to go in Bhutan. I hope you have a super romantic Bhutan honeymoon trip.
Top 5 Destination for a Romantic Bhutan Honeymoon
Paro Valley
If you are wondering which can be the first honeymoon place in Bhutan that you visit, I have to say, it is Paro. It is true, I am sure because the only International Airport in Bhutan is here. Moreover, the valley itself has various famous attractions ranging from the National Museum to the glorious Rinpung Dzong (Paro Dzong), the oldest temple – Kyichu, and the iconic Taktsang Goemba – the Tiger's Nest. A hiking trip to the Tiger's Nest, indeed, is so exciting; however, it is even more exhilarating if you go with your soulmate. Take a drive through winding roads of craggy mountains that overlooks the pine groves and rice fields will be wonderful and unforgettable.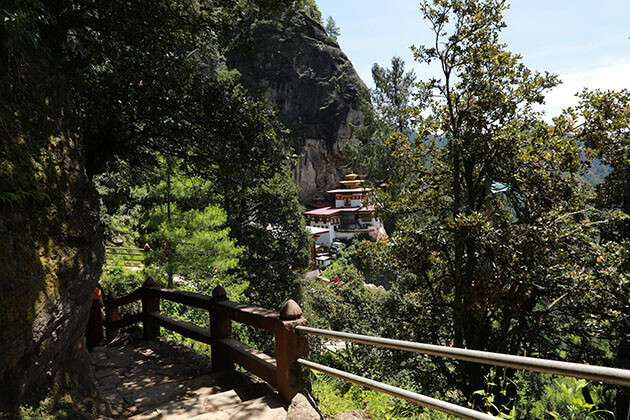 Thimphu Valley
The capital city of Bhutan, Thimphu is known as the only world capital that does not have traffic lights. However, what makes Thimphu is worth for a Bhutan Honeymoon? It's mainly because the valley is an unusual combination of modern development and ancient traditions. There would be some attraction that you and your soulmate have to visit like Tashichho Dzong, Simtoka Dzong, Dechen Phodrang, Dordenma Statue. If you are in love with animals, let head to Motithang Takin Preserve.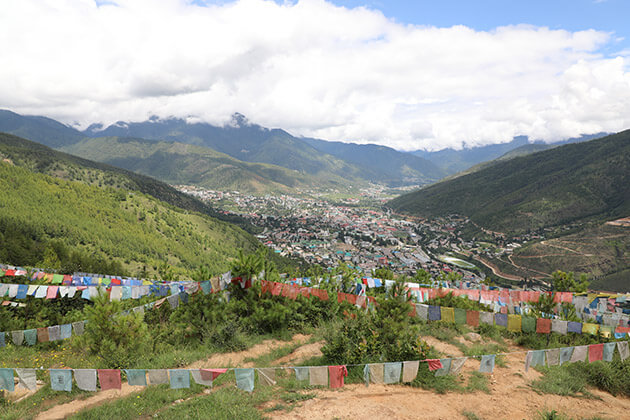 Bumthang Valley
Bhutan is truly a paradise for those loving nature and Bumthang is a good example. The valley gives you stunning vistas of green nature, fresh condition, and so much vibrant thing to discover. If you are into something adventurous, let enjoy the treks to Burning Lake. Besides, there are several attractions that you should visit such as Jakar Dzong, Kurje Lhakhang, Jambay Lhakhang….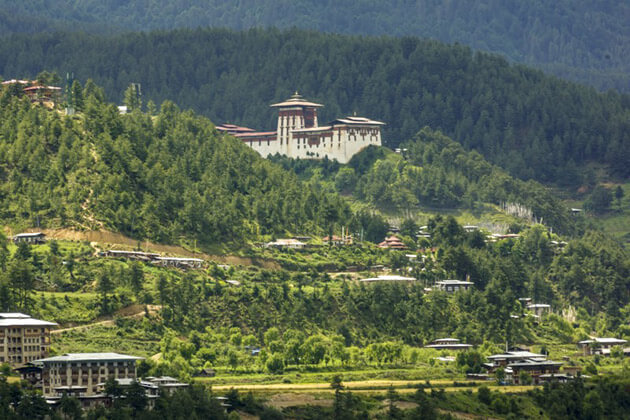 Trongsa Village
One of the best places for a Bhutan Honeymoon, Trongsa Village, is a quaint, small, and misty destination in Bhutan. Highly recommend you heading to the Trongsa Dzong (built in the 17th century), the main attraction here, overlooking the Mangde Chhu gorges. Not only catching a glimpse of marvelous religious architecture but also admiring the stunning natural surroundings, what can be better than that?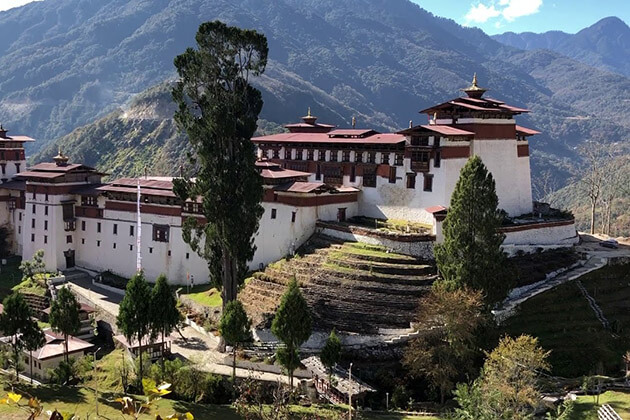 Haa Valley
If you want to enjoy a Bhutan honeymoon without crowded streets, Ha valley – the 2nd least populated region in Bhutan, would be your thing. I cannot describe the beauty of Haa because I have no word to tell you how beautiful the valley exactly is. Once visiting there, besides admiring the natural beauty, do not miss some of these attractions like Dobji Dzong, Shekhar Drak, Black and White Temple, and so on.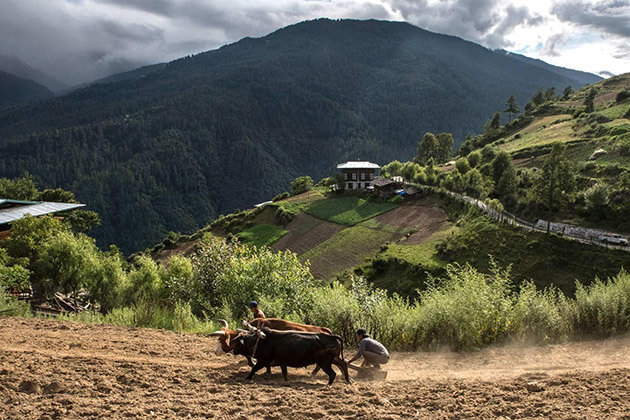 Top 5 Things to Do and See for a Romantic Bhutan Honeymoon
Lose Yourselves in the Wilderness
If you and your beloved partner are natural lovers, Bhutan will not disappoint. Bird watchers often visit Phobjikha, a glacial valley near Jigme Singye Wangchuck National Park. While in Bhutan, you can also spot wild animals like the sambar deer, barking deer, Himalayan black bear, red foxes, and leopards. For an uninterrupted expanse featuring rugged mountains, verdant forests, and pretty valleys, Lheunste must be on your itinerary.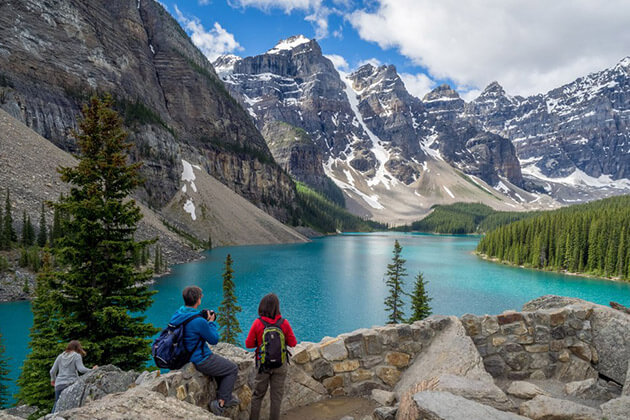 Couple Trek to Dochu-la Pass
I know you will wonder how trek can be romantic for a Bhutan honeymoon? Well, when the trek leads to a location affording 200 miles of a stunning and panoramic view of the Himalayan range, including Gangker Phunsum, the world's highest unclimbed mountain, then it's romantic for sure! The snow-covered mountain peaks and the carpet of clouds below are breathtaking.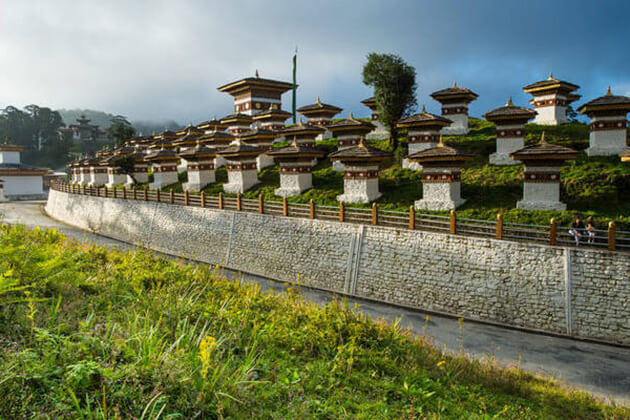 A clear morning, post snowfall is the best time to visit — the view will be incredible with the 108 beautiful chortens covered in snow, unclimbed mountain, then it's romantic for sure! The snow-covered mountain peaks and the carpet of clouds below are breathtaking. A clear morning, post snowfall is the best time to visit — the view will be incredible with the 108 beautiful chortens covered in snow.
Immerse in the Spiritual Vibe
It is a soothing and calming experience to watch the sunset behind the Himalayan range with rows of colorful prayer flags fluttering nearby. Together, enjoy a glass of warm Bhutanese cider in the cold weather, and go on an early morning cliffside climb to the gorgeous Taktsang Monastery or Tiger's Nest monastery. A hike up to this sacred pilgrimage in the Himalayas will be an experience you will never forget. Prince William and Kate of Britain were spotted trekking hand-in-hand up to the monastery on their Bhutan visit last year. What better way to bask in the spiritual giving of this holy country?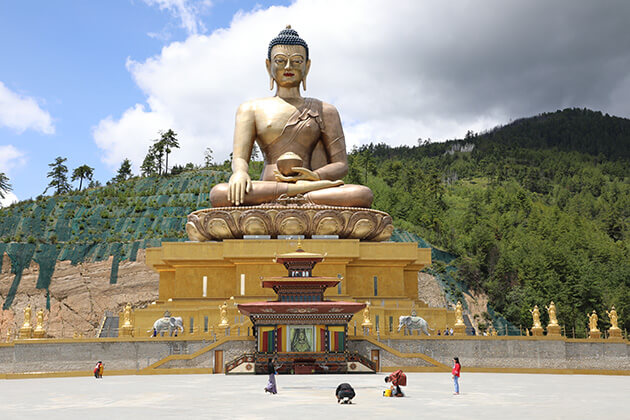 Indulge in Colorful and Romantic Rhododendron and Poppy
Spring is a beautiful time to visit Bhutan. The valley is laden with flora such as clematis, primroses, lily, and a wide and vibrant variety of rhododendron and poppy. What can be more romantic than sitting hand-in-hand with your lover amidst a melody of colors, starting from scarlet to deep pink, pale pink, lavender, burnt orange, white and yellow? Dochu La and Chele La treat you to unparalleled natural beauty — little streams made from melted snow, herds of yaks grazing on green pastures, and large meadows that you wouldn't want to ever leave.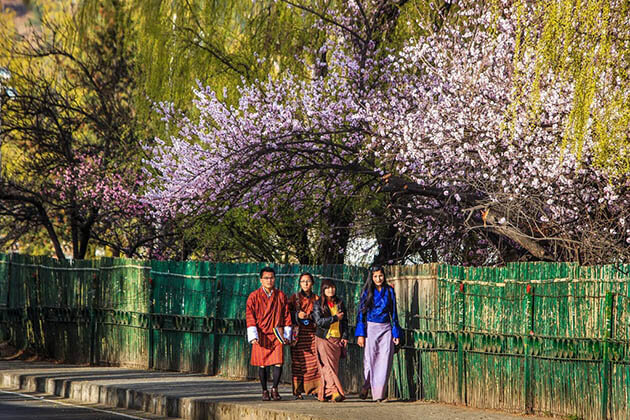 Let Peace and Happiness Freely Rub off on You
On your honeymoon, you will want to spend quality time with your spouse, make precious memories, and enjoy each other's company without any interruptions. Bhutan is just like that. The serenity of this hill station is therapeutic, something no city can match up to. Revel in the happiness quotient of this lovely country as you bond over the comforting Bhutanese cuisine. There's a cheesy treat awaiting you at every restaurant — ema datshi, Shamu datshi, Shakam ema datshi and so on.