When it comes to a Bhutan vacation, what do you expect? A country where you can immerse yourself in an incredibly clean environment or a place where you will bump into friendly people…? Yes, Bhutan has them all. A journey to discover Bhutan is so exhilarating and after joyfully enjoying your excursion, good accommodation is what you need. Some choose to stay in homestays or hotels, but if you looking for Bhutan resorts and yes, the country has some. Below is a list of the top 10 resorts in Bhutan to spend your time on.
Bhutan Resorts for Budget Travelers
Rema Resort
Rema is a cozy retreat offering a tranquil ambiance so that you definitely feel relaxed. Situated on a hilltop and overlooks Paro Valley, Rema resort is truly what you need after a day of discovering Bhutan. Simplicity is the attraction of the resort with rooms that features understated yet tasteful wooden elements and a garden dotted with trees.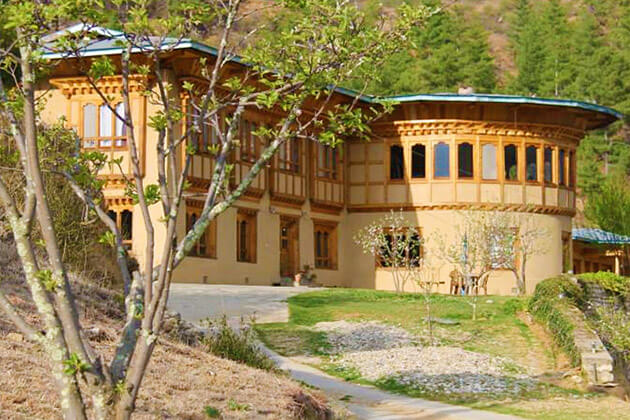 Dewachen Resort
Dewachen Resort is another resort in Bhutan overlooking Paro valley. Views of rice fields stretch into the distance so that you feel calm and at peace every time you look out from the private balcony of your bedroom. The resort features beautiful Bhutanese architectural elements while the décor is elegant and even regal in places.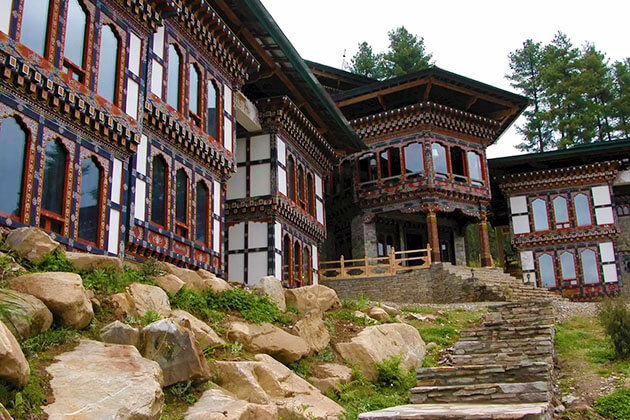 Metta Resort & Spa
The Bhutan Metta Resort and Spa is a relatively new establishment but it guarantees some of the best hospitality and comfort. Colorful and charming interiors create a warm welcome while the open courtyard overlooks mighty mountains and provides the perfect place for practicing yoga and tai chi. As evening falls, the lower level of the courtyard turns into a romantic setting for candlelit dinners and cultural performances.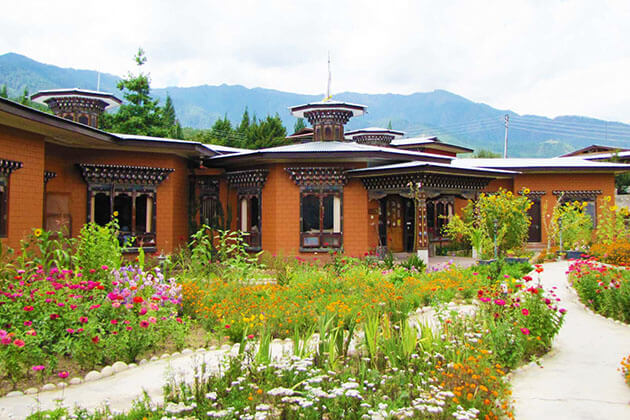 Mandala Resort
Bhutan Mandala Resort encompasses much of what you can expect to find in a Bhutanese retreat. It's charming, tranquil and, of course, provides splendid views of the surroundings. It combines cultural traditions with modern amenities so that you get the best of both worlds. Warm wood-paneled rooms, free Wi-Fi, spa facilities and a gift shop are some of the facilities it has.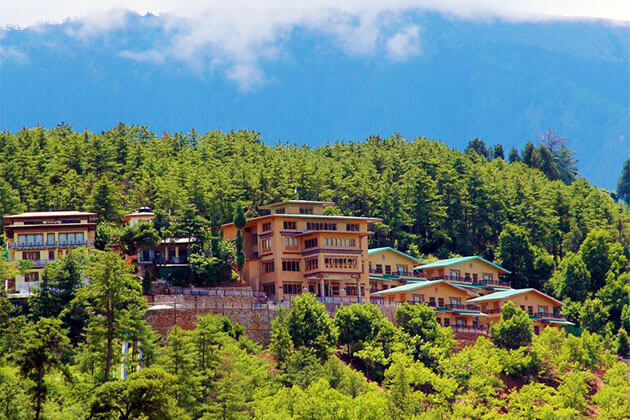 Yangkhil Resort
It feels like every resort in Bhutan provides views to die for and the same goes for Yangkhil Resort. Trongsa Dzong, Mangde Chhu, Taa Dzong and soaring mountains will take your breath away each time you gaze out. Cozy rooms, a chilling bar, good food, and Wi-Fi – sometimes temperamental! – are some of the facilities you can find in such an incredible Bhutan resort.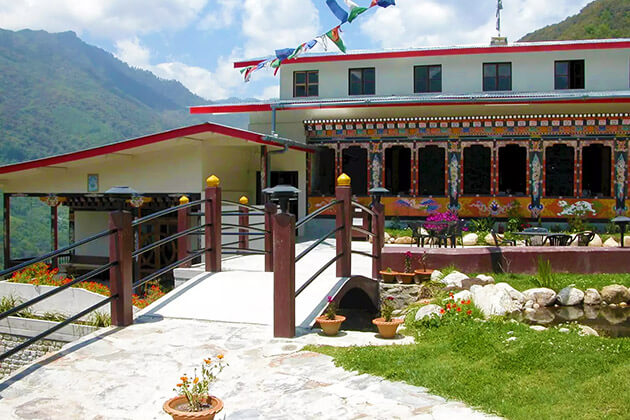 Kichu Resort
Kichu Resort showcases it in all its beauty. Located mid-valley with farmsteads and temples peppering the surroundings, you'll feel compelled to get out and explore the beautiful landscape. Opt where to stay from 45 rooms, pamper yourself at the spa & dine at the multi-cuisine restaurant. The resort is situated on the way to the Tiger Monastery and is the ideal place to stay if it's part of your itinerary.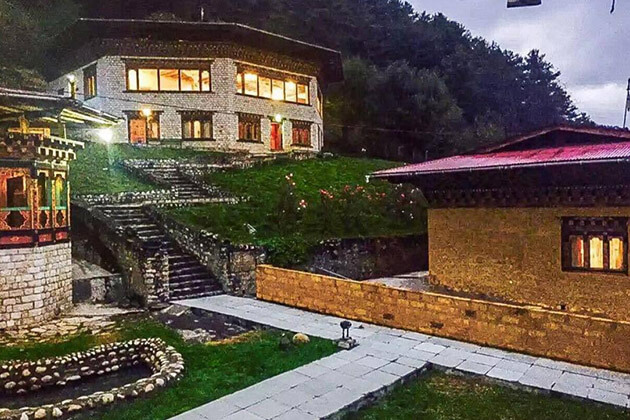 Bhutan Resorts for Luxury Travelers
Amankora
Amankora is one of the very few 5-star resorts in Bhutan and is the perfect escape from the chaos of modern living. Minimalist interiors, a varied menu, spa treatments, and guided excursions are just some of the treats to enjoy here. You can also book packages to experience Amankora lodges in both Thimpu and Paro. If you want to go all out, it is possible for you to reserve a 7-night retreat inclusive of healing sessions and tours.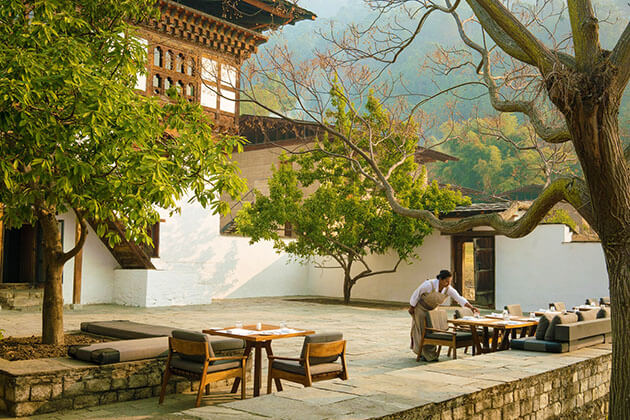 Terma Linca Resort & Spa
A grand resort effortlessly blending tradition & modernity, Terma Linca Resort & Spa boasts commodious living quarters overlooking the gorgeous Wangchhu River and majestic mountains in the distance. It also has a mini archery and darts facility to keep you entertained. Also, you can enjoy cooking classes as well as cultural programs showcasing Bhutanese tradition and culture.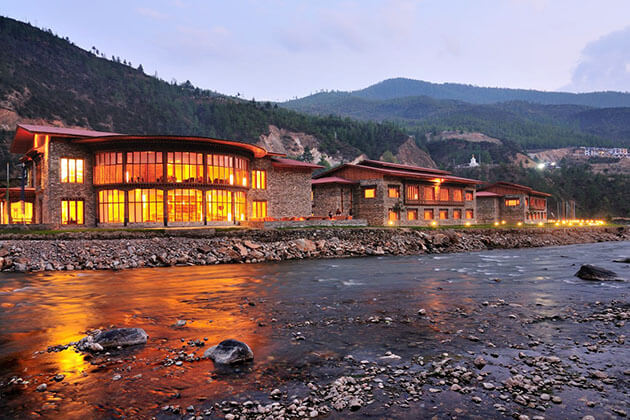 Dhensa Boutique Resort
Just like many other luxury resorts in Bhutan, simplicity is at the core of Dhensa Boutique Resort. It's located in verdant Punakha Valley and looks out on to the Punakha River. The setting makes it ideal for trekking. One of the best places to head to is Sangchhen Dorji Lhuendrup Lhakhang Nunnery that houses the bronze statues of Chenrezig.