Nestled in the eastern edge of the Himalayas, Bhutan boasts of impressive mountain vistas and some of the happiest people in the world. And with this stunning outlook of life came the creation of Dochula Pass, a fantastic Punakha attraction, in commemoration of Bhutanese soldiers who passed away in military operations for the kingdom.
Along the Dochula Pass, there are 108 memorial chortens aka stupa called the 'Druk Wangyal Chortens' for each soldier's life that was lost in the war. Also, the hills are decorated with vibrant religious flags in 5 colors to express the natural elements: blue for the sky, red for fire, green for water, white for clouds, and yellow for earth. To the local Buddhist people, these flags are symbols of veneration and the inscriptions of prayers on each flag signal peace and prosperity for Bhutan.
A visit to Dochula Pass is a truly memorable experience as you travel along the road, colorful flags on each side, and amazing views of the majestic, snow-covered Himalayas before you. Whether you opt to traverse by car or foot on this pass, you're likely to walk away with a deep sense of serenity and humility that the Bhutanese pride themselves on.
Dochula Pass Memorial Chortens
'Chortens' are important monuments and shrines in Buddhist culture. Typically, they are tombs of saints or monuments dedicated to Buddha. The 108 Druk Wangyal Khang Zhang Chortens of Dochula Pass was constructed under the patronage of the eldest Queen Mother, Queen Ashi Dorji Wangmo Wangchuk, to honor the Bhutanese soldiers who died in December 2003 battling Assamese insurgents from India. Ultimately, King Jigme Singye Wangchuk's army was victorious in dislodging the rebels from the 30 different camps along the Bhutanese border shared with the state of Assam. The King returned to Thimphu on 23rd December 2003 and approved the construction of the memorial chortens. They were officially completed in June 2004 and consecrated with religious ceremonies in the same month.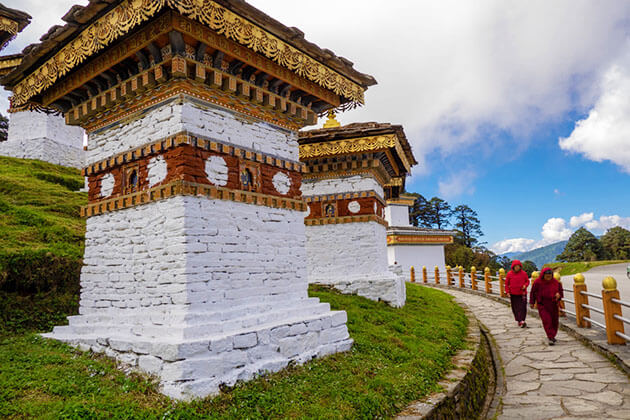 The Dochula Chortens have been structured in 3 layers. The 1st level has 45 chortens, the 2nd level has 36 chortens, and the topmost layer has 27 chortens, all built around the main structure. Each of them was built following strict, religiously ordained processes. Square wooden poles have been carved from juniper trees, found within each chorten. This is called the 'sokshing' and it is believed to provide a link between heaven and earth. The sokshing is made following astrological beliefs, painted a bright red color before it is installed on a previously-decided auspicious day. Then, inscriptions are carved as sacred hymns are sung, joined by religious items like prayer bells, precious stones, and clay stupas. To end the process, the sokshing is wrapped in a silk cloth.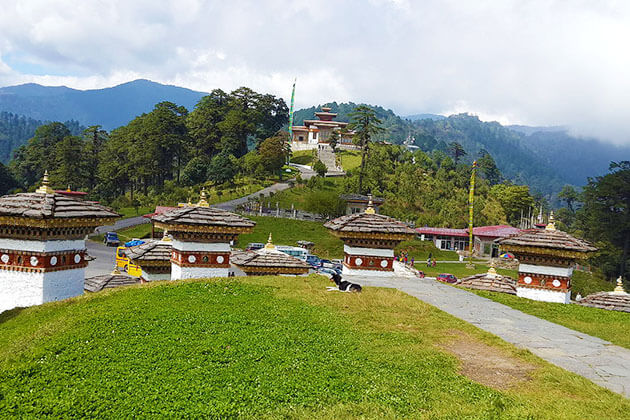 The overall view of these 108 memorial chortens is a stunning sight. They seem to ride out of the ground, rising far above your vision as you observe from below. Beside these chortens is the first Royal Botanical Park of Bhutan. The atmosphere here is calming, going hand-in-hand with the Buddhist belief of the cycle of life and the beauty of death.
Best Time to Visit Dochula Pass
The best time to visit this Punakha attraction is between September & February to catch breathtaking views from this mountain pass. Due to its high altitude, Dochula Pass generally sees cold temperatures all year round. The minimum temperature can drop down to 5 degrees Celsius while maximum temperatures are roughly 10 to 12 degrees Celsius.
As a result, there is a lot of fog and haze and many times, it can be difficult to witness the Himalayas or the untouched forests from Dochula Pass on particularly low-visibility days. However, your Bhutan tours will still be worthy if you spend some time stopping at this site along the way of reaching Punakha.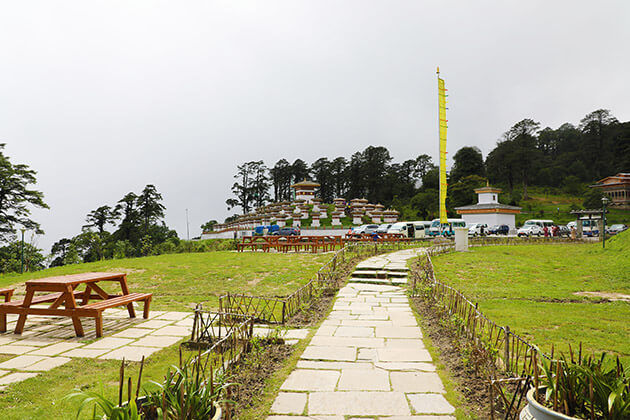 How to Reach Dochula Pass
You can easily reach Dochula Pass by road via a part of the Thimphu – Punakha Highway. It can take anywhere between 45′ to 2 hours to reach Dochula Pass by car from Thimphu. To its east, you will find a road leading towards Punakha Valley where two rivers of the country meet.