I once heard a renowned saying – don't listen to what they say – go see! And of course, it goes for Bhutan. The country is one of the most inspiring countries in terms of environment and happiness as it is prevalently known as "the Happiest Country" in the world. If you plan on vacationing with family, there are numerous reasons why you should choose Bhutan as an ideal destination to be joyfully high on life. Once enjoying Bhutan tours with your family, get ready to be greeted by flamboyant Buddhist architecture, wonderful Dzongs, tranquil streets, hospitable people and delicious food.
Religious Attractions for Family Tours in Bhutan
Taktsang Goemba – the Tiger Nest
It is actually the most treasured gem and absolute must-go destination in Bhutan once going there with family. The tiger nest has a moderately steep climb but pony/horses are also provided (only till the cafeteria) if your legs get too wobbly. A visit to Paro Taktsang can offer a divine experience that words cannot express and no trip in Paro is complete without visiting this excellent monastery that looks like it has been glued to the surface of a rock wall.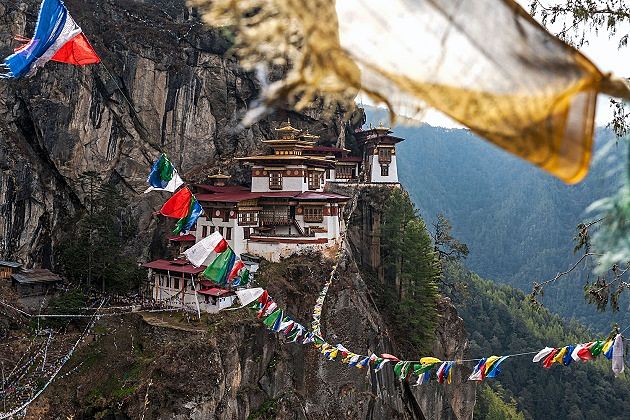 Kuensel Phodrang – Buddha Dordenma Statue
Another attraction that must be visited during your family holiday in Bhutan is Kuensel Phodrang, located in the capital, Thimphu. This destination treasures a 51-meter-tall Buddha Dordenma Statue and is observed from all around the town. A visit to this popular tourist spot is best done when the first ray of the sun touches the surface of Thimphu making the golden bronze statue shining brilliantly and looking divine. Also, it is a perfect time to take excellent photographs.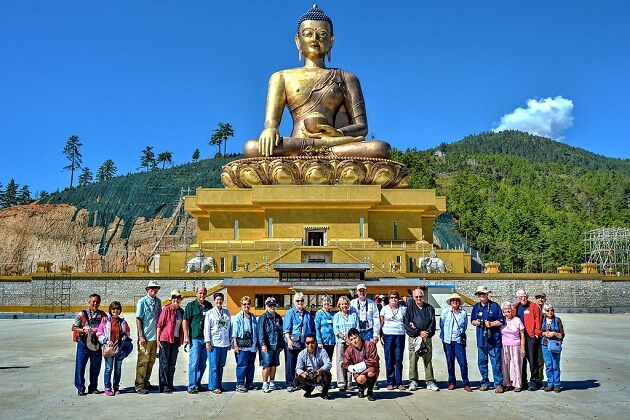 Adventurous Attractions for a Cheerful Bhutan Family Tours
Dongkola Lhakhang
Hiking and trekking are obviously thrilling activities that can be partaken by any adventurist, which means, even if you are holidaying with family. In Paro, you can find yourself plenty of stunning places to pay a visit to; however, amongst the many, Dongkola Lhakhang takes the lead. What people go to see here is the ancient temple of Dongkola where the statue of Buddha Sakyamuni is placed. It may be challenging to hike up to such a 3.370-meter site (if you are an old-timer) but if you have children with some passion for trekking, well, you will get there.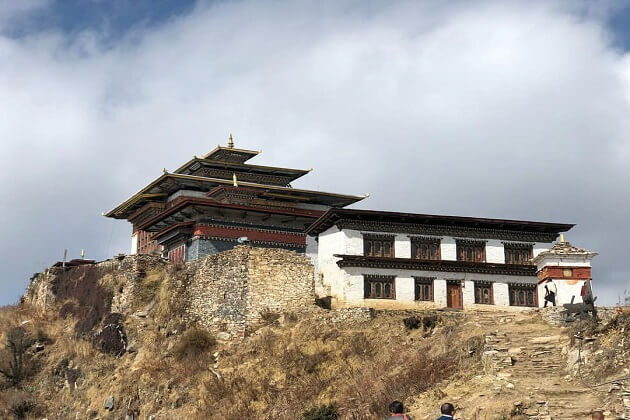 This Lhakhang (temple) is located on a hilltop between Paro and Thimphu and the closest village to start ascending is Shaba in Paro. The beauty you will witness are of several stupas and charming villages, surrounded by a coniferous forest that is emerald green. And once here at Dongkola Lhakhang, the sight you get to witness are the breathtaking valley of Paro with snow-clad Himalayan range. Also, these 2 historical sites you can layover to admire are the temples of Phudu Goenpa and Mendhu temple.
Ha Valley
This is an ultimate thing to do for those being into experience an adventure with their kids and also discover Bhutan natural beauty. Haa Valley offers travelers an insight into the kingdom's cultivation as well as agronomy as you walk along the old-aged mud path which was once accessed by the rice planters. When you ascend further on such a famous hiking trail, the route will traverse to varied riveting sights of the rice fields.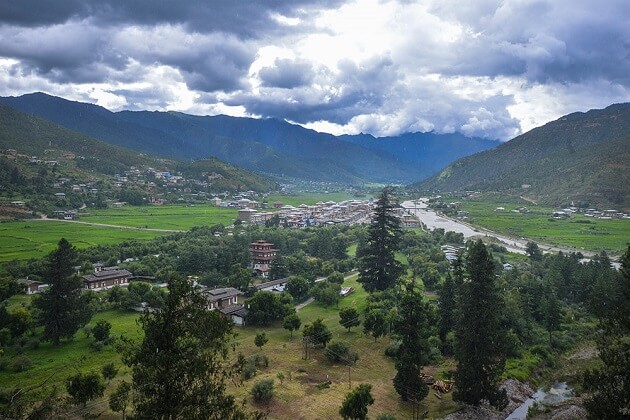 Stunning Attractions for Natural Lovers
Gangtey
Gangtey Valley aka Phobjikha Valley is definitely a well-worth visiting place to visit while enjoying a trip to Bhutan with family. The natural beauty of the valley is unfiltered and is so pleasing; thus, everyone can keep discovering the valley and never get a bit tired. The valley is also a great destination for your children because the Crane Information Center (located in there) will give them an opportunity to get to know better about these endangered black-necked crane species and also about the wetlands. The Gangtey Valley will provide a high-powered telescope which is the best for bird sightseeing.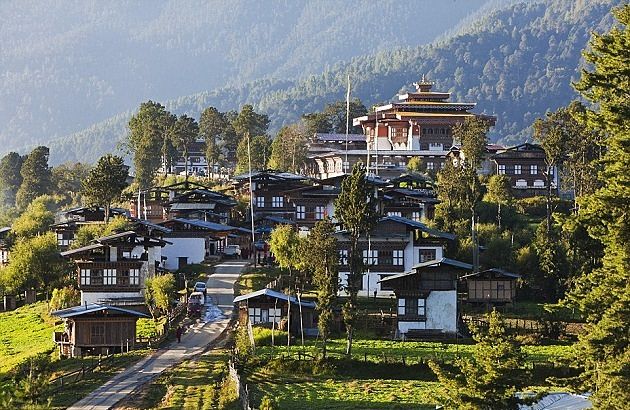 Druk Wangyal Chortens
If you have a drive to Punakha, without doubt, you will traverse through the Dochu-La pass where the 108 Druk Wangyal Chortens takes place. This attraction was built in the memory of the Bhutanese soldiers. This charming site treasures another stunning attraction – the Druk Wangyal Monastery housing impressive statue and images of Buddha and deities.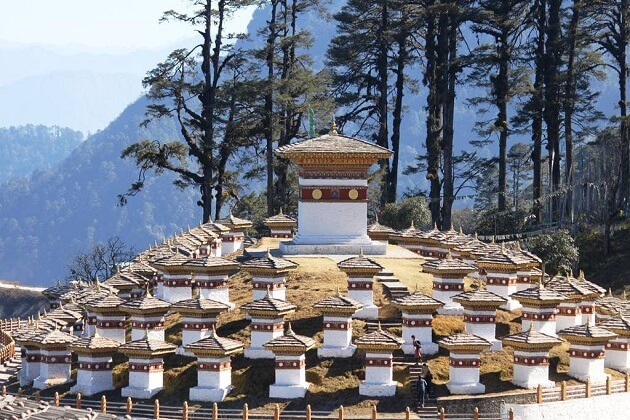 Wildlife Attractions for a Perfect Bhutan Family Tours
Royal Manas National Park
Royal Manas National Park is the oldest national park in Bhutan and it is also one of the best wildlife sites to visit for a family trip in such an incredible country. The park not only provides a poetic ambiance but can also be a fantastic destination to witness manifold fauna and flora. Once there, you and your family can see some of the "superstar" of the park, like golden langurs, clouded leopards, Asian elephants, or even Bengal tigers. You also can expect to find around 365 bird species.
The best time to visit the Royal Manas National Park is about November and March.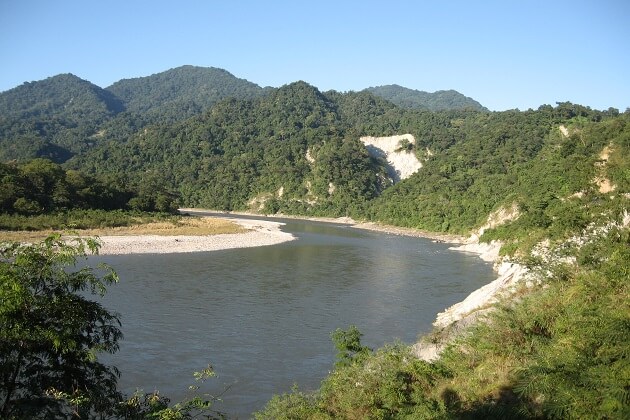 Jigme Dorji National Park
Another vibrant existence in Bhutan's mountain ranges is Jigme Dorji National Park. This is the second-largest National Park in the kingdom. Covering an area of 4,349 square kilometers, this national park houses species of Blue Sheep, Snow Leopard, Royal Bengal Tiger, Takin, Black Bear and Red Panda. If you and your kids are into adventure, then consider trekking because Jigme Dorji National Park has some popular trekking routes. During your wildlife tour, you can also get a chance to witness sacred mountains like Tshering Gang, Jomolhari and Jichu Drakey, also glacial lakes which are the source of some of Bhutan's main rivers.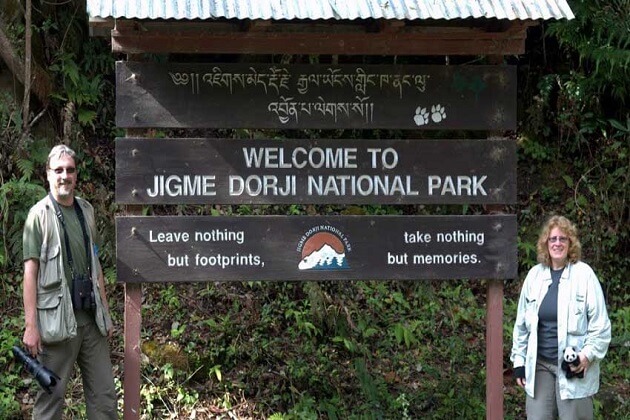 Shopping Destinations for Shopaholic Family
Norzin Lam Street
Obviously, shopping is an endless discussion, the things you can buy are countless. If you are looking for a place for buying something with your family, then Norzin Lam Street would be your thing. Once there, you have to devote your time and energy paying visit to the shop to shop searching for the best fit and price. The clothing is often handpicked by families and other ones while shopping is woolen sweaters, warm mink, long over-coats and also gold ornaments as well as Thangka paintings. Norzin Lam Street also happens to be a prevalent hangout destination selling manifold street food and Bhutanese delicacies. The street is an amicable place to embrace your holiday with family and share experiences while sitting in some cozy cafe slurping warm coffee.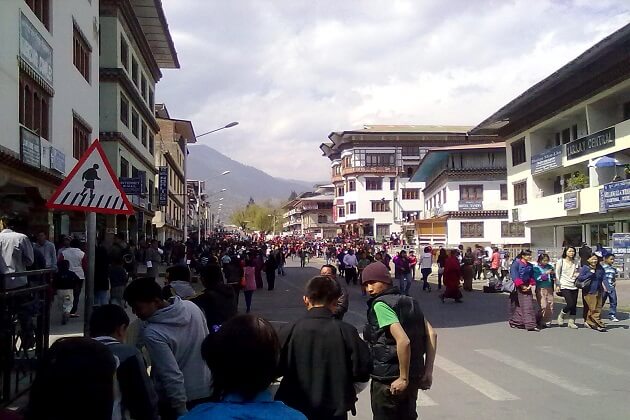 Bhutanese Crafts
If you are "art-appreciate', Bhutanese Crafts aka the handicraft market would be a perfect destination to go to discover the Bhutanese art and craft. Perhaps, the authenticity of the market is the shops all endowed in wooden shacks displaying vibrant souvenirs. You can expect to see items on sale like carpets, bamboo boxes, horse saddles, metal ewers, monastic trumpets and also the most popular item bought are the colorful masks and hand-woven bamboo items. As you wander through the market, you definitely cannot ignore the royal clothes of Bhutan King and Queen. Also, a few local products such as purses made of colorful fabrics and statues of Buddha.