General Information
Duration: 4 days/ 3 nights
Start/ End: Paro/ Paro
Tour Route: Paro – Thimphu – Punakha– Trongsa – Phobjikha Valley – Paro
Tour Customize: Absolutely! (Tell us your specific requirements in the inquiry form)
Brief Itinerary
Day 01: Paro Arrival – Transfer to Thimphu
Day 02: Sightseeing in Thimphu or Cheri Monastery Hike
Day 03: Thimphu – Punakha
Day 04: Discover Punakha
Day 05: Punakha – Trongsa
Day 06: Trongsa – Phobjikha Valley
Day 07: Phobjikha Valley – Wangdue
Day 08: Wangdue – Paro
Day 09: Sightseeing in Paro
Day 10: Paro Departure
Day 01: Paro Arrival – Transfer to Thimphu
Upon arrival, our representative will be waiting to warmly welcome and escort you to the hotel in Thimphu. When you've settled in the hotel, the rest of the day will be yours. Relax at leisure and overnight in Thimphu.
Day 02: Sightseeing in Thimphu or Cheri Monastery Hike
Option 1: Today, we enjoy a full day of sightseeing in Thimphu. We start with a visit to the National Memorial Chorten depicting the Buddhist faith in the form of paintings and statues. We will also visit the 12th-century Changangkha Temple and Drubthob monastery which is home to the Zilukha Nunnery. If time is permitted, we head to the nursing pen for the Takin, the national animal of Bhutan, and Tashichhodzong.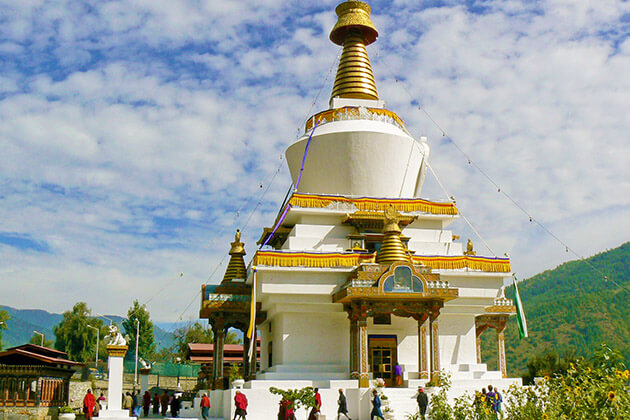 Option 2: This morning, we get into a hike to Cheri Monastery instead. Drive through the countryside surrounding Thimphu to Jigme Dorji Wildlife Sanctuary, the largest protected area in Bhutan.
Our walk begins from the small village of Dodena. We begin our today's excursion by crossing a covered bridge over the Thim chhu and then, climb steadily to Cheri Goemba which is a small monastery perched on the hill with a vista over the Thimphu Valley. Shabdrung constructed the monastery in 1620 and is the location where the first community of monks in Bhutan was established. The monastery is considered very sacred as it contains the ashes of Tempi Nima, the father of the first Shabdrung of Bhutan, and beautiful frescoes of Buddhist saints.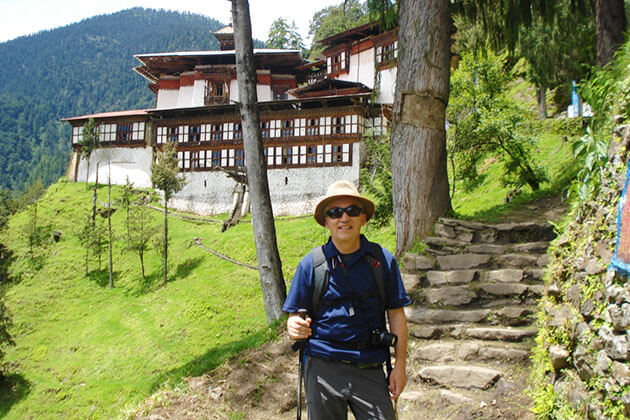 After our hike, we descend back the way we came, keeping our eyes open for the goral – wild goat which is often spotted on the cliffs nearby. Back at the Dodena village, enjoy a picnic lunch along the clean and unpolluted Thimphu River. We then follow a riverside trail via Begana to Cabesa, home to the Choki School of Arts. The Choki School is private and provides free skills-related education in the traditional arts and crafts of Bhutan to Bhutanese children who are unable to attend or complete their formal education. After heading to the school, we continue along the riverside trail and walk through small rural villages before we back to Thimphu. Overnight at your hotel in Thimphu.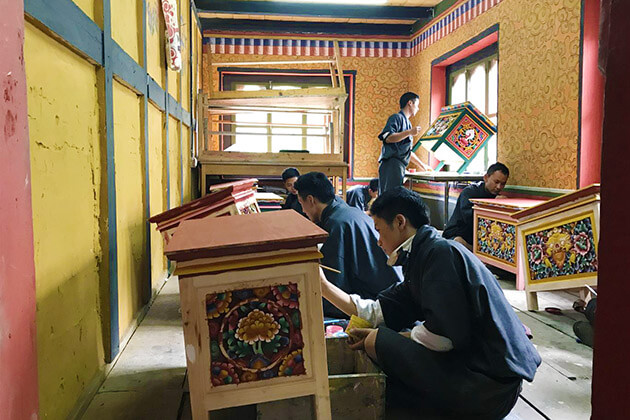 Day 03: Thimphu – Punakha
Today, we depart Thimphu by taking a 45-minute drive before beginning our hike to Trashigang Goemba (3200m), built-in 1786 by the 12th Je Khenpo. From the Tashigang monastery, you will enjoy a gradual uphill climb of about 2 hours to 18th-century Lungchutse Lhakhang. The picturesque route passes through rhododendron forests, magnolias, birches, firs, hemlocks as well as bamboos, and occasionally meadows which are being used as yak pastures.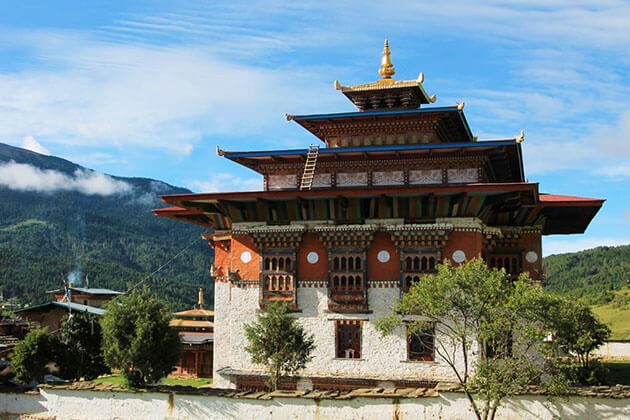 The view from Lungchutse Lhakhang over the entire Bhutan Himalaya and its snow-covered peaks are amazing. We will walk downhill for about an hour until we reach Dochula pass, a wonderful sight marked by 108 chortens (Stupa), and on a clear day an incredible view of Himalayan peaks. There will be meet our waiting vehicle and driver. Drive for about an hour & half down into the sub-tropical Punakha Valley. Overnight at your hotel in Punakha/ Wangduephodrang.
Day 04: Discover Punakha
This morning, we head to Punakha Dzong which is well-known as the most beautiful Dzong in Bhutan. Located at the confluence of the Mo Chu and Pho Chu (Mother and Father Rivers), the Dzong is the winter headquarters of the Je Khenpo and hundreds of monks moving en masse from Thimphu to this warmer location.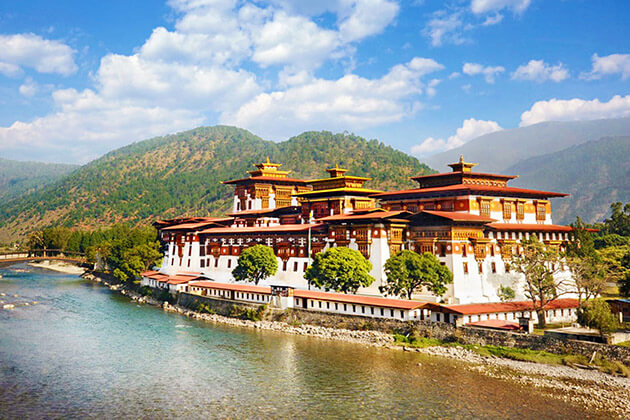 Afterward, we traverse to Yabesa village and hike to through ricefields and up to Khamsum Yulley Namgyal Chorten, which was constructed by her majesty the queen Ashi Tshering Yangdon Wangchuk. Perched high on a hill on the bank of the river, the Chorten is home to paintings belonging to Nyingmapa Traditions.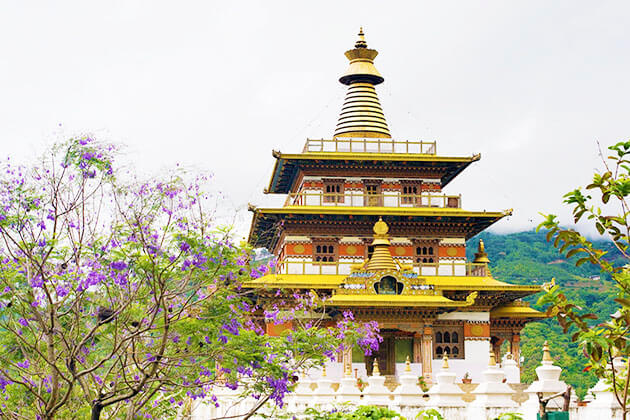 Enjoy our picnic lunch on a picturesque riverside before traveling to Lobesa for a pleasant walk through small hillside villages to head to a farmhouse. Here we will see Traditional Bhutanese cooking and farming demonstration. This will include the milking of a cow, followed by the churning of milk and the production of cheese and butter. Also, we will experience the brewing of local wine ("Ara") as well as preparation of the national dish, "Emadasti". Afterward, walk down through terraced rice fields to the main road where your vehicle awaits.
Day 05: Punakha – Trongsa
Today, we drive towards Trongsa. Along the way, we head to beautiful Chendebji Chorten which was erected in the 18th century. The imposing Trongsa Dzong can be witnessed across a deep canyon to signal your approach to the town around a curving road. Overnight at your hotel in Trongsa.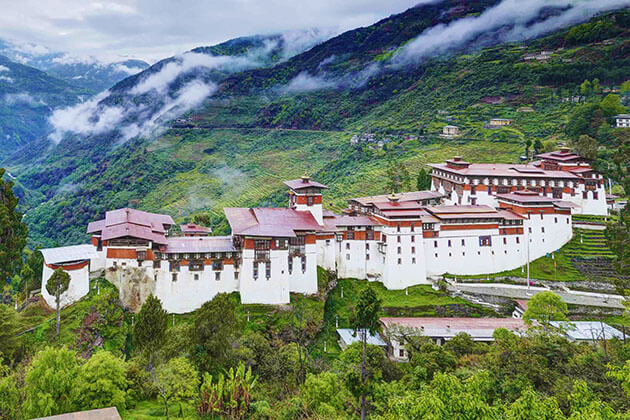 Day 06: Trongsa – Phobjikha Valley
After breakfast transfer to Phobjikha Valley. Drive down the winding mountain road through oak and rhododendron forests, into the wide and picturesque Phobjikha valley. Phobjikha is one of few glacial valleys in Bhutan and chosen winter home of black-necked cranes migrating from the Tibetan plateau. The region is one of the most stunning in Bhutan. Pay a visit to the Phobjikha Sanctuary with a chance to marvel at black-necked cranes as well as the 16th-century Gangtey Gompa, and the only Nyingmapa monastery in western Bhutan. Overnight at your hotel in Phobjikha.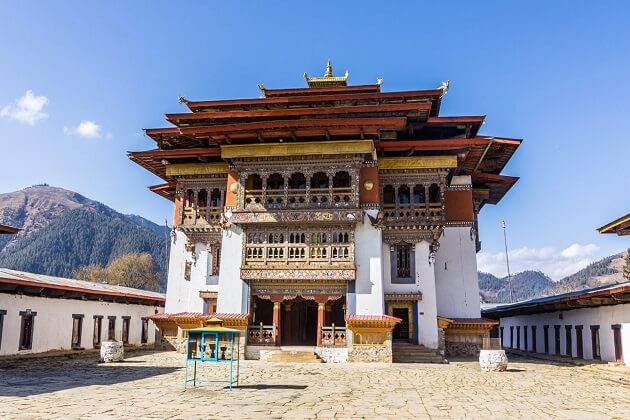 Day 07: Phobjikha Valley – Wangdue
Option 1: Drive to Longtey Village located beyond Pele La pass (3,420m) for a hike across Kayche La (3700m) and back to Gangtey. Climb up gradually through the thickets of dwarf bamboos, rhododendron, birch, fir, and hemlock rich with various birdlife to Kayche La, marked with several prayer flags. The other side of the pass is mostly meadows, and it's all downhill to Gangtey through the long and beautiful stretch of meadows and farms.
Option 2: (Shasila Hike) – The trail is used by the people of Sha Ngawang and Chitokha to migrate between their summer and winter home in Gangtey. Also, it was an essential trail used by the Gangtey Truelku as well as his followers in the past while migrating between his winter residence in Sha Chitokha & Gangtey Gompa. It takes approximately 03-04 hours to walk for casual trekkers to reach Kheylaykha from Phobjikha. Your driver will meet you on the road and take you to Thimphu. Overnight at your hotel in Phobjikha.
Day 08: Wangdue – Paro
Drive back to Paro over Dochu La via Thimphu where you will have an opportunity to visit handicraft and souvenir stores and enjoy lunch at a local restaurant in Thimphu. Afterward, we drive back to Paro and en-route visit Semtokha Dzong, the oldest Dzong in Bhutan. Time permitting the journey can be broken with a visit to Tamchhu Lhakhang built by Thangtong Gyalpo, the so-called Iron Bridge Builder. Overnight at the hotel in Paro.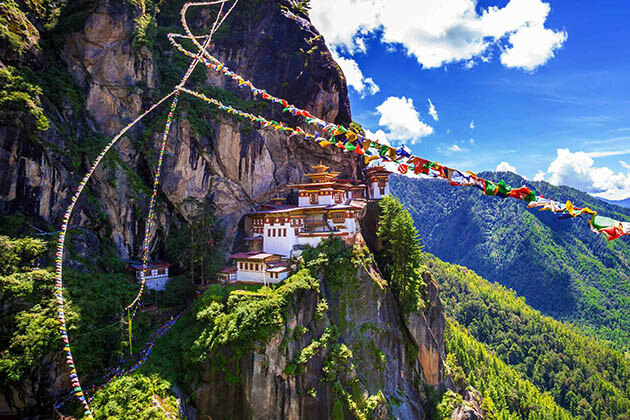 Day 09: Taktsang Goemba Hiking Trip
Today, after breakfast, we will enjoy a hiking trip to the Taktsang Goemba – the Tiger's Nest. The trail is broad and the walk of roughly up to 2 hours uphill. If you cannot hike, we will arrange horse-riding for taking you to a cafeteria. En route, you will have an opportunity to witness majestic vistas of the country and once reaching the cafeteria, the view of the Tiger's Nest will appear. In the afternoon, relax at leisure. Overnight in Paro
Day 10: Paro Departure
Time to say goodbye Bhutan. Breakfast and morning at leisure until getting escorted to the Paro International Airport for a flight coming home. Your Bhutan vacation ends. Hope you enjoyed it and wish that we could serve you next time in Bhutan.