Tour Highlights:
A night camping in the untouched Paro Wilderness high in the Himalaya.
Explore some of the holiest Buddhist monasteries & temples in the Himalaya.
Head to many cultural attractions including medieval Dzongs, markets, and museums.
Hike up to the renowned Taktsang Monastery.
Marvel at the elaborate and old-aged wall paintings and carvings in Dzongs and temples.
Travel to stunning landscapes from lush valleys to dense forests.
Start/ End: Paro/ Paro
Duration: 8 days/ 7 nights
Tour Route:  Paro – Thimphu – Punakha – Paro – Bumdra Monastery – Par
Tour customize: Definitely! (Tell us your specific requirements in the inquiry form)
Brief Itinerary
Day 01: Paro Arrival – Transfer to Thimphu
Day 02: Discover Thimphu
Day 03: Transfer from Thimphu to Punakha
Day 04: Discover Punakha
Day 05: Transfer from Punakha to Thimphu – Paro
Day 06: Paro to Bumdra Monastery
Day 07: Bumdra – Paro
Day 08: Paro Departure
Day 01: Paro Arrival – Transfer to Thimphu
Upon arrival, our representative will be waiting to meet and escort you to the hotel in Thimphu. Once you've settled in the hotel, relax at leisure for acclimatization. The rest of the day will be yours. Overnight in Thimphu.
Day 02: Discover Thimphu
After breakfast, we take a pretty drive to Kuenselphodrang, a prevalent vantage point, with the biggest Buddha statues in the world. This site offers a panoramic view of the capital below and also has several walking trails, which range from leisurely to moderate. We then visit the National Memorial Chorten which is built in the memory of the Third King and for world peace. Continue on to the picturesque 12th century Changangkha Temple and Nunnery at Zilukha.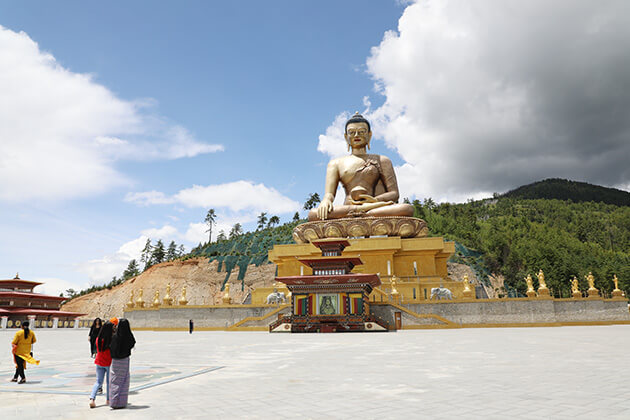 Afterward, visit the Folk Heritage Museum featuring an exhibition of items and artifacts of Bhutanese villages and rural households. After heading to the museum, we will walk to School for Arts & Crafts which is situated close to the museum. This is one of the interesting schools where young boys & girls learn 13 different skills of arts & crafts in Bhutan. If your visit to Thimphu coincides on a weekend, you can visit the weekend vegetable market (open from Friday to Sunday). Overnight at your hotel in Thimphu.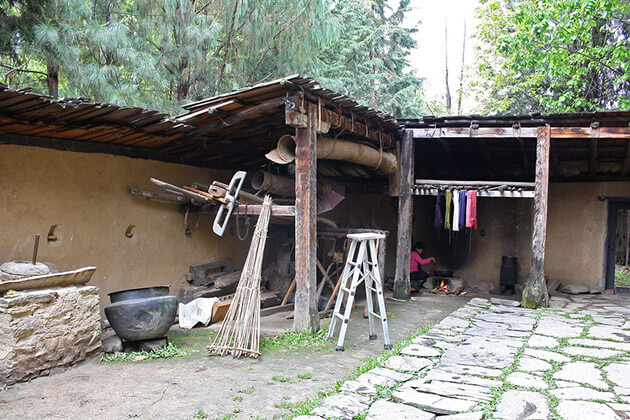 Day 03: Transfer from Thimphu to Punakha
Depart for Punakha, the ancient capital of Bhutan via Dochu-La pass (3,100m) where you will stop to walk around the 108 stupas and, if the weather is clear, enjoy an incredible view of Himalayan peaks. enroute we will stop on the pass for hoisting prayer flags.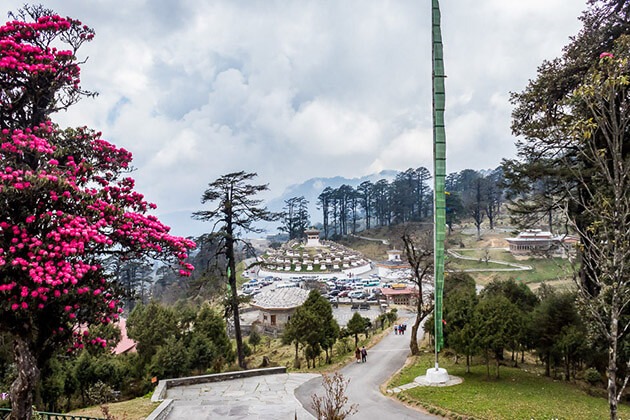 Before reaching Punakha, visit Royal Botanical Garden in Lamperi. The park (47 square kilometers) serves as a biological corridor connecting Jigme Dorji National Park and Jigme Singye Wangchuck National Park and features a variety of forest types, spectacular vista, natural rhododendron groves, endangered wildlife, and a sparkling lake.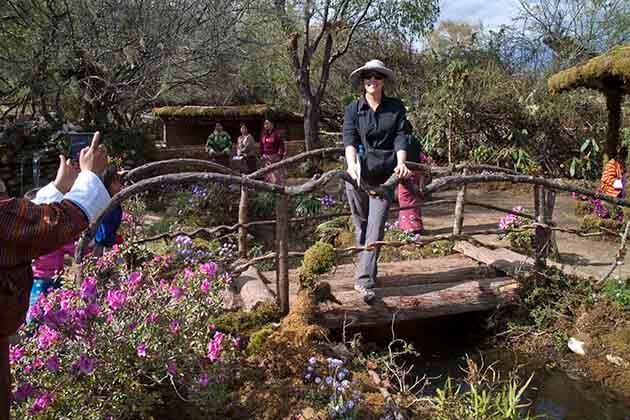 Keep driving towards Punakha through stunning countryside giving a glimpse of everyday life in this most remote of Himalayan kingdoms. In the Dochu-La area, there are vast Rhododendron forests that grow to tree size and bloom in late April/ early May covering the mountains in a riot of glorious spring color.
Day 04: Discover Punakha
Today, we drive to Yabesa village and then, hike through rice fields and up to Khamsum Yulley Namgyal Chorten. The chorten, built by her majesty the queen Ashi Tshering Yangdon Wangchuk, perches high on a hill on the bank of the river and converges paintings belonging to Nyingmapa Traditions.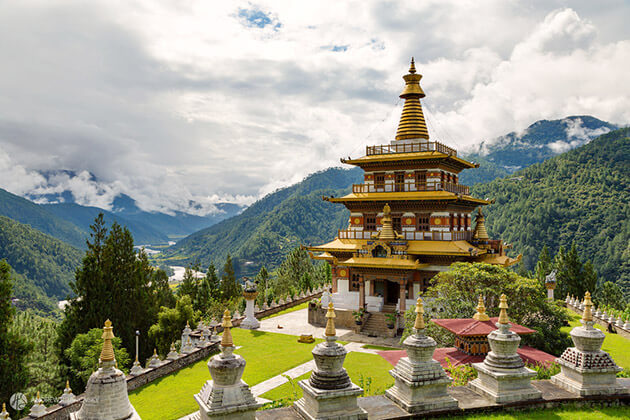 Afterward, we take a short walk to Chimi Lhakhang, the temple of the Drukpa Kuenly who is also known as the Divine Madman. Once there, it's your opportunity to see something weird but essential in the Bhutanese spirit – wooden phallus as well as phallic paintings. This is the symbol standing for fertility. Your guide will tell you the story about Chimi Lhakhang and the reason why the phallus symbol plays an essential role in the Bhutanese belief.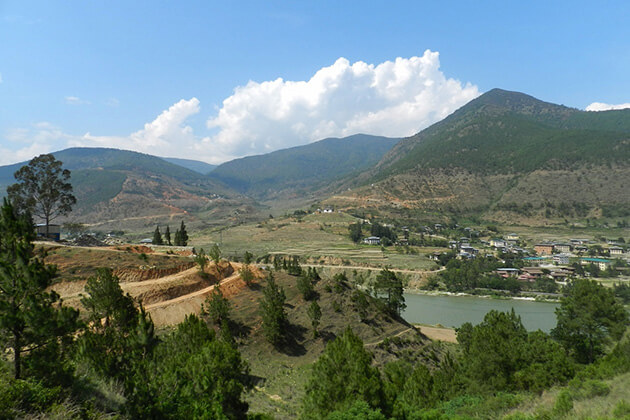 Then enjoy exploring the villages in and around Lobesa valley where you will have the opportunity to interact with local people and learn more about the rural lifestyle in Bhutan. Overnight at your hotel in Punakha.
Day 05: Transfer from Punakha to Thimphu – Paro
Today you will retrace our steps over the Dochu La for a second view of the wonderful Himalayan range (clear weather permitting). In Thimphu, visit the National Library housing the collection of Bhutanese scriptures dating back to the 8th century, the Institute of Traditional Art & Crafts, and a small factory that produces handmade paper. This paper which is made from the bark of the Daphne plant has long been used for Buddhist manuscripts.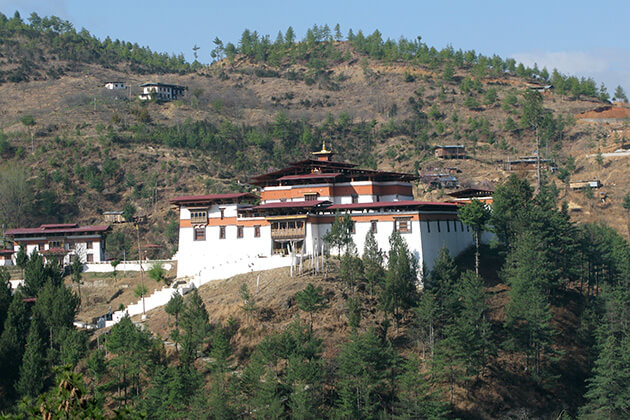 In the afternoon, back to Paro and en route, head to Semtokha Dzong which is the oldest dzong. Returning to the Chuzom (river confluence) we catch a glimpse of the three shrines in Nepali, Tibetan and Bhutanese style which were built to ward off evil spirits near the checkpoint. As we are in Paro, get into a stroll through downtown Paro before checking into the hotel. Overnight at your hotel in Paro.
Day 06: Paro to Bumdra Monastery
Hike from Sang Choekor Buddhist College (2,800m) to yak pastures below Bumdra Monastery (3,800m). The adventure begins with an early morning drive up to the Sang Choekor to meet our ponies and while they are being loaded, we may pay our respects at the college.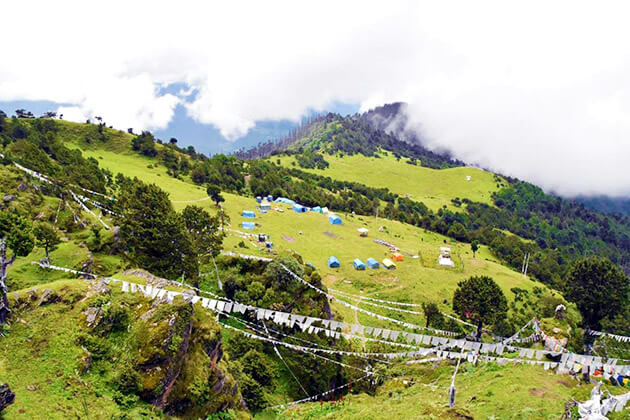 The Chhoe Tse Lhakhang nestles in the mountainside that takes you 1-2 hours to reach there. Our home for an overnight stay is tucked under Bumdra Monastery (cave of a thousand prayers) making the most of the awesome sceneries of the Himalayan range. After lunch, head to the monastery (if it is occupied) and also climb the peak to the north (about 4000m) for even better vistas and then back in time for dinner.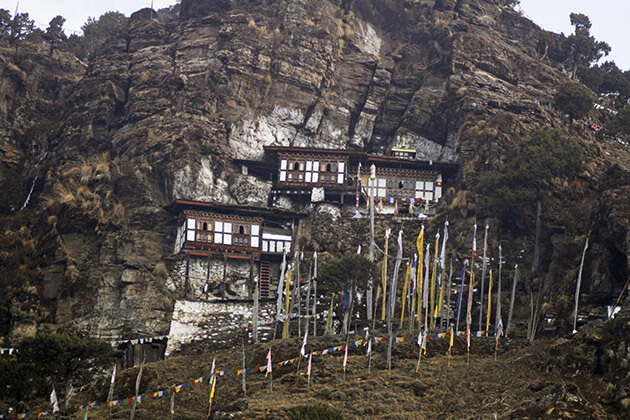 Day 07: Bumdra – Paro
Today, we hike from Yak pasture below Bumdra Monastery via Zangto Pelri Monasteries to the Tiger's Nest Monastery. After breakfast, we either head straight back into the valley or linger awhile soaking up the scenery and perhaps, we hang some prayer flags of our own. Finally, we drop back into the ancient pine and rhododendron forest on the monks' winding trail.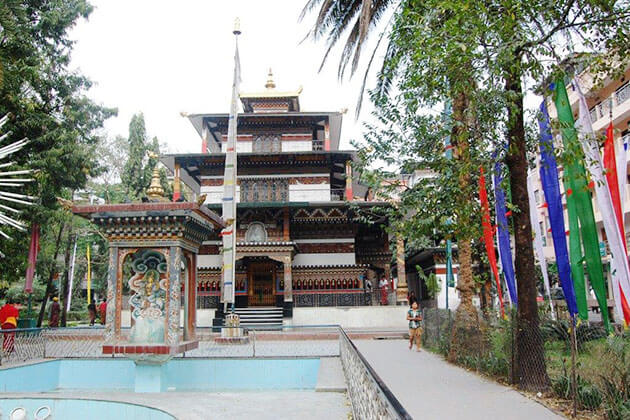 After a couple of hours making our way descent, we start to catch glimpses of the golden temples below. The path winds across the mountainside between these monasteries before we reach the gardens of Zangto Pelri well-known as Heaven on Earth from which you can peer over the edge and straight down onto the ornate rooftops of the Tiger's Nest. An hour later and we are at the gates of the monastery looking across the gorge; a steep descent to a waterfall then up some steps as well as we pass into Tiger's Nest itself.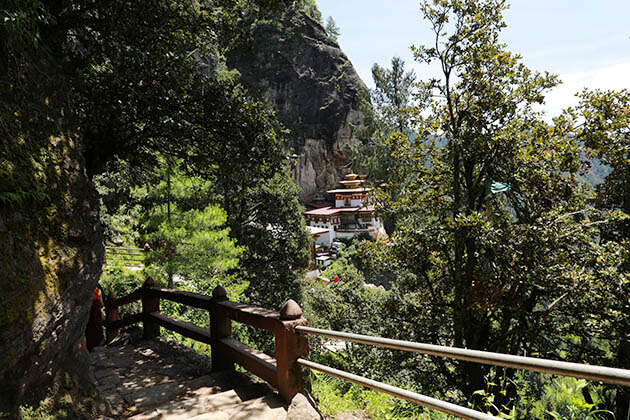 Later, we begin the final descent of about 45 minutes to reach our vehicle and then, drive further up the valley to the reconstruction site of Drukgyel Dzong which was originally constructed in 1644 by Shabdrung Ngawang Namgyal to control northern route to Tibet.
Day 08: Paro Departure
Time to say goodbye to Bhutan. Breakfast and morning at leisure until getting escorted to the airport for a flight coming home. The trip ends. Hope you enjoyed our Bhutan vacation and wish that we could serve you next time in Bhutan.