Tour Highlights:
Tiger's Nest Hike
Overnight at the highest camp (4189m)
Marvel at the spectacular vistas of Mt. Jumolhari (7314m) – Jichu Drake (6989m)
Duration: 17 days/ 16 nights
Start/ End: Paro/ Paro
Tour Route: Paro – Shana – Sio Thangthangkha – Jangothang – Lingshi – Chebisa – Shomuthang – Robluthang – Lingmithang – Laya – Koena – Gasa – Punakha – Thimphu – Paro
Tour Customizable: Definitely! (Tell us your specific requirements in the inquiry form)
Brief Itinerary
Day 01: Paro Arrival
Day 02: Acclimatization – Tiger's Nest Hiking Trip
Day 03: Drugyal Dzong – Shana
Day 04: Shana – Sio Thangthangkha
Day 05: Sio Thangthangkha – Jangothang
Day 06: Leisure at Jangothang
Day 07: Jangothang – Lingshi
Day 08: Lingshi – Chebisa
Day 09: Chebisa – Shomuthang
Day 10: Shomuthang – Robluthang
Day 11: Robluthang – Lingmithang
Day 12: Lingmithang – Laya
Day 13: Laya – Koena
Day 14: Koena – Gasa
Day 15: Gasa – Punakha
Day 16: Punakha – Thimphu
Day 17: Thimphu – Paro | Departure
Day 01: Paro Arrival
Upon arrival, our representative will be waiting to warmly greet and escort you to the hotel in Paro. After lunch, you will head to the 17th-century Rimpung Dzong. The building is an old-aged fortress and center of civil and religious government in the Paro valley. From here, you can walk down to the road head crossing a traditional wooden bridge. It is our chance to be taken to Kyichu Lhakhang, one of the oldest and the holiest shrine in the country. In the evening, stroll around Paro town.
Overnight in Paro.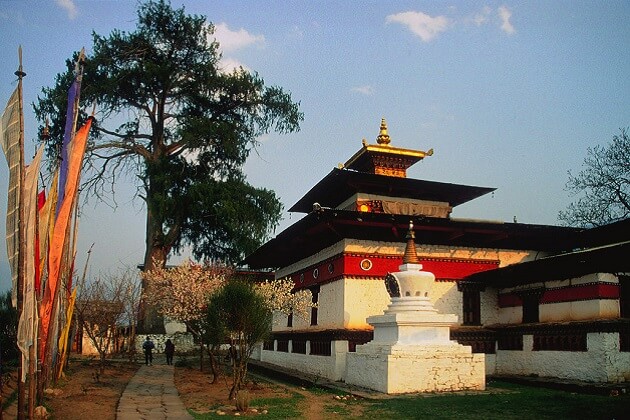 Day 02: Acclimatization – Tiger's Nest Hiking Trip
Today, enjoy breakfast and we will enjoy an exciting hiking trip to the Tiger's Nest Monastery – Taktsang Goemba, the most iconic attraction in Paro – Bhutan. The hike will take us 2 – 3 hours to reach the monastery cliffing on a sheer rock at 3180m. Discover the Monastery and hike back to Paro.
Day 03: Drukgyel Dzong – Shana
Today, the trek starts from the ruins of Drugyal Dzong at 2300m with a downhill walk on a wide trail. Our trekking trail climbs gently traversing through well-maintained rice terraces and fields of millet. The route later enters a region of apple orchards and forests. Soon, the valley widens and we will reach Gunitsawa village where we pass the army post. The campsite is on the opposite side of the river, it is not far from Gunitsawa. Camp at 2850m.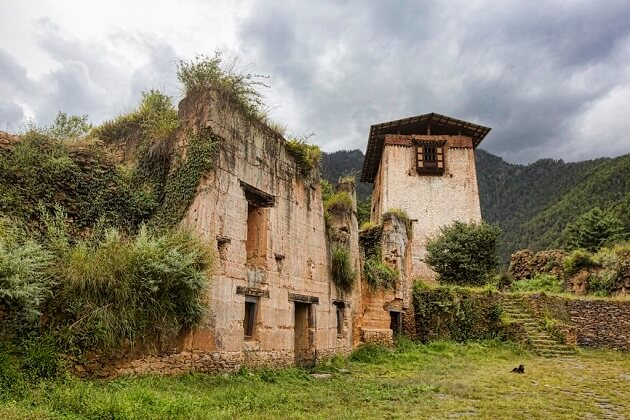 Day 04: Shana – Sio Thangthangkha
Today, our trekking trail continues with lots of small ups and downs. After trekking uphill through the river valley, the valley will be gradually narrowed to a mere path, that descends to a meadow where a camp will be set up at 3750m. Once there, if weather permits, you will have the first stunning scenery of Mt. Jumolhari.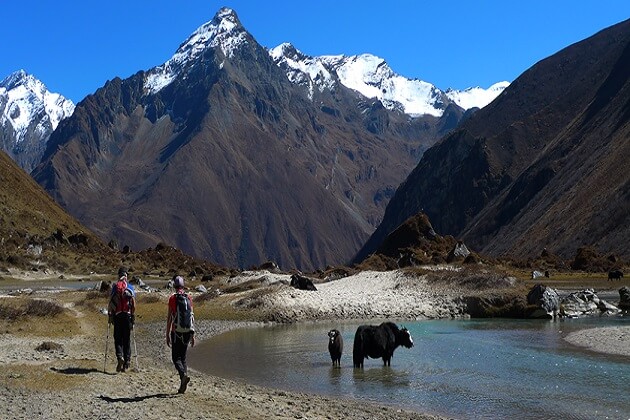 Day 05: Sio Thangthangkha – Jangothang
Today, our trek continues up the Paro Chhu valley widening into patches of alpine meadow and scanty growths of forest. En route, we will cross an army checkpoint and get into a spectacular view of high mountain ridges and snow-capped peaks. Once there, yaks and their herder's homes become a regular feature of the landscape. Passing the Sio, Takethang, and Dangochang villages is another asset today. After reaching Jangothang, one of the most stunning campsites of the Himalayas, you will have a spectacular vista of Mount Jumolhari as well as Jichu Drake.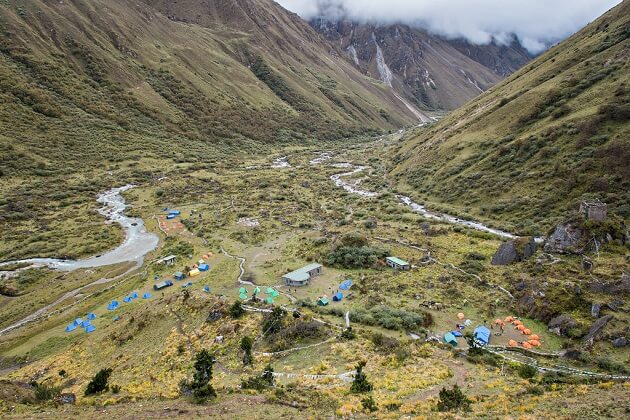 Day 06: Leisure at Jangothang
Today in Jangothang, you will be provided plenty of possibilities for day hikes with great vistas of lakes and snow-capped mountains such as Jumolhari and Jichu Drake. There are good opportunities to witness some blue sheep on the upper slopes of the valley. Jangothang is a perfect environment for your acclimatization. Also, you can opt to trek up to Tsophu Lake or hike around the area
Day 07: Jangothang – Lingshi
The trekking trail, today, follows the stream or half an hour and crosses the bridge to the right side. Begin the climb up to the first ridge with a marvelous view of Jumolhari, Jichu Drake and Tshering Gang. Then, we walk towards the valley, almost flat for a while, until the climb to the Ngye-La pass, at an altitude of 4830m. After crossing through the pass, it is a gradual descent to the Lingshi camp, getting into the panoramic view of the peaks and Lingshi Dzong.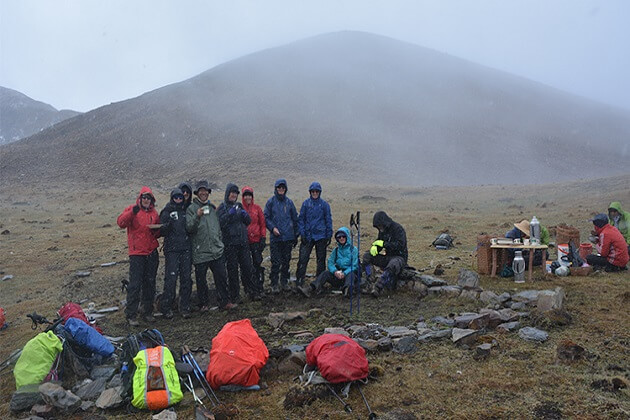 Day 08: Lingshi – Chebisa
After starting for a while, we will reach a Chorten below Lingshi Dzong. Once there, you have the choice of staying on the main trail or taking a detour up to the Lingshi Dzong (4220m), which sits right atop a high ridge. After Lingshi Dzong, It is an easy day and pleasant walk through villages and yak herders camp. On reaching the campsite at Chebisa, you will have plenty of time to head to the village houses. There is also a stunning waterfall located behind the village which is worth visiting.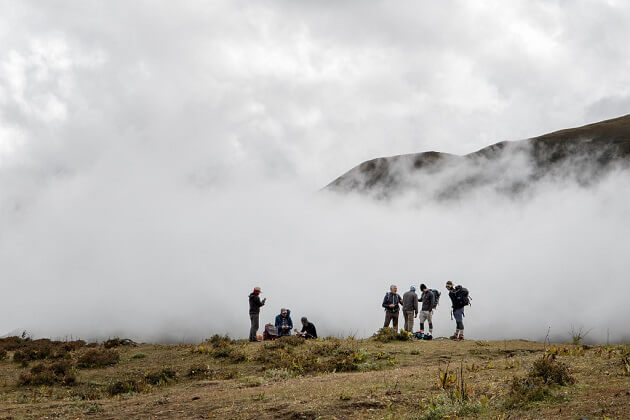 Day 09: Chebisa – Shomuthang
Today, we start with a long ascent behind Chebisa Village through a wide pastureland towards Gobu La pass at 4420m. En route, we will see a few people herding yaks and we may also see herds of blue sheep. After crossing Gobu La, you descend into the valley, then climb again a little bit, before descending again to Shakshepasa (3980m), a large U-shaped valley. Climbing from here, we will finally reach the campsite at Shomuthang, above a river that is a tributary of the Nochu river.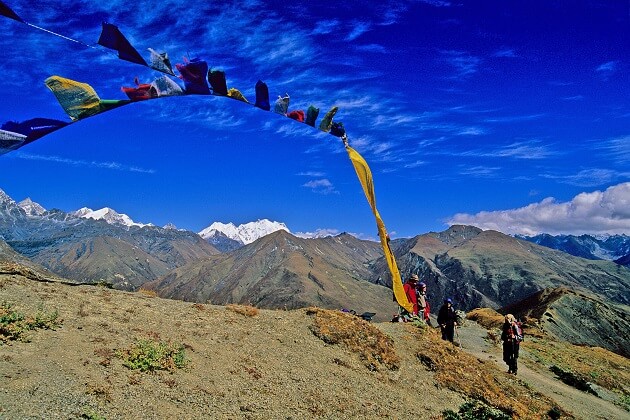 Day 10: Shomuthang – Robluthang
This morning, we begin by climbing up the valley – Edelweiss abounds along the trail. The snow-capped peak we can observe to the southeast is Kang Bum (6526m). After two hours of trekking, we will reach Jhari La (4750m), from where we can catch the first glimpse of Sinche La, the pass we will have to cross the day after. The big snow-capped peak in the north would be Gangchhenta 6840m aka the Great Tiger Mountain. The camp by the river is called Tsheri Jathang located in a gorgeous wide and isolated valley. We climb up a little bit and will reach the campsite at Robluthang in a rocky meadow.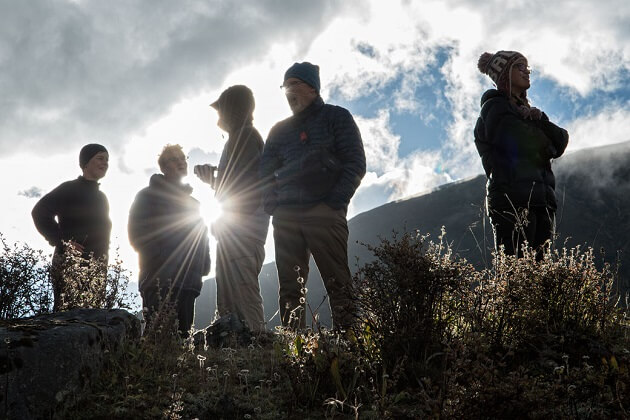 Day 11: Robluthang – Lingmethang
It is a long climb unto Shingela pass (5010m). The vista of the mountains from the path is super stunning. As we descend, we will see a magnificent terminal moraine and a glacial lake at the foot of the valley. Below the moraine, we trek through the Kango Chhu and soon reach the Lingmithang campsite. The peak of Gangchhenta towers over the campsite even though it's a bit a distance away.
Day 12: Lingmethang – Laya
Today, we wake up with a stunning view of Gangchhenta peak in front of us. The walk to Laya is very pleasant with fantastic sceneries. we will pass through a damp forest that is filled with moss and singing birds. Then, we arrive at Laya village which is the second-highest settlement in the country, at 3850m. From the west of the village, you will have spectacular vistas of Mt. Gangchhenta and catch Mt. Masagang.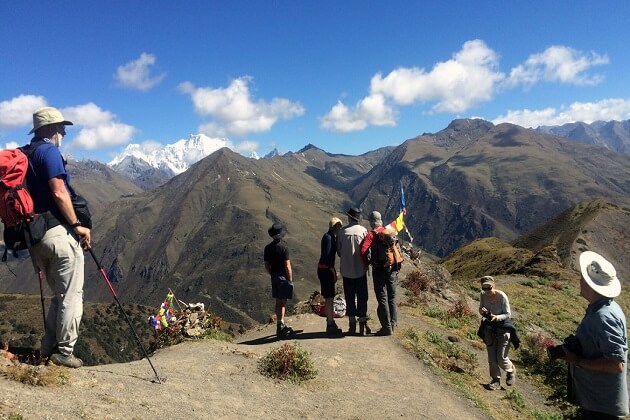 Day 13: Laya – Koena
We descend to an army camp and join the Mo Chhu river. Follow the river until we cross the bridge. After that, it's up and down several times, through juniper as well as fir forests until we reach the camp at Koena at an altitude 3,800m.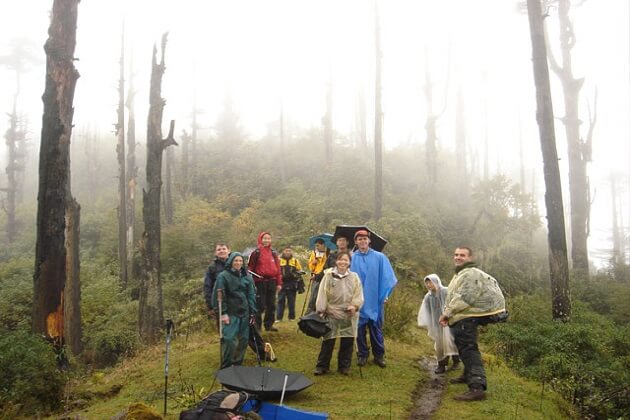 Day 14: Koena – Gasa
Today, we walk for roughly half an hour over flat land till the Barila La pass (4100m). After that, it's downhill all the way to Gasa Tshachu. Lunch at Gasa village. After lunch, we head to the village. Then, make our way descend to Gasa Tshachu (hot spring) for camp at 2900m. Later, soak in Hot Spring, which has curative values for various ailments.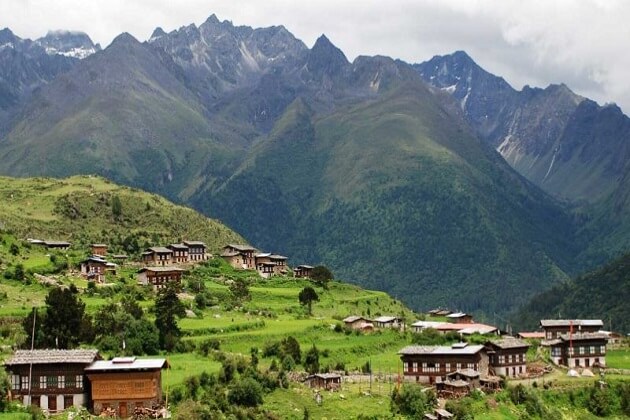 Day 15: Gasa – Punakha
This morning, we will drive towards Punakha on unpaved roads. Our drive is through the high agricultural benches above the Mo Chhu into a lush dense semi-tropical gorge filled with banana trees and creepers. After lunch, we will head to the Punakha Dzong that is one of the most gorgeous Dzongs in Bhutan. Overnight in Punakha.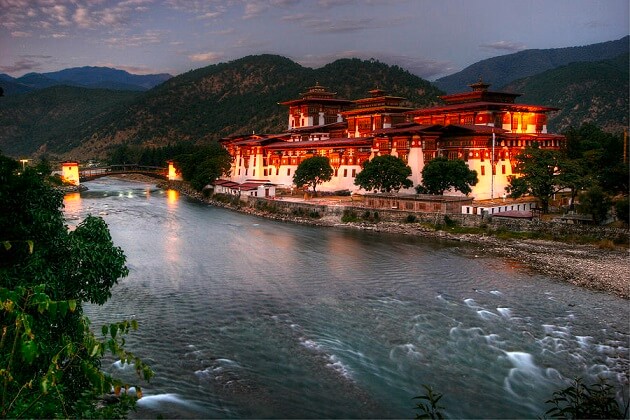 Day 16: Punakha – Thimphu
We set out for Thimphu with a stop at Dochu-La pass for a tea break, where on a lovely day, we can get breathtaking views of the Himalayas. Check into your hotel on arrival in Thimphu. In the afternoon, you can stroll around freely in the capital city. Overnight in Thimphu.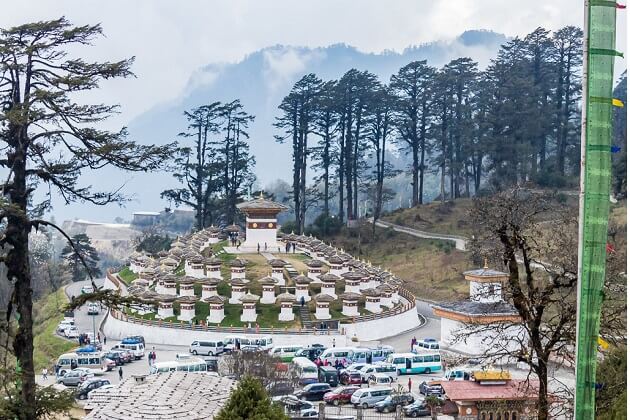 Day 17: Thimphu – Paro | Departure
Time to say goodbye to Bhutan. Breakfast and relax at leisure until getting escorted to the Paro International Airport for a flight coming home. The trip ends. Hope you enjoy the trekking trip and wish we could serve you next time in when it comes to wonderful Bhutan tour packages.