General Information
Duration: 15 days/ 14 nights
Start/ End: Paro/ Paro
Tour Route: Paro – Punakha – Phobjikha – Trongsa – Bumthang – Thimphu
Tour Customize: Definitely! (Tell us your specific requirement in the inquiry form)
Brief Itinerary
Day 1: Paro Arrival
Day 2: Birding Tour in Paro
Day 3: Transfer from Paro to Punakha
Day 4 & 5: Birding Tour in Punakha – Gasa stretch
Day 6: Transfer from Punakha to Phobjikha – Birding Tour in Phobjikha
Day 7: Transfer from Phobjikha to Trongsa – Birding Tour in Trongsa
Day 8: Transfer from Trongsa to Zhemgang – Tingtibi
Day 9, 10 & 11: Birding Tour in Tingtibi and Manas
Day 12 Transfer from Tingtibi to Bumthang
Day 13: Birding Tour in Bumthang
Day 14: Transfer from Bumthang to Paro
Day 15: Paro Departure
Day 1: Paro Arrival
Letting your soul roll into the beauty of Paro Valley while sitting on the comfortable seat inside the giant 'iron-bird' and then, jumping off in the Paro International Airport. After completing all immigration procedures, our representative will be waiting to warmly greet you and escort you to the hotel.
In the afternoon, there will be a short birding trip along the Pachhu river where you will catch a glimpse of waterbirds like Plumbeous Water Redstart, Ibisbill, Brown Dipper, River Lapwing, White-capped Water Redstart, and so on.
Later, in the evening, head out for your first dinner in Paro then the rest of the day will be yours.
Overnight at the hotel.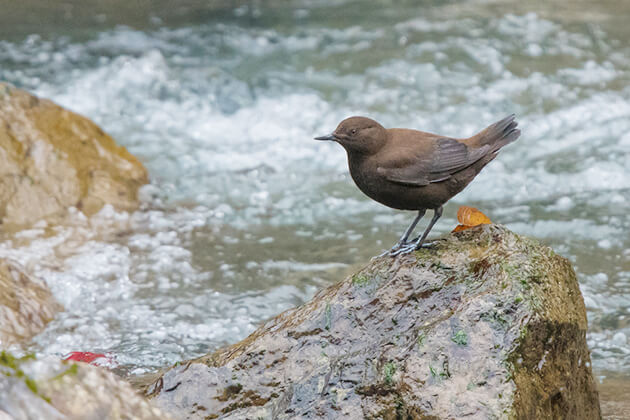 Day 2: Birding Tour in Paro
Getting up early and admire the stunning vista of the sunrise and stroll around the city when the tranquility still remains (optional). After breakfast, you then transfer to Chele La pass for a whole day of bird watching. Once there, you will absolutely encounter the colorful pheasants such as Kalij Pheasant, Satyr Tragopan, Himalayan Monal, and Blood Pheasant. If you are lucky enough, the Fire-tailed Myzornis, the beautiful bird wearing a magically green coat on it, will come to you and definitely make your day.
Later, return to Paro and have dinner. The rest of the day will be yours as you can do what you want.
Overnight at the hotel.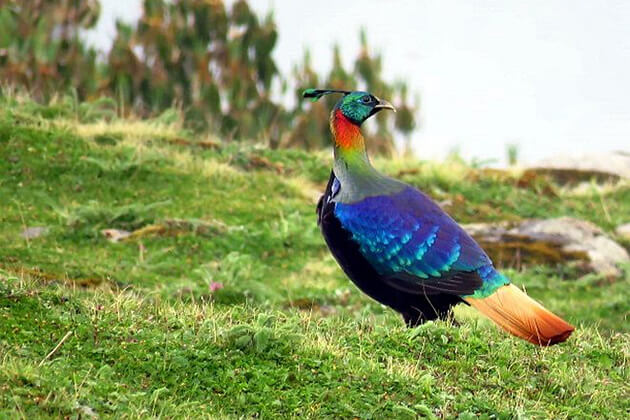 Day 3: Transfer from Paro to Punakha
Your third day will begin with a drive to Punakha and stopover Dochula pass at 3.050 meters. On a clear day, be ready to marvel at the magnificent vista of the snowcapped eastern Himalayan range. Also, you stroll around the 108 stupas of the Druk Wangyal Chorten, a spiritual destination where offers an undoubtedly scenic and peaceful for travelers once coming there.
In Punakha and Wangduephodrang valley, the birds can be found are Yellow-bellied Blue Magpie, Collared Grosbeak, Himalayan Cutia, White-browed Fulvetta, Red Crossbill, Golden-breasted Fulvetta, Ultramarine Flycatcher, Plain Mountain Finch, Fire-tailed Myzornis, Mrs Gould's Sunbird, Green-tailed Sunbird, Black-throated Parrotbill, Himalayan Bluetail, White-browed Bush Robin, Rufous-breasted Bush Robin, Red-headed Bullfinch, Chestnut-tailed Minla, Dark-breasted Rosefinch, Common Kingfisher, White-throated Kingfisher, Crested Kingfisher, our super-star White-bellied Heron, and so on.
After a day of being a bird-watcher, you then return your hotel to relax. Having dinner and the rest of the day will be yours.
Overnight at the hotel.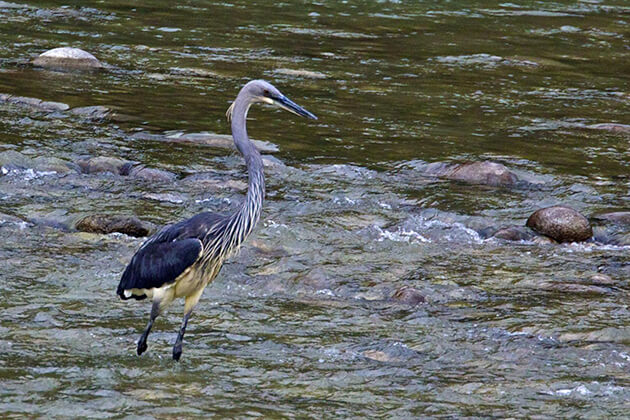 Day 4 & 5: Birding Tour in Punakha – Gasa Stretch
You will spend two days watching various bird species and their daily habits. In the stretch, you will see the Jungle Owlet, Asian-barred Owlet, Black-throated Sunbird, Great Cormorant, Lesser Fish Eagle, Pallas' Fish Eagle, our super-star White-bellied Heron, Black-throated Yuhina, Green-tailed Sunbird, Barred Cuckoo Dove, Striped-throated Yuhina, Long-tailed Minivet, Whiskered Yuhina, Striated Yuhina, Spotted Wren Babbler, Hoary-throated Barwing, Black-eared Shrike-babbler, Maroon Oriole, Pygmy Wren Babbler, Speckled Piculet, Himalayan Cutia, Orange-bellied Leafbird, White-tailed Nuthatch, Scarlet Finch, Blue-fronted Robin,Wedge-tailed Green Pigeon, Rufous-winged Fulvetta, White-throated Fantail,Green Shrike-babbler, Golden-spectacled Warbler, Tickell's Leaf Warbler, Lesser Shortwing, Lemon-rumped Warbler, Buff-barred Warbler, Slaty-backed Forktail, Spotted Forktail, Black-backed Forktail, Yellow-bellied Fantail, Rusty-fronted Barwing, Yellow-throated Fulvetta, and so many others waiting for you to witness its beauty.
Overnight at the hotel.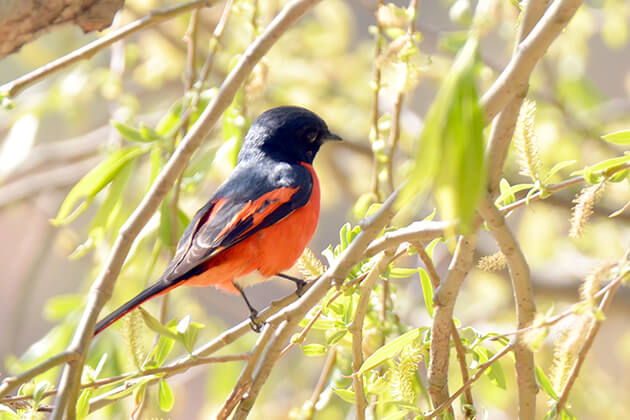 Day 6: Transfer from Punakha from Phobjikha – Birding Tour in Phobjikha
After breakfast, you then take a drive toward Phobjikha valley, through the black mountain region where provides magnificent scenery for you to witness. Once in Phobjikha valley, one of the most significant wildlife preserves in Bhutan and in winter, the destination is the nesting grounds for the endangered Black-necked Crane, an endangered species. In the area, you can find several adorable bird species like Amur falcon, Spotted Laughingthrush, Fire-breasted Flowerpecker, Red-headed Bullfinch, Scarlet Finch, White-tailed Nuthatch, Blue Rock Thrush, Whiskered Yuhina, Yellow-rumped Honeyguide, Blue-capped Rock Thrush,Fire-tailed Myzornis, Great Parrotbill, Ward's Trogon, Alpine Accentor, Green-tailed Sunbird, Fire-tailed Sunbird, Rufous-vented Yuhina, Black-faced Laughingthrush, Scaly Thrush, Tickell's Thrush, Fire-capped Tit, and so on.
Overnight at the hotel.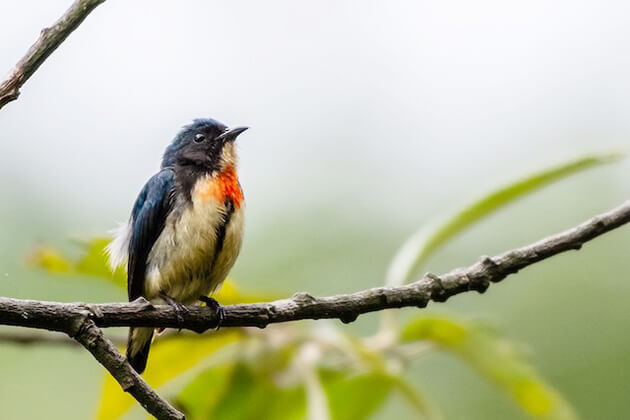 Day 7: Transfer from Phobjikha to Trongsa – Birding Tour in Trongsa
Leaving Phobjikha Valley behind, today you will take a 3-hour drive to Trongsa, through the lush dense oak, rhododendron, horse chestnut, fir, laurel, spruce, maple, hemlock, larch, and juniper forests. Do not forget to admire their beauty. After crossing Pele La pass (at 3.390m), you finally reach the central district of Trongsa. Once there, enjoy your birding day trip and there will be so many birds species to both witness and indulge yourself in the melodious tweet. The species can be found in this area will be Common Kestrel, Mountain Hawk Eagle, Himalayan Griffon, Crested Serpent Eagle, Spotted Laughingthrush, Himalayan Swiftlet, Common Rosefinch, Nepal House Martin, Beautiful Rosefinch, Asian House Martin, White-browed Rosefinch, Scaly-breasted Wren Babbler, Slender-billed Scimitar Babbler, Speckled Wood Pigeon, Brown Parrotbill, and Streaked-breasted Scimitar Babbler.
Overnight at the hotel.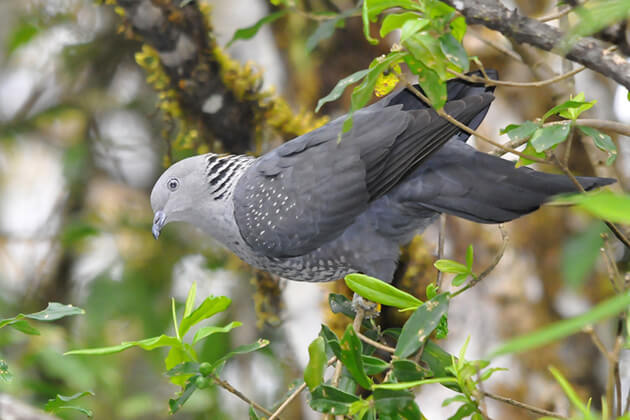 Day 8: Transfer from Trongsa to Zhemgang – Tingtibi
This morning, it will take you 4.5 hours to drive from Trongsa to Zhemgang and Tingtibi following the Mangde Chhu River to start the first day of week 2 watching birds. Once there, species that can be found are Pygmy-blue Flycatcher, Callard Scops Owl, Mountain Scops Owl, White-throated Needletail, Grey-headed Parrotbill, Black-faced laughing thrush, White-browed Scimitar Babbler, White-tailed Robin, Bay Woodpecker, Speckled Piculet, White-browed Piculet, Great Hornbill, Rufous-necked Hornbill, Coral-billed Scimitar Babbler, Hill Patridge, Chestnut-breasted Patridge, Blue-bearded Bee-eater, Red-headed Trogon, Pin-tailed Green Pigeons. If it is your lucky day, be ready to catch an opportunity witnessing the endangered White-bellied Heron along with Collared Treepie, Greater Necklaced Laughingthrush, Lesser-necklaced Laughingthrush, Greater Rufous-headed Parrotbill, Lesser Rufous-headed Parrotbill, Beautiful Nuthatch Parrotbill.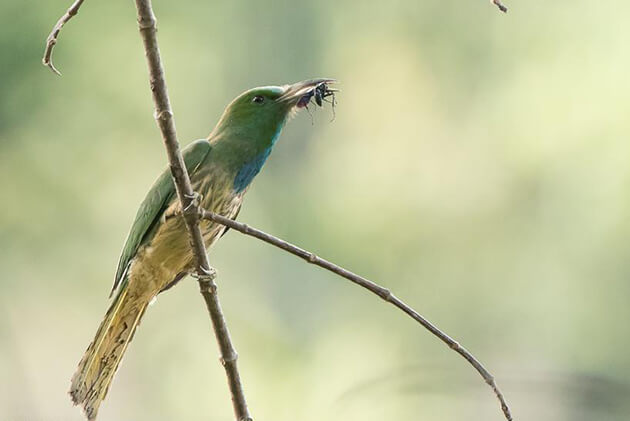 Day 9, 10 & 11: Birding Tour in Tingtibi and Manas
Tingtibi and Manas are the two well-worth birding areas that offer you a chance to behold so many species like the White-hooded Babbler, Velvet-fronted Nuthatch, Siberean Rubythroat, White-rumped Shama, Green Emperial Pigeon, Green-Bellied Malkoha, Greater Coucal, Lesser Coucal, Ashy Woodswallow, Emerald Dove, Chestnut-winged Cuckoo, Dollarbird, Green Bee-eater, Chestnut-headed Bee-eater, Blue-bearded Bee-eater, Eurasian Wryneck, Grey-headed Woodpecker, Rufous Woodpecker, Rufous-bellied Woodpecker, Grey-capped Pygmy Woodpecker, Greater Goldenback, Himalayan Goldenback, , Large Woodshrike, Silver-eared Broadbill, Long-tailed Broadbill, Bar-winged Flycatcher-shrike, Large Cuckooshrike, Black-winged Cuckooshrike, Comon Lora, Spangled Drongo, Lesser Racket-tailed Drongo, Greater Racket-tailed Drongo, Common Green Magpie, Common Lora, Spangled Drongo, Red-whiskered Bulbul, Mountain Bulbul, Slender-billed Oriole, Maroon Oriole, Black-hooded Oriole, Straited Prinia, Rufescent Prinia, Common Tailorbird, Mountain Tailorbird, Black-faced Warbler, Rufous-faced Warbler, Whistler's Warbler, Grey-cheeked Warbler, Chestnut-crowned Warbler, Abbott's Babbler, Puff-throated Babbler, Pygmy Wren Babbler, Scaly Wren Babbler, Eye-browed Wren Babler, Long-billed Wren Babbler, Pin-striped Tit Babbler, Grey-throated Babbler, Golden Babbler, Jungle Babbler, White-crested Laughingthrush, Straited Laughingthrush, Rufous-chinned Laughingthrush, Rufous-necked Laughingthrush, Red-faced Liocichla, Red-tailed Minla, Blue-winged Siva, Bar-throated Siva, Red-billed Leiothrix, Silver-eared Mesia, Long-tailed Sibia, White-Bellied Erpornnis, Black-eared Shrike- babbler, Sultan Tit, Scarlet Minivet, Lesser Yellownape, Wreated Horrnbill, Rufous-necked Hornbill, Great Hornbill, and some very cool birds such as Hodgson's Frogmouth, Collared Falconet, and Pied Falconet.
Unlike the days before, during this 3-day birding trip, you will overnight at the tented camp. Hence, it will be great to get an opportunity to get up in the morning hand-in-hand with your beloved partner and are greeted by the melodious tweet.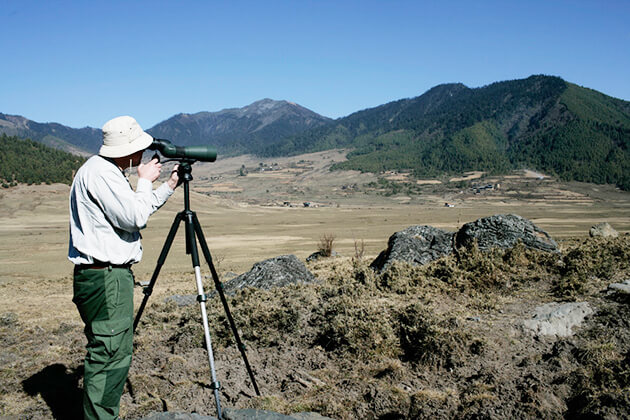 Day 12: Transfer from Tingtibi to Bumthang
This morning, before heading to Bumthang, you will have some time to witness the adorable Nuthatch and the Sapphire flycatcher. You then take a drive crossing over Yotong La pass (3.400 m) to go to Bumthang. Once again, do not miss a chance to see how beautiful Bhutan is while driving at a high altitude. On the way to Bumthang, you can also catch a glimpse of the Golden-naped Finch, Chestnut-crowned Laughingthrush, Black-faced Laughingthrush, Chestnut-tailed Minla, and Brown Parrotbill.
Later, in the evening, feeling so relax when walking along the Chamkhar Chhu River and witness the Common Sandpiper, Blyth's Pipit, Red-billed Chough, and Little Bunting.
Overnight at the hotel.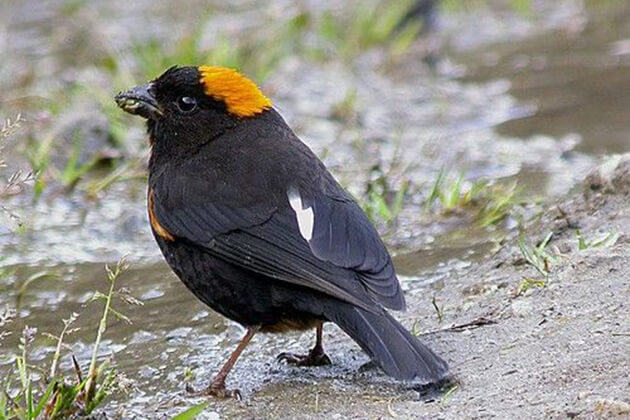 Day 13: Birding Tour in Bumthang
If the previous days you missed beholding pheasants, today you will have an opportunity to do that thing. Head to Tharparling monastery, then you both experience the sacred beauty of it, the vista surrounding and the super beautiful Himalayan Monal as well as Satyr Tragopan. Also, you can sight Spot-winged Grosbeak, Black-billed Magpie, Oriental Skylark, Olive-backed Pipit, Daurian Redstart.
Overnight at the hotel.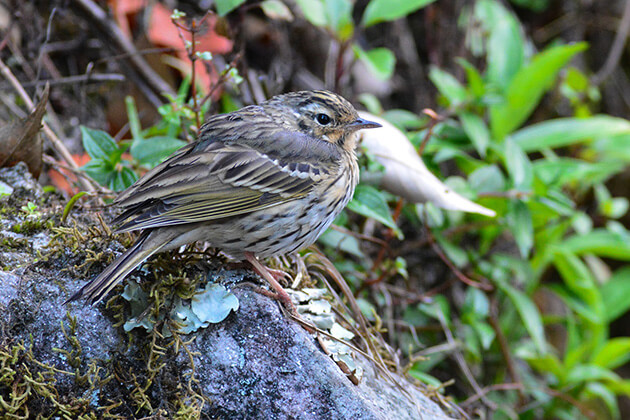 Day 14: Transfer from Bumthang to Paro
Today, after breakfast, you then take a drive to Paro.
In the afternoon, enjoy a hiking trip to Taktsang Goemba – The Tiger's Nest monastery. En route, you will stop for a while and witness the stunning vista at the high altitude filled fluttering prayer flags.
Later, in the evening, the rest of the day will be yours.
Overnight at the hotel.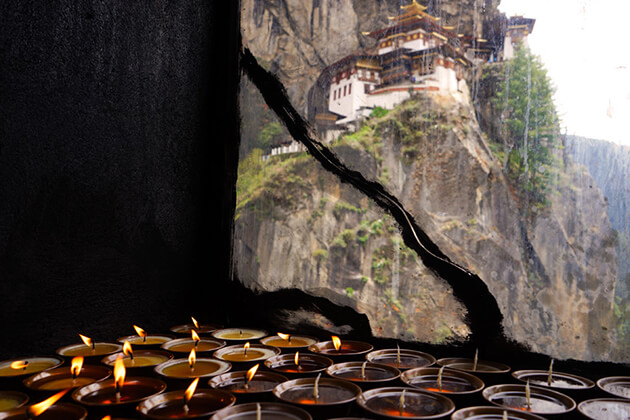 Day 15: Paro Departure
Time to say goodbye Bhutan. Enjoy your last moment in Bhutan with breakfast in a cafeteria, then stroll around the city, do some shopping, or just simply sit at a coffee shop and vividly recall the whole birding trip in Bhutan that you one experience with full of happiness and smile. Before 2 hours when your return flight launched, our representative will be waiting to meet you at the hotel then escort you to the Paro International Airport. The trip ends. Hope you had a memorable tour in Bhutan and we can serve you next time in Bhutan.