General Information
Duration: 9 days/ 8 nights
Start/ End: Paro/ Paro
Tour Route: Thimphu – Punakha – Phobjika – Paro
Tour customize: Absolutely! (Tell us your specific requirement in the inquiry form)
Brief Itinerary
Day 1: Paro Arrival – Transfer to Thimphu
Day 2: Birding trip in Thimphu Valley
Day 3: Transfer from Thimphu to Punakha Valley
Day 4: Birding trip in Punakha Valley
Day 5: Transfer from Punakha to Phobjikha Valley
Day 6: Transfer from Phobjikha to Paro Valley
Day 7: Birding Trip Paro Valley
Day 8: Tiger's Nest Monastery
Day 9: Paro Departure
Day 1: Paro Arrival – Transfer to Thimphu
Before landing off at the international airport, you have an opportunity to enjoy the stunning view of the Paro Valley with the green terraced field below while sitting on the comfortable seat. After completing all procedures, our representative will be waiting to warmly welcome you and pick you up to the hotel. Take a short rest, then together head to the suburbs in the capital city – Thimphu, like Upper-Motithang and the northern end of the Valley (Cheri, Doedena, and Begana) in the afternoon.
Start with the Upper-Motithang area, a good area to witness several popular bird species such as the Rufous Fronted Tit, Sparrow Hawk, Rufous-bellied Woodpeckers, Hoopes, Nepal House Martin, and Hill Myna. Besides enjoying the birding trip, you will visit the Tashichu Dzong, and the Giant Buddha Statue before turning back to the hotel for the night.
Overnight at the hotel.
Day 2: Birding Trip in Thimphu Valley
Get up early and enjoy the trip outside Thimphu where you surely pass through the rich vegetation of fir, pine, rhododendron, apple trees and make sure that you do not miss to witness the Red-Billed Chough that is frequently seen in this area.
Continue the journey to the Cheri, Dodema and Begana areas where provide the best birding spots in the Valley as you will immerse yourself in the areas fulfilled with the sound of tweet from many bird species like Ibisbills, Sandpipers, Crested-Pie kingfishers, Red-rumped Swallows, Long-Tailed Minivets, Grey Wagtails, Yellow-Billed, Blue Magpies, Spotted Nutcrackers, White-Bellied Yuhina, Red-Billed Choughs, Black-Browed Tits, Upland Pipits and so many of others.
After being satisfied, you then visit some of the tourist attractions like the Memorial Chorten, the Choki Traditional Art School, the Institute of Traditional Medicine Services, the weekend market and enjoy archery – the national sport of Bhutan.
Overnight at the hotel.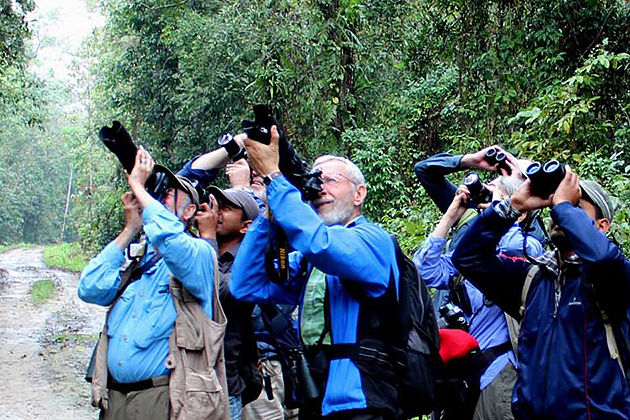 Day 3: Transfer from Thimphu to Punakha
Having breakfast, then head to the east where dochula pass situated. Once there, you can admire the breathtaking vistas of the whole Himalayan mountain range while standing on the border between Bhutan and Tibet. What's more, do not forget that this area is also a heaven for bird-watchers as when you hike through the fir, birch, and rhododendron forest, you will reach the place where many species of bird thrive. Continue heading to the Lungchutse Monastery then witness Ward's Trogon, the most prized sighting in this area. During enjoying the journey, you may bump into other birds like Spotted Nutcracker, Large Hawk-Cuckoo, Darjeeling Woodpecker, Yellow-Billed Magpie, Chest-Tailed Minla, Collard Blackbird, Ultramarine, Flycatcher, and Brown Bullfinch.
In the afternoon, make your way to the bird-rich subtropical valley of Punakha. On reaching the destination, stop for a while to explore the edge of a forest and agricultural land in a nearby village. On your way heading to the Valley, there will be your chance to witness several subtropical species of bird that can be commonly seen here like Red-headed Trogon, Wedge-Tailed Pigeon, Fire-capped Tit, White-Gorgeted Flycatcher, and other rare species such as Yellow-vented Warbler, Magpie Robin, Green Magpie, and Osprey.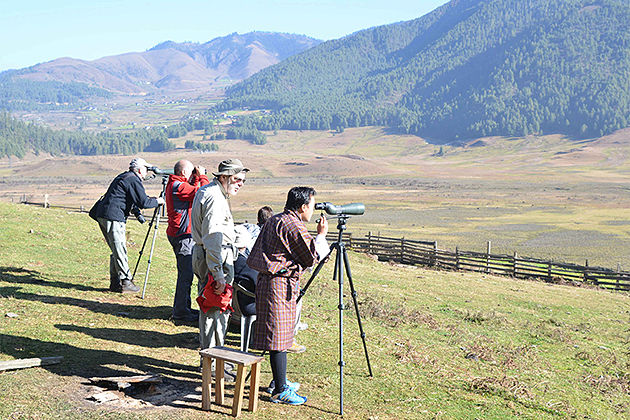 Day 4: Birding trip in the Punakha Valley
This area is a destination that is renowned for the critically endangered White Bellied Heron.
Today, after having breakfast, you will continue your birding trip. Stop and attentively behold the impressive Punakha Dzong, the most beautiful Dzong in Bhutan, then head to the forests of the upper Punakha valley where converges bird species as Bay Woodpeckers, Red-headed Trogons, Wedge-Tailed Pigeons, Fire-Capped Tits, White-Gorgeted Flycatchers, rare Yellow Vented Warblers, Magpie Robins, Green Magpies, Ospreys, River Lapwings, Rubby Shelducks, and Eurasian Wigeon. Make sure that you keep your eye out of a variety of skulkers like Spotted Elachura and Pygmy Wren-Babbler, and two of Bhutan's three species of Tesia.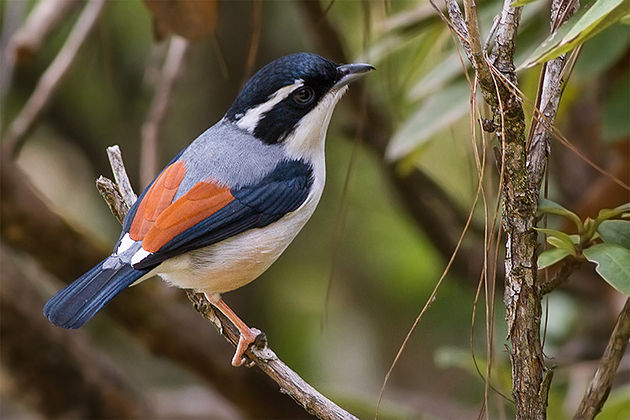 Day 5: Transfer from Punakha to Phobjikha
Today, you will depart for Phobjikha. On reaching the destination, stop for a while to discover the edge of a river channel and scan the forests for Flycatchers and Wedge-Tailed Green Pigeons. The place is also home to many other species that you may fall in love with them like Carlet Finch, Black Drongo, Chestnut-Bellied Nuthatch, Slaty-Backed Forktail, Gorgeted Flycatcher, White-Throated Laughingthrush, Eurasian Jay, Wedge-Tailed Green Pigeon, Mountain Imperial Pigeon, Verditer Flycatcher, and so on.
If you travel between October and March, the famed Black-Neck Cranes will be waiting for your appearance. In the afternoon, you will stop at the Black-Neck Crane Center and if time is permitted, it's time for bird-watchers leisurely stroll around the glacial Phobjikha Valley and enjoy the beautiful tweet of White-Throated Laughing thrushes, Mountain Imperial Pigeons, Slaty-backed Forktails, Rusty-Flanked Tree Creepers, White-Browed Bush Robins, and White-Winged Grosbeaks make their home. Once there, remember that do not miss the century-old Gangtey Gompa overlooking the valley.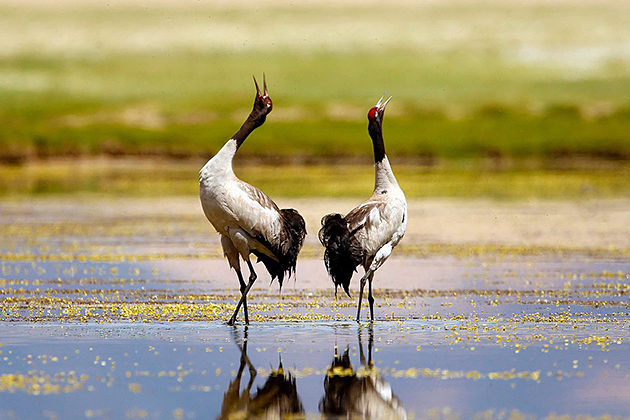 Day 6: Transfer from Phobjikha to Paro Valley
Get up early in the morning and make your way to Pele La Pass as this is the best time to witness some adorable birds which are Satyrs Tragopan, Blood Pheasant, Khalij Pheasant, Himalayan Monal, Yellow-Billed Magpie, Chest-Tailed Minla, Collard Blackbird, and Ultramarine Flycatcher. Once there, hop on the car to drive to Paro. On reaching the area, many birding stops along the way are waiting for you.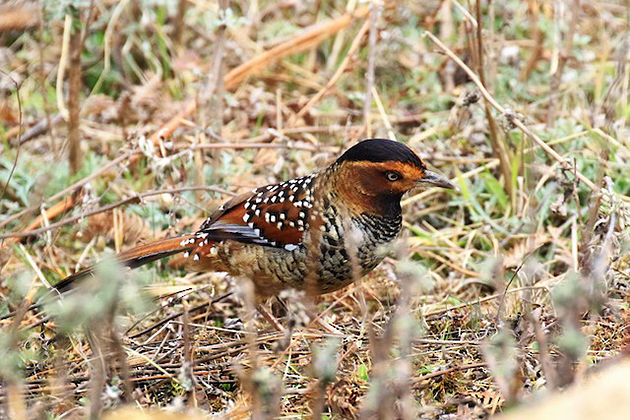 Day 7: Birding Trip in Paro Valley
Get up early to witness the sunrise (if you want), then your first day in Paro begins with a walk along the Pho Chhu riverbank to the Drukyul Dzong area where you will encounter an array of species of birds like Fire-Capped Tits, Spotted Laughing Thrush, and Brown Dipper.
Furthermore, it will be your chance to visit famous religious sites like Rinpung Dzong, Ta Dzong, Dumtse Lhakhang, Kichu Lhakhang – the oldest temple in Bhutan.
Overnight at the hotel.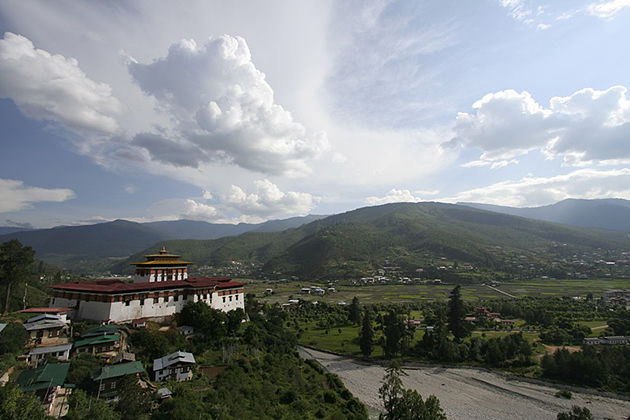 Day 8: Hiking to Taktsang Monastery
Once again, get up early and hike to the iconic Taktsang Monastery (the Tiger's Nest Monastery) for owning your best spotting the area of avian inhabitants. Being known as the most popular hiking trails; then, the later you start to hike, the more crowded and difficult your hiking trail will be. Thus, you have better starting the bird-watching tour with the glorious sunrise and admire Brown Dippers, Spotted Laughing thrushes, Fire-Capped Tits, and so on.
In the afternoon, visit the Paro river as it is another perfect destination for bird-watchers. Once there, it's time for you to witness the Ibisbill which has been existed throughout the year and if you are lucky enough, you will see Black-faced Laughingthrushes, Brown Dippers, Spotting Laughingthrushes, and Fire-Capped Tits.
Later, drive back and enjoy your last nightlife in Paro.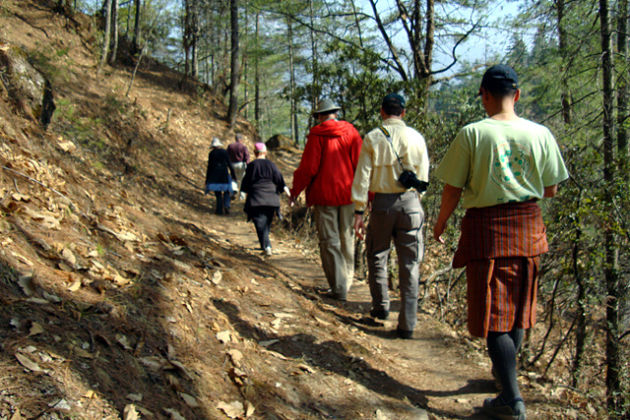 Day 9: Paro Departure
Time to say goodbye Bhutan. Enjoy your last moments with breakfast at a cafeteria. Leisurely walk around or do some shopping. Before your flight home, about 2 hours, our representative will be waiting to pick you up at your hotel and transfer you to the international airport. The trip ends, we hope that you had the best moment with our Bhutan Birding Tours. Thank you so much for going with us and see you next time in Bhutan.