Taking part in the tour, then having the best experience that the country – Bhutan offers from the rich of culture & tradition to the magnificent mountain scenery. Come and admire the impressive Dzongs in Thimphu and Punakha, witness the greenery of real Bhutanese countryside, enjoy day hikes before gearing up for the exciting 7-day Jomolhari camping trek. During the trek, be ready to soak in the world of the mighty long snow-capped mountains, the takins – Bhutanese national animal, Himalayan vultures, and even bump into the elusive snow leopard.
Duration: 14 days/ 13 nights
Start/End: Paro/ Paro
Tour Route: Paro – Thimphu – Punakha – Paro – Thogndu Zam – Soi Tangthanka – Jaangothang – Soi Yask – Thongbu Song – Paro
Tour Customize: Absolutely! (Tell us your specific requirements in the inquiry form)
Tour Highlights:
• Get into an exciting 7-day camping trek to the majestic Himalayan of the Mount Jomolhari
• Discover the cultural highlights of West Bhutan
• Day hiking trip to magnificent Taktsang Goembaa (Tiger's Nest) in Paro
• Experience the authentic Bhutanese life in the countryside
Tour Category: Bhutan Tour Itinerary
Guides: Local Guide (English speaking guide or other languages depends on your requests)
Transportation: Private first-class-air-conditioned vehicles
Accommodation: Listed below or equivalent. Rooms with private bath or shower, hotel taxes, porterage, tips, and service charges.
Brief Itinerary
Day 1: Paro Arrival, Drive to Thimphu
Day 2: Thimphu
Day 3: Thimphu – Punakha Valley
Day 4: Punakha Valley
Day 5: Punakha – Paro
Day 6: Transfer to Shana and Begin Trek to Thongdu Zam
Day 7: Trek to Soi Tangthanka
Day 8: Trek to Jaangothang
Day 9: Rest day for Acclimatization
Day 10: Trek across Bhonte La to Soi Yaksa
Day 11: Trek to Thongbu Shong
Day 12: Trek to Shana and Transfer to Paro
Day 13: Hike to Taktsang Goemba
Day 14: Paro Departure
Full Itinerary
Inclusion & Exclusion
Day 1: Paro Arrival and Drive to Thimphu
After having time to admire the stunning view of Bhutan at the high altitude, it's time for you to finish all immigration procedures at the Paro international airport. Then you will be warmly welcomed by our representative and transfer to Thimphu (1.5 hours). Depending on your arrival time, you will have the opportunity to have visit Tashichho Dzong, the Memorial Chorten, and the Giant Buddha Statue. Do not miss to witness the stunning views of the valley and the sunsets.
Overnight at Thimphu.
Day 2: Thimphu
Getting up early to marvel at the sunrise if you want, then having breakfast and now you are ready to start your tour itinerary by exploring the capital city where converges endless sights for travelers to discover. Your second day will be the full-day tour of Thimphu's cultural sites and monuments as you will visit the Traditional Art School where you can get a chance to witness lots of beautiful paintings and carved wooden figurines, the Nunery at Zilukha, then have lunch.
In the afternoon, continue on to other sites such as Takin Sanctuary and you will see how adorable the Takin can be. After that, head to the Changangkha Monastery, Simtokha Dzong, Textile Museum, and Weekend Market.
Later, having dinner at some of the finest restaurants in Thimphu and spending the rest of the day strolling the city at night.
Overnight at Thimphu.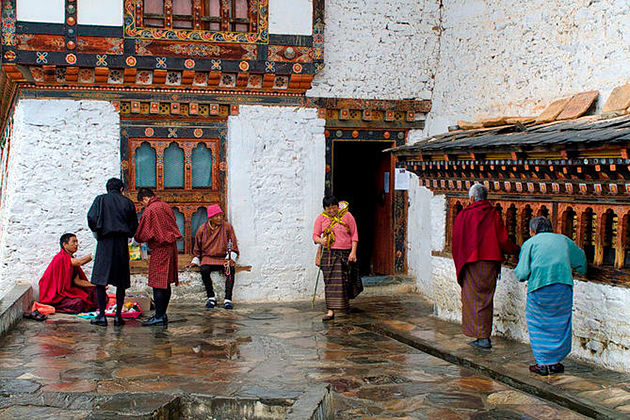 Day 3: Thimphu – Punakha Valley
After breakfast, then start your third day by transferring to Punakha (3 hours). On your way to Punakha, get ready to admire the forest that begins to thicken, as you leave Thimphu, and the road climbs toward the dochula pass (3050 m). Having lunch, then after reaching Punakha Valley. En route, we take a short hike to the Chimi Lhakhang Temple where you will absolutely be amazed at its outside look as well as the interiors inside.
In the evening, having dinner then the rest of the day will be yours. Do & see what you want.
Overnight at Punakha.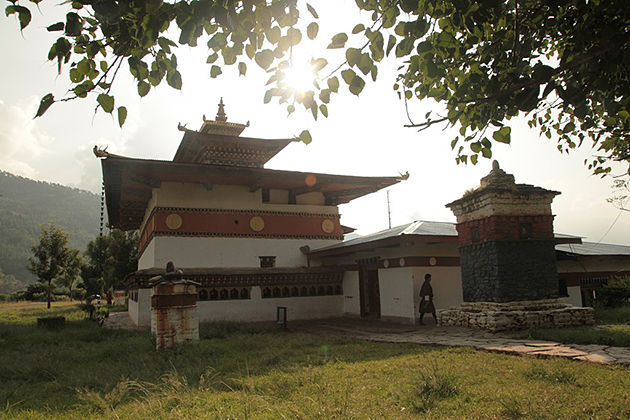 Day 4: Punakha Valley
After breakfast, you will head to the peaceful countryside north of Punakha. Crossing over the suspension bridge, you are now standing in front of the Khasum Yulley Chorten, a stupa with beautiful interiors and superb views of the valley. Then, hiking through the rice fields along the riverside to another suspension bridge. Once there, your car will be waiting to pick you up then drive you to the Punakha Dzong, the most beautiful Dzong in Bhutan which is located on the convergence of two rivers (Pho Chhu and Mo Chhu). Having lunch in Punakha Dzong.
In the afternoon, set off to Punakha town and market where you can enjoy an evening prayer ritual at the local nunnery.
Overnight at Punakha.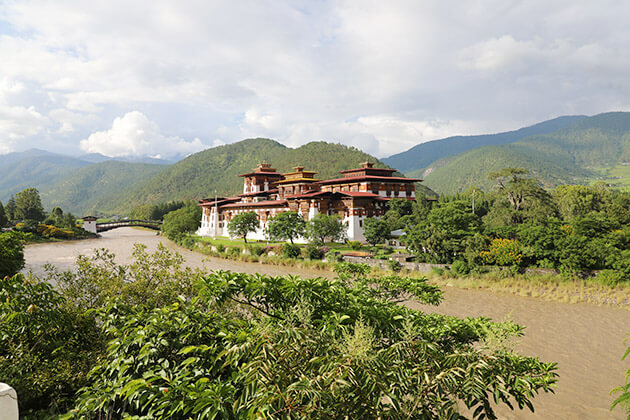 Day 5: Punakha – Paro
Having breakfast then back to dochula pass and witness the specular view of Bhutan's peaks in the north which form the natural border with the Tibetan Plateau. When you reach to Lungchutse Lhakhang (situated above the dochula pass), you even have a better view of Bhutan's peaks. Then, hiking through the vegetation consisting of moss, laden birch, hemlock, and rhododendrons trees (about 2 hours) and you are now in the Lungchutse Temple. Having a picnic lunch there.
Later, having dinner and the rest of the day will be yours. Do & see what you want.
Overnight at Paro.
Day 6: Taktsang Goemba – Tiger's Nest Hiking Trip
Today, it is the time to get into a hiking trip to the legendary Taktsang Goemba – the Tiger's Nest Monastery where we spend 1 to 3 hours hiking up there and witness the super impressive scenery of the monastery.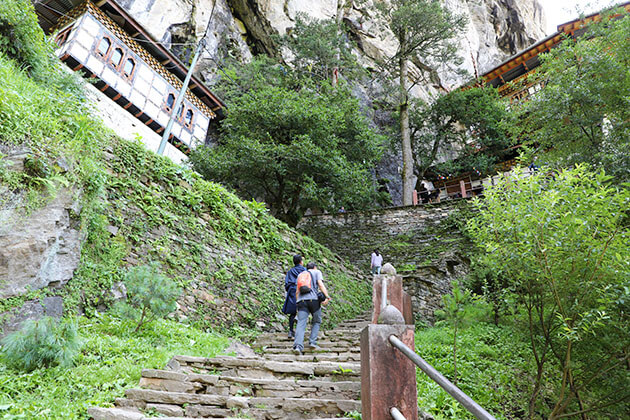 This experience will give you an opportunity to get enjoy an off-beaten hiking trail to immerse yourself in a serene and peaceful ambiance of the valley, and most importantly, it is your time to vividly recall all things that you really enjoyed before, it would the best time and funniest moment spending with your beloveds.
Then, we head back to Paro Valley where we make a stop at the oldest temple – Khyichu Lhakhang. Arrive in Paro and we have dinner.
Overnight at the hotel.
Day 7: Paro – Shana
Your trekking tour itinerary now will begin. In the morning, leaving Paro and drive about 30 minutes north to the ancient Drugyel Dzong which was burned down in a fire in the 1950s and currently being rebuilt. From there, drive another hour or walk along a rocky farm road to the Shana Zam where you will meet your trekking crew and companions, hand over your luggage, then your 7 6 days of trekking begins.
It takes you 5 – 6 hours to hike up the valley following the Pa Chu River to your camp at Shana.
Later, overnight at your camp base.
Hiking Distance: 17 km
Duration: 5 – 6 hours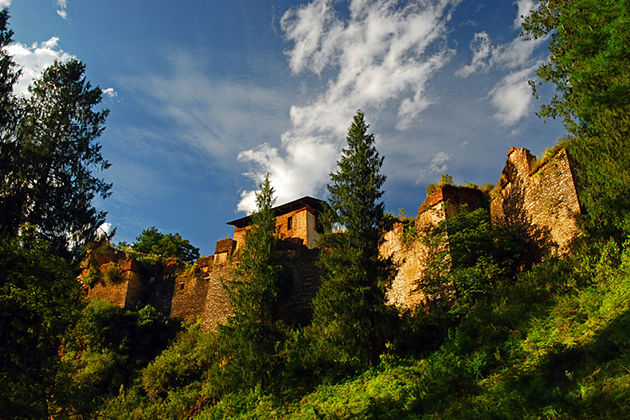 Day 8: Trek to Soi Tangthangka
Begin your second day of hiking with slow steps toward in height to let your body adjust to the lack of oxygen. Keep following along the river through the pine forest, mixed with oak, birch, maple, and absolutely you can admire the magnificent view from it. When the valley starts to be narrow, you then follow the winding trail to the bridge between the two valleys giving you a stunning vista of the Jomolhari. Then, keep following along the west bank of the ParoChu about a half-mile to reach Soi Tangthangka where a hearty meal is waiting for you.
Overnight at Soi Tangthangka.
Hiking Distance: 21 km
Duration: 5 – 6 hours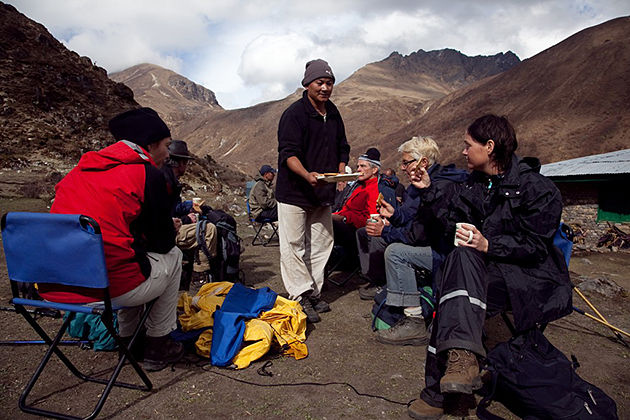 Day 9: Trek to Jangothang
Time to leave the forest behind you. Begin your hiking journey across a small army post and stupa for a more open landscape that is surrounded by high ridges and snow-capped peaks. The trail keeps stretching through juniper forest, past yak-herder villages, then you will reach to your camp placing atop a superb meadow that faces the east of Jomolhari.
Enjoy your day and overnight at your camp base.
Hiking Distance: 19 km
Duration: 4-5 hours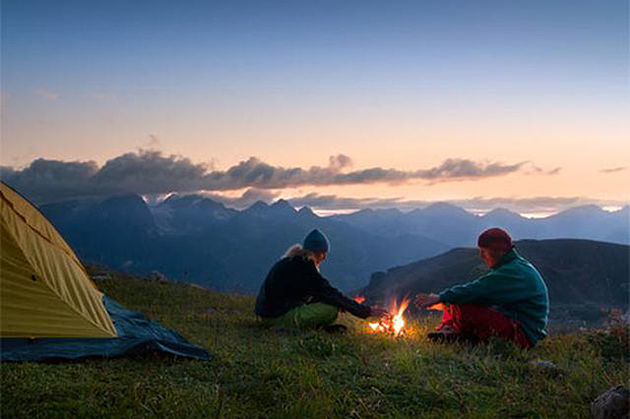 Day 10: Rest Day for Acclimatization
Today, you will spend the whole day to relax, restore your energy after the long-way trail of the hike, and most importantly, to aid in acclimatization before crossing the high passes on your upcoming trek. Jangothang is the most perfect camping place among others in the Himalaya mountain with snow-capped peaks to the west side as well as the majestic scenery of Jomolhari mountain and the clear streams winding through the valley.
One option for you is enjoying a short hike up the ridge to a grassy summit at roughly 16.000 feet (5 km) where you can witness the incredible view of Jomolhari mountain and its glaciers. The cooks will spend the whole day to prepare the finest feast for your dinner.
Overnight at your camp base.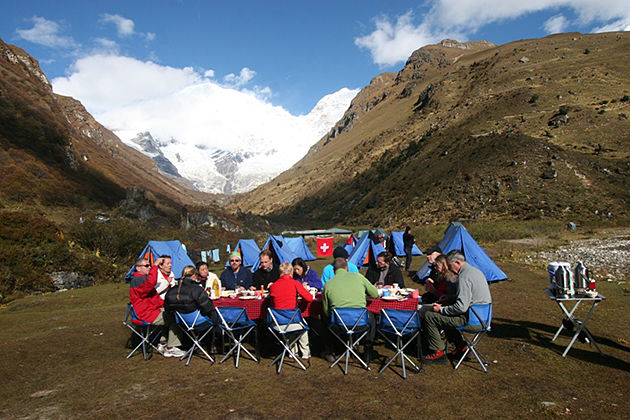 Day 11: Trek across Bhonte La to Soi Yaksa
Today is a bit challenging as your first real pass on the trek now begins. Hiking up to Tshopu Lake, looking back at the west, then the fabulous vistas of the Jomolhari and Jichu Drake lively appear for you. Climbing up to Bhonte LaPass (16.000 ft), you can often see blue sheep, marmots, and migrating Himalayan birds along with the great views of the Jichu Drake and Tserim Kang peaks.
After the pass, steep downhill to the small yak-herding village of Soi Yaksa and go to your camp which is close to Dumzo.
Overnight at your camp base.
Hiking Distance: 10 miles (16 km)
Duration: 7 hours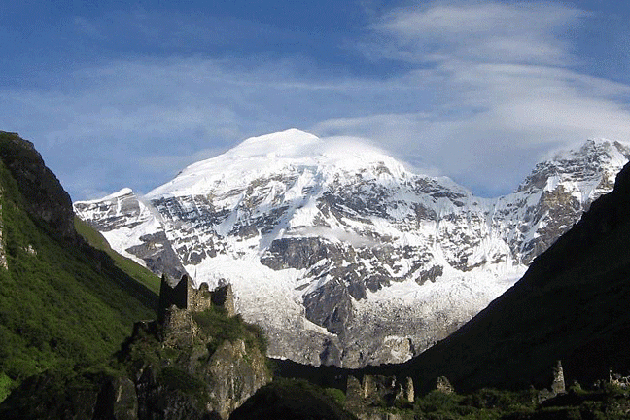 Day 12: Trek to Thongbu Song
After a quite challenging trekking day, you will start today's hike with a gentle climbing trail to the top of the eastern ridge of the Soi Yaksa Valley where you can spot an incredible view of the mountain range. Then, you cross Jomolhari (14.800 ft) and steep downhill to your camp base in the grassy Thangu Valley where you spend the rest of the day with your beloved trekking companions.
Have dinner and overnight at your camp base.
Hiking Distance: 7 miles (11 km)
Duration: 5 hours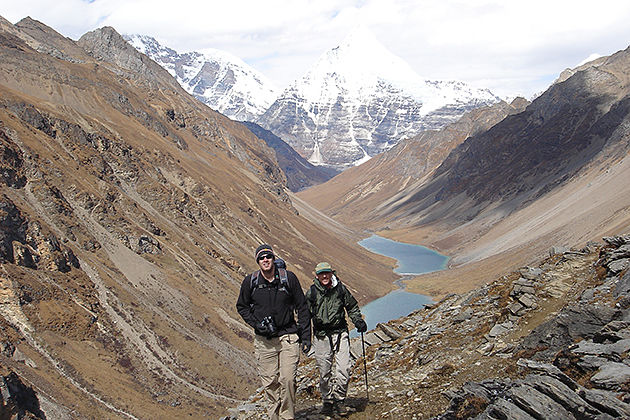 Day 13: Thombu Shong – Gunitsawa (the Trek Ends) | Shana – Paro
Climb out of the valley to Thombu La at 4380m, and then drop gradually to about 4000m.  The trail then makes a steep descent, switchbacking down the ridge, finally reaching the helipad at Gunitsawa (2730 m). Your vehicle will be waiting here to pick you up drive to Thimphu where you can celebrate your return to civilization with a refreshing shower in comfortable hotel accommodation. In the evening, you can stroll through Thimphu city and absorb the lifestyle of the people. Overnight hotel in Thimphu.
Hiking Distance: 13 km
Duration: 5 hours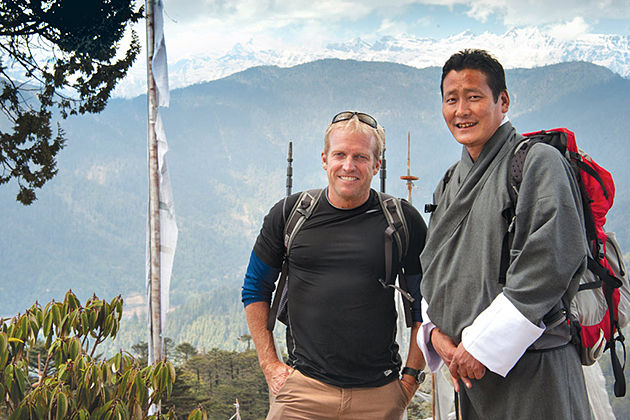 Day 14: Paro Departure
Time to say goodbye to Bhutan. After breakfast, your guide will meet you at your hotel and pick you up at the Paro International Airport for your homebound flight. The trip ends, hope that you had the most memorable moment about our Treks in Bhutan. Thank you for going with us and see you next time in Bhutan.
What's Included?
Transfers between airports, hotels and scenic spots while sightseeing by the private air-conditioned vehicle with a driver and English-speaking guide
English speaking tour guide will be provided in each city, who will remain with you throughout your time in that city. He or she will provide you with the best local knowledge available.
Accommodation with daily breakfast as per detail itinerary
Entrance fees & permits (if have)
All meals as specified in the itinerary with authentic local food. Western food is available (upon request) (B = Breakfast, L = Lunch, D = Dinner).
Bottle of drinking water
Domestic air tickets
English speaking local tour guide in each city
Entrance fees and zone fees for places mentioned in the itinerary
Transfers and sightseeing by private air-conditioned car
What's Excluded?
International flights and airport taxes (Visa)
Personal travel insurance
Other meals which are not indicated above
Surcharge and compulsory dinners (if any)
Beverages in restaurants where meals are included
Gratuities to guides and drivers
Personal and other expenses such as porterage, bar bills and laundry not stated in the itinerary