Buddhism has been one of the major religions all over the world, especially in Asian and in Bhutan, there is no exception. It is no exaggeration to say that Buddhism is the most popular practiced religion in Bhutan with the fact that Vajrayana Buddhism, the state Bhutan religion consists of 75 percent of its population. Bhutanese official has had a great contribution to developing the state religion by supporting finance through annual subsidies to Buddhist monasteries, shrines, monks, and nuns.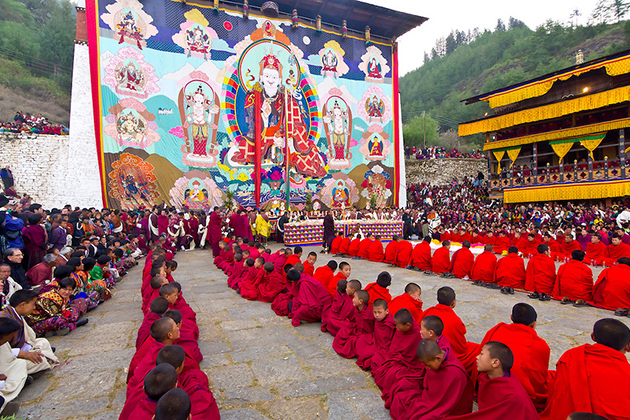 For the very first time, Buddhism was introduced since the 2nd century by many saints from India and Nepal; however, Buddhism was not common in Bhutan. After centuries, in the late 7th century, the two first Buddhism temples which were Kyichu Lhakhang in Paro and Jampa Lhakhang in Bumthang were constructed by the Tibetan King, Songsten Gampo. However, the credit of introducing Buddhism in Bhutan goes to Guru Rinpoche, well-known as saint Guru Padmasambhava today, was a great Tibetan master who arrived Bhutan in the 8th century.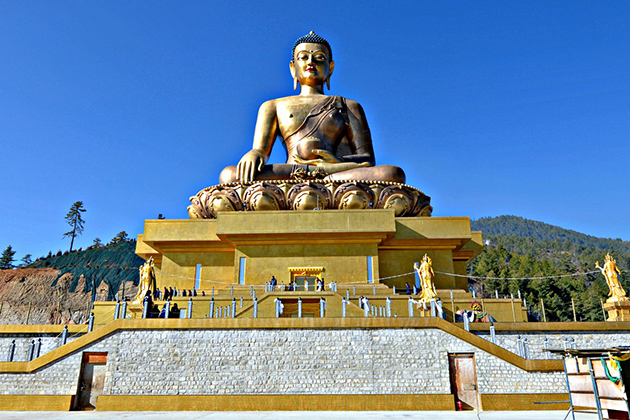 Monasteries and convents are popular in Bhutan and are run by monks and nuns in distinguishing maroon robes. Both monks and nuns have to shave their heads. Besides study and meditation, they spend their days performing rituals of honoring various bodhisattvas, praying for the dead, searching for the intercession of bodhisattvas on behalf of the sick. Bhutanese people have their own way of doing practice the religion such as in their daily works, in the way they speak and thought, and visiting the holy places on holy dates.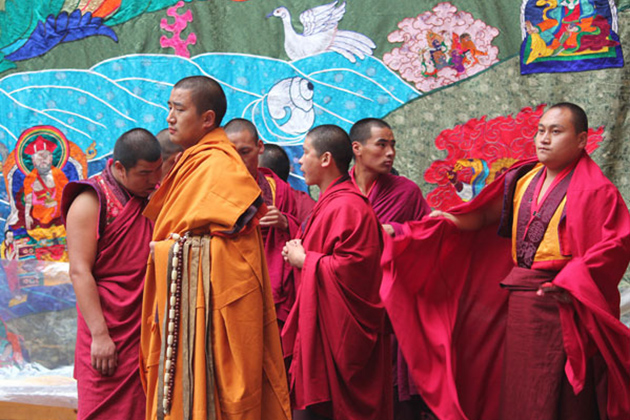 It is far too easy to notice lots of Buddhist flags waving in the sky in Bhutan due to the aim of introducing Buddhism to people; hence, numerous symbols and structures related to Buddhism are employed from religious monuments, prayer walls, prayer flags, to sacred mantras carved in stone hillsides. Among those, chorten, the Bhutan religious monuments version of the Indian stupa, considered a typical symbol of this state religion. Chorten has various types ranging from rectangular-shaped 'house' chorten to complex ones with ornate steps, doors, domes, and spires. Buddha's eyes are used for some of the shortens decorations to show the omnipotent power of Buddha being able to see in all directions concurrently.
Bhutan has Buddhist schools in large cities, which has been training high qualified professor of Buddhist study. Over the centuries, two principal Buddhist schools were constructed: Theravada and Mahayana.