Chimi Lhakhang or the Temple of Fertility standing tall on a round hillock near Sopsokha village in Punakha is one of the most famous Buddhist temples in Bhutan. It roughly takes 20 minutes of trekking through the green paddy fields and mustard for pilgrims and tourists to reach this Punakha attraction. The Chimi Lhakhang was built over half of the millennium ago with ancient Thai themed architecture. When it comes to consider the weirdest temple in the world, trust me, this temple of Fertility is exactly what you want to see. Painting and carvings phalluses on all walls, this Buddhist temple is odd that can be seen nowhere else.
History of Chimi Lhakhang
The history of Chimi Lhakhang went with the time that Drukpa Kunley – one of the monks who introduced Buddhism to Bhutan, visited such a country. Drukpa Kunley was well-known as the Divine Madman due to his unusual methods of teaching Buddhism and his weird ways of singing songs that performed absurd humor and sexual connotations.
Legend had it that Drukpa Kunley came to Punakha with the purpose of drive away evil spirit from Dochula. He also created a 'Flaming Thunderbolt of Wisdom' and struck down that evil spirit in the form of a dog. Drukpa Kunley then Capture the dead evil spirit and he uttered 'Chi Mi' which means 'No Dog'. The explanation for the symbols of phallus that are carved and painted on everywhere of the building and structure in this village is to ward off evil spirits and bring luck & prosperity.
Who Built Chimi Lhakhang Temple
The Chimi Lhakhang was structured by Ngawang Chogyal – the 14th Drukpa Hierarch. The monastery is home to the meditation stupa which was built by the eccentric yogi – Drukpa Kunley or the Divine Madman. Pilgrims including couples with newborn baby tend to come here for seeking blessings from the saint.
How to Reach Chimi Lhangkha Temple
As I said before, it tends to take us about 20 minutes to get there. To visit Chimi Lhakhang, you have to reach Sopsakha first. Sopsakha is easy to be reached via road transport.

In Sopsakha, you can go to the Chimi Lhakhang temple on foot, through green paddy fields. It is not exaggerating saying that hiking through these fields is one of the best things to do in Bhutan because it gives you an opportunity to experience the cold breeze flowing through the fresh air condition and breathtaking attractions filled with dense lush forests and impressive mountains. After enjoying all these things, you will reach a village called Lobena, famous for its Bhutanese Thangka Art and Mani Stones. The entrance of the Chimi Lhakhang temple can be found at the village with colorful fluttering flags along the way. Let enjoy your joyful Bhutan tour packages here.
Timings & Entry Fee of Chimi Lhakhang
The temple opens from 9 am to 5 pm and there is no entry fee to enter the Chimi Lhakhang
Attractions of Chimi Lhakhang
Chimi Lhakhang temple itself is an attraction; however, it also contains some other ones inside it. So, here they are.
The Gigantic Prayer Wheels
I am sure that, the first thing that you see, once there, absolutely will be prayer wheels. Outside the main temple, you can find a black stupa which is considered a place where the evil spirit in a dog-formed was once captured by Drukpa Kunley – the Divine Madman.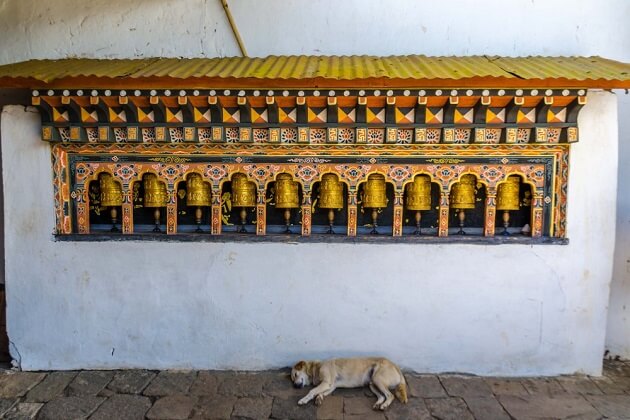 The Statue of Guru Padmasambhava
Once coming to the central altar, you can see a delicate statue of saint Guru Padmasambhava along with another one of the Divine Madman. Also, you can see lots of infertile couples coming here to seek blessings from the saint. These couples will then receive a wooden phallus on a silver stick. When they have a child, they will come back to name their newborn babies and their name will be engraved on a bamboo parchment kept at the altar.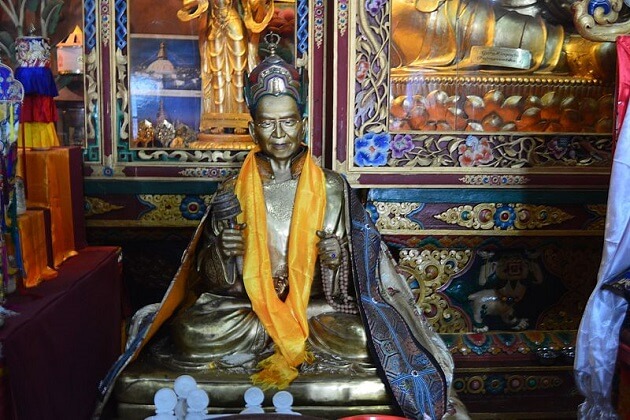 The Golden Roof
The Chimi Lhakhang temple is gracefully designed with the white walls, brown & golden roof adorned with gold medallions. Compare to other temples inside the Chimi Lhakhang, it is quite smaller than them yet it brings a serene and peaceful vibe.