History of Tashichho Dzong
Tashichho Dzong or 'fortress of the glorious religion' – popularly known as Thimphu Dzong is one of the impressive attractions in Thimphu where houses the throne room and offices of Bhutanese King on the right side of the Wangchu River. According to some sources, the origin of the Tashichho Dzong was Dho-Ngen Dzong (Blue Stone Dzong) built in 1216 on the hilltop above Thimphu where you can see Dechen Phodrang today. The father of the Dzong was Lama Gyalwa Lhanangpa.
After years, the Do-Ngen Dzong was under the control of Lama Phajo Drugom Shigpo who brought the Drukpa Kagyu lineage to the Bhutan Kingdom. In 1641, After acquiring the dzong from the descendants of Lama Phajo, the Shabdrung renamed the Dzong to Tashichho Dzong which is popularly known as Thimphu Dzong or 'Fortress of the Glorious Religion' today. The Shabdrung arranged the dzong to house both monks and civil officials; however, he found it was too small for both. Then, he decided to build another Dzong – a lower one, for the officials and only used the original Dzong for the monks. The 13th Druk Desi – Chhogyal Sherab Wangchuck (1744 – 1763) enlarged Tashichho Dzong so that it was able to accommodate both civil officials and monks.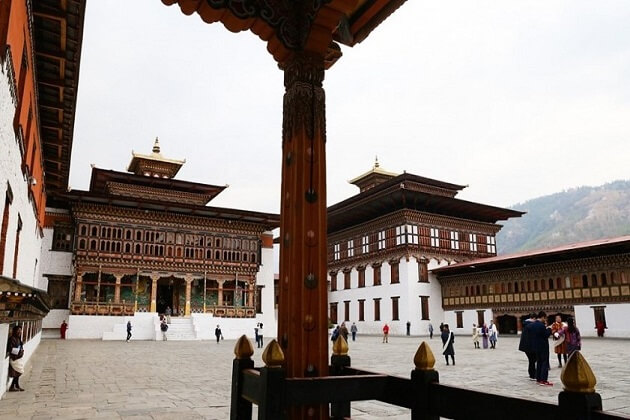 It is said that the original Dzong was dramatically destroyed by fire in 1771 and was abandoned. The lower Dzong then suffered a fire in 1866 and another 2 times later. The central tower – the five-story building was damaged by the earthquake in 1897 and rebuilt in 1902. When King Jigme Dorji Wangchuck moved the capital city to Thimphu in 1962, he launched the 5-year plan to totally renovate and enlarge the Dzong. The Dzong used to house the original National Assembly. Recently, it is home to the secretariat, the offices & the throne room of the king, and the ministries of home affairs and finance.
Unlike most of the other Dzongs, there are two main entrances in the Tashichho Dzong. One way leads to the administrative section to the south and another one (at the north) leads to the monastic quarter where festivals and dances are performed. There is a good example of the traditional cantilever bridge below the Dzong. Also, there is a set of low buildings which is home to additional administrative offices in the south of the dzong and in the west, there is a small Ney Khan Lhakhang's tower which is home to a Sakyamuni statue that is flanked by the Gyenden Jagpa Melen and Dorje Daktshen.
Tashichho Dzong – Timing and Entry Fee
You can visit Tashichho Dzong Monday – Sunday from 11 am to 4 pm. Remember that it will cost you INR 300 to enter this Thimphu attraction. However, this Dzong is gorgeous and your Bhutan tours will be worthy if you go there.