Druk Path Trek is one of the best treks in Bhutan that lead trekkers through a ruins trading route with spectacular views of rhododendron forests, alpine yak pastures and stunning lakes stocked with snowy mountain trouts. Besides having an opportunity to get into the pristine beauty, you will have a chance to challenge yourself with such an adventurous yet safe activity.
Duration: 9 days/ 8 nights
Start/ End: Paro/ Paro
Tour Route: Paro – Jele Dzong – Tsokham – Jimilang Tsho – Simkotra Tsho –
Phajoding – Thimphu – Paro
Tour Customizable: Definitely! (Tell us your specific requirements in the inquiry form)
Tour Highlights:
A chance to explore a superb natural beauty
Discover adventurous trekking trails endlessly stretching around the mountainous area
Experience nightlife camping at the high altitude and get closer to the wilderness of Bhutan
Tour Category: Bhutan Trekking Tours
Tour Guides: Local Guide (English speaking guide or other languages depends on your requests)
Transportation: Private first-class-air-conditioned vehicles
Accommodation: Listed below or equivalent. Rooms with private bath or shower, hotel taxes, porterage, tips, and service charges.
Brief Itinerary
Day 1: Paro Arrival – Acclimatization
Day 2: Paro Sightseeing
Day 3: Transfer from Ta Dzong to Jele Dzong
Day 4: Transfer from Jele Dzong to Tsokam
Day 5: Transfer from Tsokamto Jimilang Tsho
Day 6: Transfer from Jimilang Tsho to Simkotra Tsho
Day 7: Transfer from Simkotra Tsho to Phajoding – Transfer to Thimphu
Day 8: Thimphu Sightseeing
Day 9: Paro Department
Full Itinerary
Inclusion & Exclusion
Day 1: Paro Arrival – Acclimatization
Before touching down at the Paro International Airport, there will be an opportunity to cat a glimpse of the entire Paro Valley surrounded by the Himalayan mountain ranges. After completing all immigration procedures, our representative will be waiting to warmly greet and escort you to your hotel.
The rest of the day will be spent relaxing to acclimatize to the altitude.
Overnight at the hotel.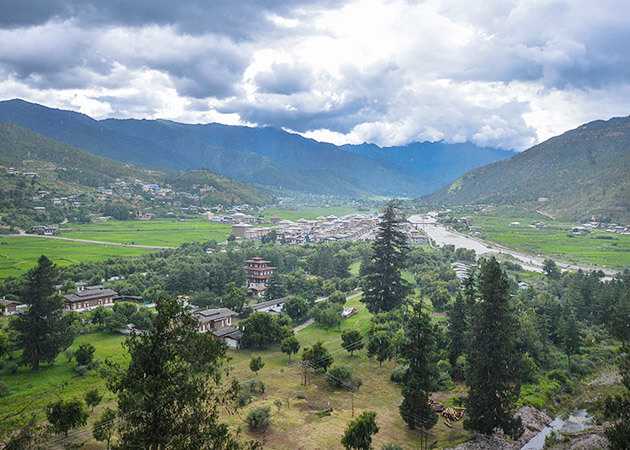 Day 2: Paro Sightseeing
After breakfast, head to the ruins of Drukgyal Dzong built in 1647 by the great Shabdrung Ngawang Namgyal but it was destroyed by an accidental fire and left in ruins as we can see today. Once there you can both explore the ramparts and relive the memories of a glorious past.
After that, hike up to the cafeteria located nearby Taktsang Goemba – the Tiger's Nest to have a scrumptious lunch. Enjoy lunch and admire the view of the monastery filled with fluttering prayer flags, and then we will descent to visit Kyichu Lhakhang, one of the oldest temples in Bhutan.
Later, transfer to the hotel and have dinner. The rest of the day will be yours.
Overnight at the hotel.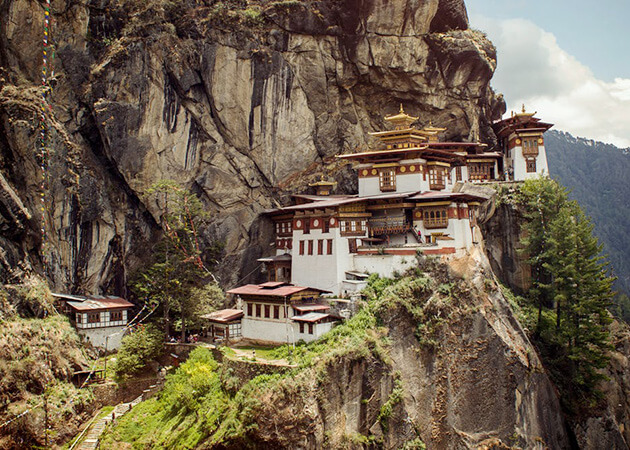 Day 3: Trek from Ta Dzong to Jele Dzong – Druk Path Trek Begins
Your Druk Path Trek in Bhutan today will begin. Take a drive to Ta-Dzong, and at the National Museum your trekking guide, horsemen, and the pack animals will be waiting to meet you. The trek will start from the museum and up to over 1065 m before dropping down a few meters to the camp base. En route, you will trek through the blue pine forest and around several farmhouses and apple orchards, so it will be great even you stop for a while and let your soul roll into these stunning little things. After 1 hour of climbing, you then see the breathtaking views over the Paro Valley and visible above is the Jele Dzong. Keep trekking upward through the forest and reach a small pass below the Dzong.
Overnight at the camp base.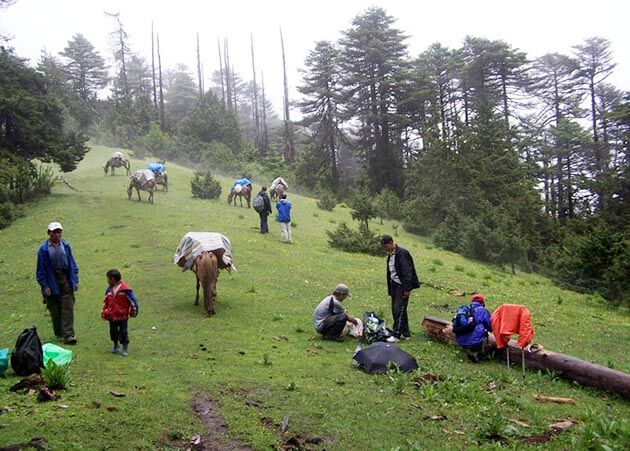 Day 4: Trek from Jele Dzong to Tsokam Dzong
Goodbye Jele Dzong. Leave the Dzong behind, we then walk (about 10 minutes) on the ridge and catch a glimpse of the beauty at the high altitude before it disappears when we enter the forests looking rather bleak as the consequence of being damaged by bark beetles. Keep hiking up and around a small peak, and then, when we look back, there will be a breathtaking vista of the Paro Valley and if it is a lovely day, you can see how glorious the Dagala range can be.
Later, after a 4-hour trek, we finally reach the camp base at Tsokam.
Overnight at the camp base.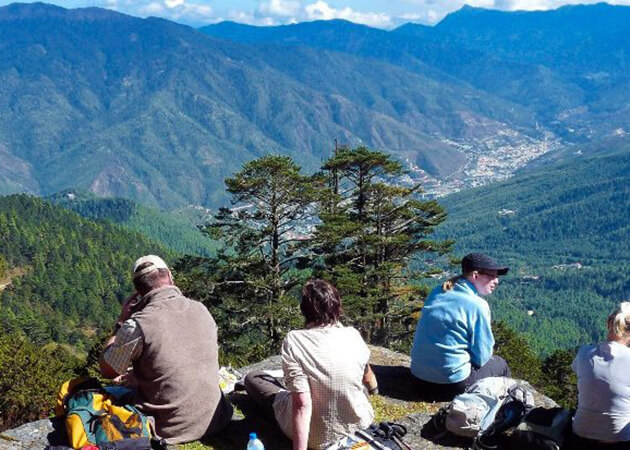 Day 5: Trek from Tsokam to Jimilang Tsho
Today, we will follow the trekking trail offering the spectacular scenery and on a clear day, you can witness the magnificent views of snowy peaks on the north and a grand view down into the valleys. Keep going on, we then pass through a small camp base at Labana and further along our trek, there will be several monasteries at the end of the valley. Slowly climbing on the ridge and look at the opposite side, there is a stunning view of Jimilang Tsho where we will spend our night on.
Overnight at the camp base near the lake.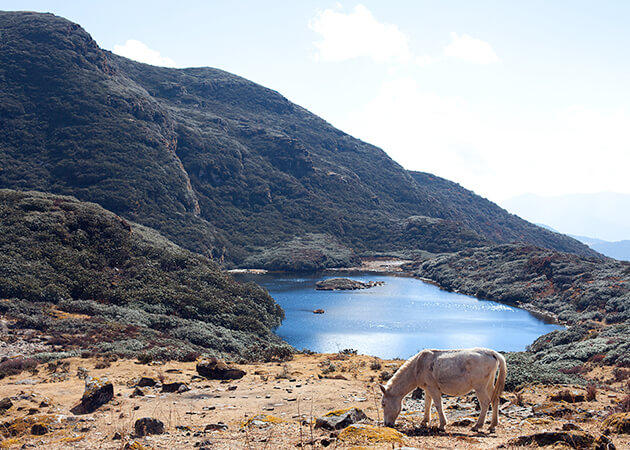 Day 6: Trek from Jimilang Tsho to Simkotra Tsho
Today, we will stroll around the lake which, in the morning, is super stunning. The tranquil, as well as a little bit cooling atmosphere, will awaken all your senses that, absolutely, refresh yourself to begin a new trekking day. Then, we climb up above the lake through the bushes and there will be a beautiful view widely opening for us to witness. En route, do not miss marvel at many beautifully sparkling lakes. After trekking through a wide stone path between rhododendron bushes, we then climb up to the ridge and will see Simkotra Tsho soon.
Later, we enjoy the rest of the day together.
Overnight at the camp base.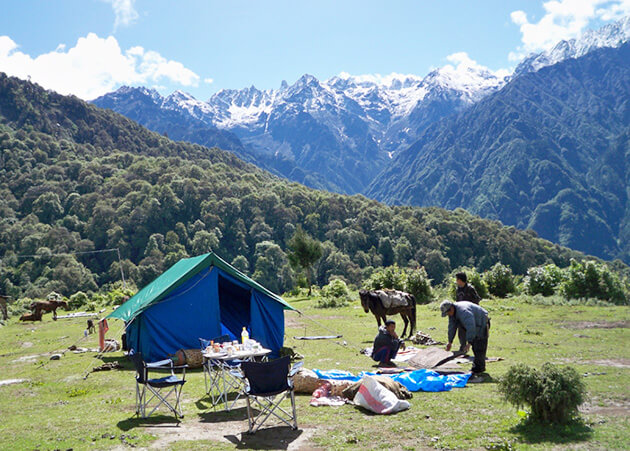 Day 7: Trek from Simkotra Tsho to Phajoding – Transfer to Thimphu – The Druk Path Trek Ends
This morning, we will trek through several minor climbs before look down to Phajoding Monastery and Thimphu Valley that, definitely, give you a deep impression about the pristine beauty in such the country. Trekking downward to Phajoding Monastery, and then to Thimphu so you will have an opportunity to take one step closer to these beauties. We will reach the road above the Takin Sanctuary and our driver will be waiting to escort us to the hotel in Thimphu. The Druk Path Trek route is over.
Overnight at the hotel.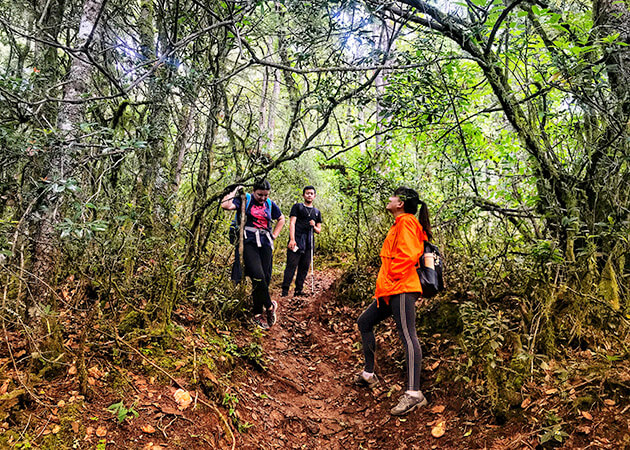 Day 8: Thimphu Sightseeing
After a 5-day trekking trip, today – the last day in Bhutan, we will spend the whole day in Thimphu for a sightseeing day trip.
After breakfast, head to National Library to marvel at the huge collection of priceless Buddhist manuscripts. Then head out to visit the Insitute for Zorig Chusum – the Painting School where students undergo the 6-year training course about 13 Bhutanese traditional arts and crafts. The last destination for this morning will be the Simply Bhutan. It is likely a living museum where you can both experience Bhutanese tradition & culture, taste wine, and butter tea, and practice Archery – the national sport of Bhutan.
After lunch, we then visit several sites like Changangkha Lhakhang, Buddha Point, and Simtokha Dzong. These three destinations will give you an insight into the Bhutanese belief. Finally, we then take a drive to Paro.
Later, the rest of the day will be yours. Feel free to enjoy the vibrant nightlife in Paro.
Overnight at the hotel.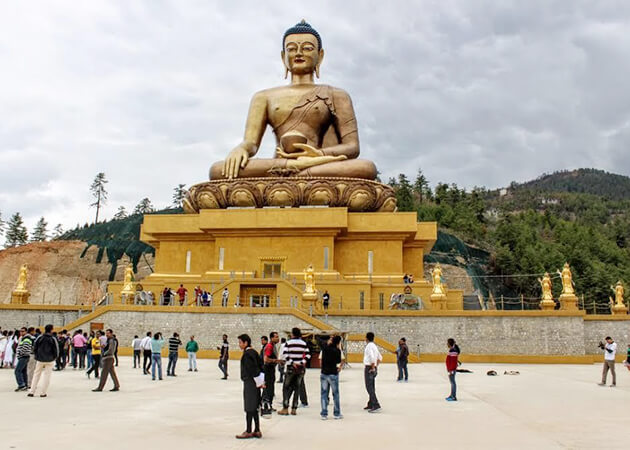 Day 9: Paro Departure
Time to say goodbye Bhutan. This morning, enjoy your last moment in the country with breakfast in a cafeteria, and then you can stroll around the city, do some shopping, or just simply relax in a coffee shop and vividly recall your Bhutan Druk Path Trek trip you really enjoyed. Before 2 hours when your return flight launched, our representative will meet you at your hotel and escort you to the international airport. The trip ends, hope you will enjoy other Bhutan vacation packages with us.
What's Included?
Transfers between airports, hotels and scenic spots while sightseeing by the private air-conditioned vehicle with a driver and English-speaking guide
English speaking tour guide will be provided in each city, who will remain with you throughout your time in that city. He or she will provide you with the best local knowledge available.
Accommodation with daily breakfast as per detail itinerary
Entrance fees & permits (if have)
All meals as specified in the itinerary with authentic local food. Western food is available (upon request) (B = Breakfast, L = Lunch, D = Dinner).
Bottle of drinking water
Domestic air tickets
English speaking local tour guide in each city
Entrance fees and zone fees for places mentioned in the itinerary
Transfers and sightseeing by private air-conditioned car
What's Excluded?
International flights and airport taxes (Visa)
Personal travel insurance
Other meals which are not indicated above
Surcharge and compulsory dinners (if any)
Beverages in restaurants where meals are included
Gratuities to guides and drivers
Personal and other expenses such as porterage, bar bills and laundry not stated in the itinerary