Lying on the foothills of the Himalayan mountain range, the beautiful Phuentsholing is the gateway of the land of Thunder Dragon connecting Bhutan to Jaigon, a town of India. Time moves at a slow pace there; hence, your Bhutan vacation in Phuentsholing can literally lead you to indulge yourself in a peaceful and tranquil ambiance.
Unlike Thimphu, Paro, or Punakha, Phuentsholing is not really a major tourists attraction; however, there are still many stunning destinations for enjoying during your stay in Phuentsholing. The list of 9 tourist attractions below will give you some information about several well-worth places to go in Phuentsholing.
Top 5 Places to Visit in Phuentsholing
Bhutan Gate
The place itself is one of the most attractive destinations in Phuentsholing which welcomes lots of tourists from India each year and is also the main entrance as well as exit between Bhutan and India. Situated beside the Regional Immigration Office, the Bhutan Gate, a beautiful structure built in traditional Bhutanese style, looks superb with carved-wood architecture and plenty of flower beds nearby creating a stunning setup.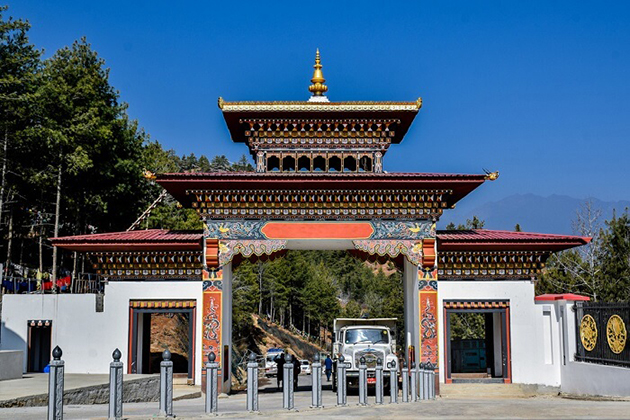 If you love architecture, then it will absolutely be your thing. The Bhutan Gate is manned by Shashastra Seema Bal (SSB) paramilitary force and Bhutanese police making sure that vehicles orderly pass without any blatant sound of horns honking which is considered as a punishable offense in Bhutan.
Chhu Crocodile Breeding Center
You are an animal lover, then you cannot skip visiting this place where you are able to watch different species of alligators and crocodiles snoozing and feeding up and close. Situated at the bank of Chhu river, The Amo Chhu Crocodile Breeding Center is absolutely an offbeat place in Phuentsholing that you might get a chance to see other animals like tortoises, fishes, and few seasonal birds, or even the endangered gharials.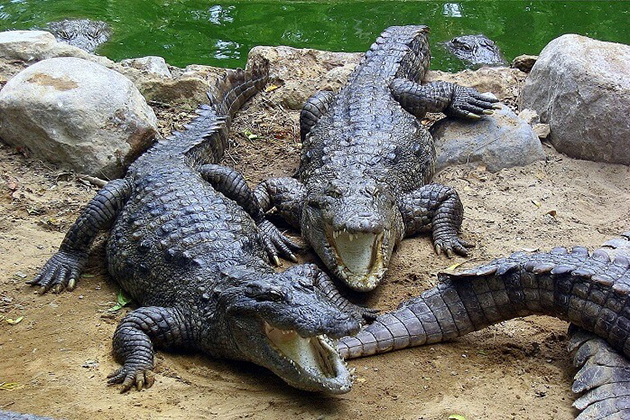 However, this is a breeding center with an objective is about "conservation" not a zoo so, do not expect too many varieties of animals there. What's more, you can have a picnic right at the Chhu river bank that is a picnic spot of the locals' choice.
Phuentsholing Market
Located nearby Amo Chhu Crocodile Breeding Center, the market is the best place to visit in Phuentsholing for shopaholics as if they do not want to spend money on costly goods from the main market. This market is a place where simple things that are very familiar in life, trading food items, happen between sellers and buyers. Walking around the market, smelling the fresh aroma of fruits and vegetables coming from vendors, you can find out that beautiful things in life sometimes would come from the simplest place.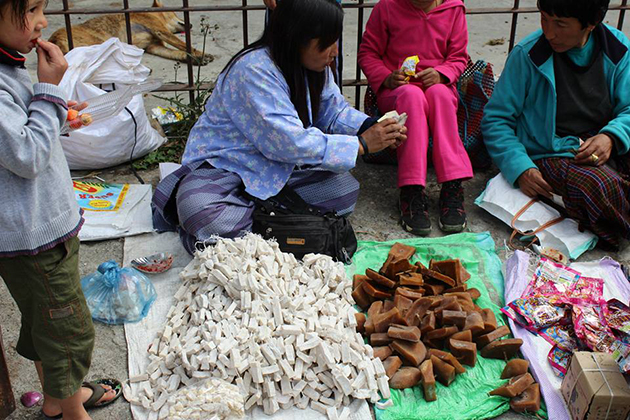 Tosar Riverside
Another beautiful place in Phuentsholing, this is a walking road that vehicles are banned to run in that track. If you are in love an early morning walk, then there is no better place than the Tosar riverside. On a sunny day, walking along the peaceful riverside, listening to the chirping of the birds while indulging your soul in a clear view of the thriving Phuentsholing town as well as the Bengal plains, you cannot find something else more elegant than that. The geographical location of this area offers the perfect setup for photography.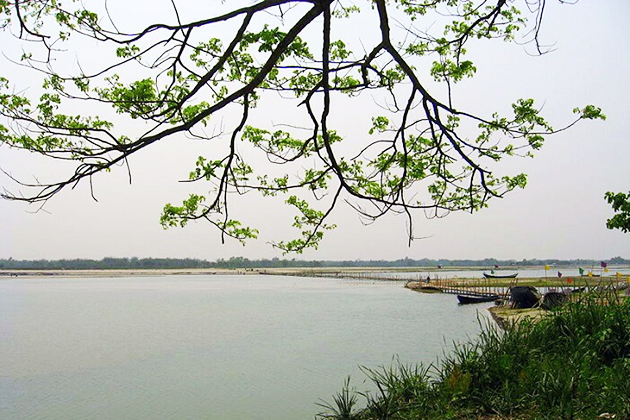 Palden Tashi Chholing Shedra
Shedra in Tibet means "place of teaching" and this place which was constructed in 2014, is actually a Buddhist monastic school maintaining the noble purpose of teaching Buddhism to 70 students including nuns and monks aged six up to 25. The Shedra offers a backdrop of the superb Himalayas and the fine murals in its new central tsuglagkhang Tibetan Buddhist temple. The camera is not allowed to be carried inside.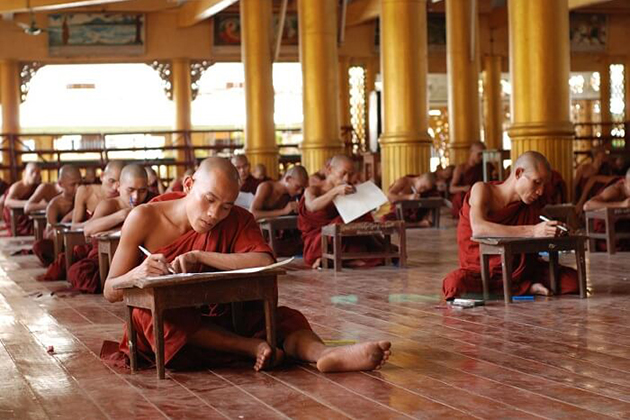 Top 5 Phuentsholing Sightseeing Spots
Phuentsholing Viewpoint
Lying at same altitude of the Rincheding Goemba (almost), Peeple Drangra or Phuentsholing Viewpoint is another best Phuentsholing sightseeing spot. Best time to visit this Phuentsholing sightseeing spot is during the daytime when the sky is clear and you get a glory view of the Phuentsholing town and Bengal plains, also. Here, you will get a perfect setup for photography as the hill gradients & the Torsa River flowing beside it.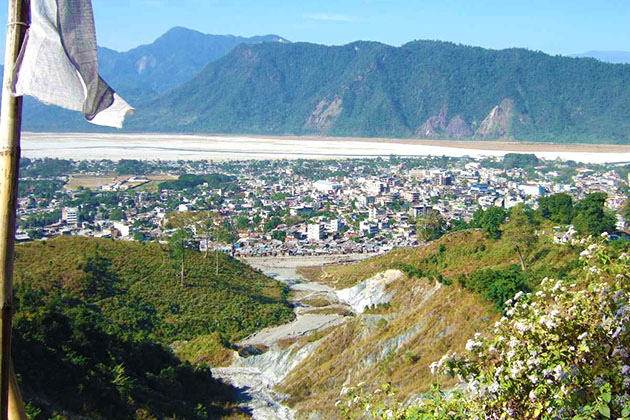 Phuentsholing Park
The wonderful destination in Phuentsholing that you have to spend on with your family or beloved partner. The park contains an abundance of towering eucalyptus and broad-leaf sal trees that offer shades. You can rest in some gazebos in the park and there is a basketball court too that very common among the locals and Indian tourists. The outside gym equipment is available for those loving street-workout while others can immerse in tea, snack or finger-food like steaming momo from food stalls.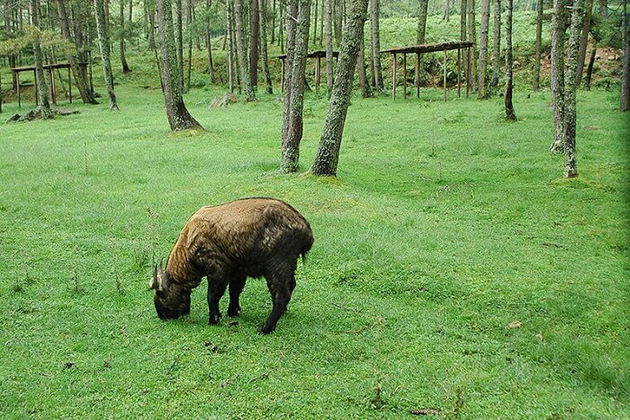 Zangto Pelri Park
Located nearby Zangto Pelri Park, then after visiting the temple with circumambulating prayer wheels, this park is a place that you should not miss. The Zangto Pelri Park is known as a child-friendly destination in Phuentsholing that children can play virtually anywhere in the park. Also, you can meet people from all walks of life during your time in the park from monks, the locals to foreigners spending their time in the immaculate park.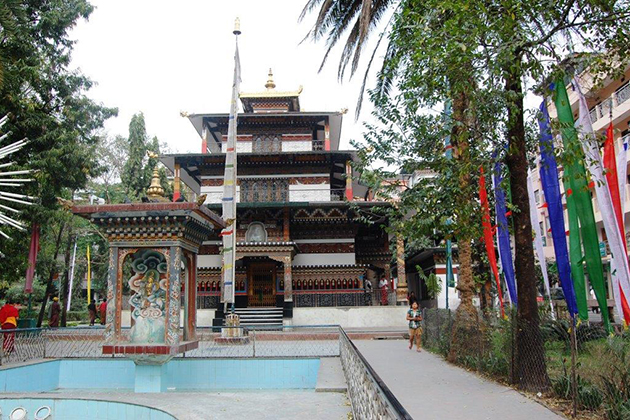 Zangto Pelri Lhakhang
This temple was built in the 1990s by Dasho Aku Tongmi. If you are interested in Buddhism, Zangto Pelri Lhakhang will be your thing. The temple is home to the giant replica of the Guru Rinpoche along with the eight life-sized idols of different manifestations of the revered Guru. Inside this private chapel, there will be an array of large statues of Bodhisattvas and statues of Avalokiteshvara that are a few artworks you have not to miss during your trip. Do not forget to meet the strikingly wonderful statue of Amitabha on the compound's top floor where the locals regularly visit to pay homage and worship.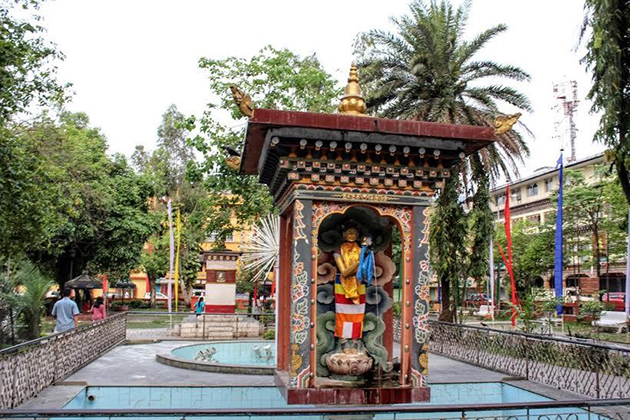 Karbandi Monastery
Located at the altitude of 400 meters on the small hillock, this monastery, a former winter sojourn of the Royal Grandmother Ashi Phuntsho Choedron, is about 30 minutes drive from the Phuentsholing town. When you come to inside the temple, there will be gigantic statues of Guru Rinpoche, Shakyamuni Buddha, and Shabdrung Ngawang.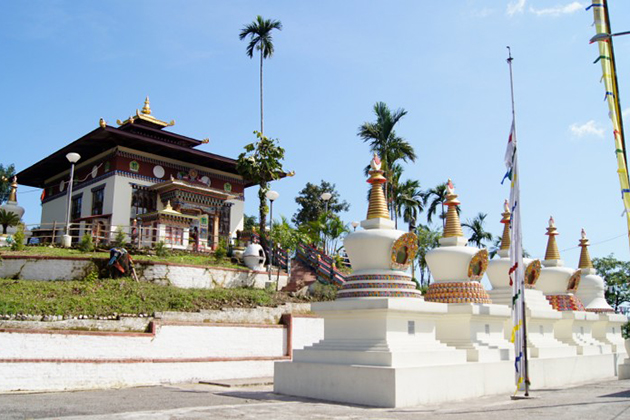 Things that make the Karbandi Monastery be one of the well-worth places to-go in Phuentsholing are the evergreen garden situated outside the monastery offering a stunning view of the plains of Bengal and Phuentsholing town along with the 8 photographed Tibetan-Buddhist Stupas. Legend has it that an Indian couple once visited the monastery and prayed for a baby, then the wife was pregnant after a visit.