In your trip to this beautiful valley, besides enjoying the entirely stunning view of a remote area in Bhutan, you can also bump into food cuisine of this agricultural region. Being one of the biggest rice producers (white rice) in Bhutan; hence, instead of serving red rice like in Thimphu and Paro, most restaurants and hotels there will serve white rice. The point is that there are not lots of restaurants to eat in downtown Punakha; however, your Bhutan tours in Punakha can be completed with a list of 10 Punakha restaurants to go below that you can easily experience good meals with your family or beloved partners while indulging in the beautiful view of the green valley.
We understand that you may be worried about the ongoing outbreak of coronavirus in China. Bhutan, Myanmar, and Laos, in contrast, are still safe and sound from this global pandemic. Click here to see the reason why Coronavirus cannot reach these countries and what makes them stronger.
Top 5 Popular Restaurants in Punakha
Bukhari
Located at the heart of COMO Uma Punakha, Bukhari, named after the name of the traditional Bhutanese fireplace, is one of the finest restaurants that you can find in Punakha. Dining at the Bukhari will be an exciting experience that you can bump into various cuisines ranging from Bhutanese to International dishes. The restaurant offers a seasonal menu using organic products from local villages along with the finest ingredients across the world like wagyu beef with blue cheese, Hogay salad with pepper, chili and feta. The restaurant is available for one who is a vegetarian too. Immersing in the stunning view all around while having absolutely scrumptious meals, cooked by the finest chef in Bhutan – chef Tshering Lhaden, on the terrace along with the good service are the things that lead the Bukhari restaurant to be the top 1 restaurant to go in Punakha, Bhutan.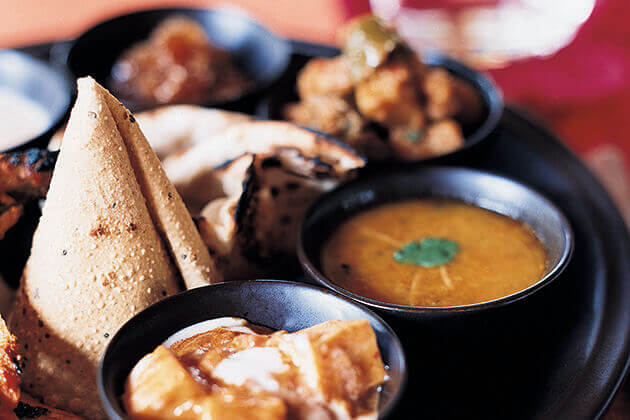 Lobesa Village Restaurant
One of the best Punakha restaurants, Lobesa Village Restaurant is an in-house restaurant of Lobesa Hotel, located between Punakha and Wangduephodrang towns offering a beautiful view of rolling paddy fields and Himalayan mountain range across the river. The Village Restaurant offers food ranging from traditional Bhutanese to Indian and Continental cuisine in which the Bhutanese and Indian food is mostly served as buffet style. All dishes including buffet meals are freshly prepared and cooked rather than cooked in bulk and keep warm. Staff in the restaurant are well-trained and hospitable as they will explain anything you do not know about the food that you taste here. Rooms for the birthday party, anniversary or special celebrations are available.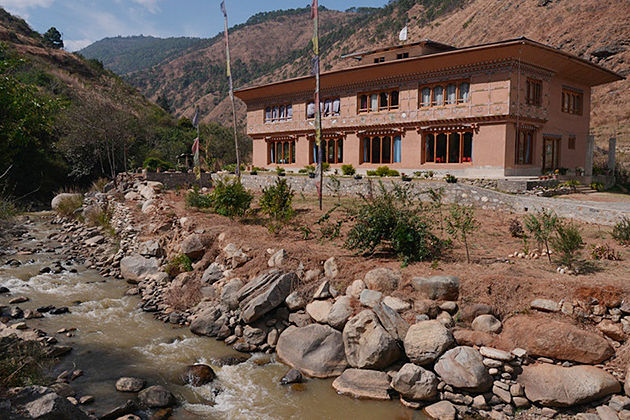 Chimi Lhakhang Cafeteria
A part of the must-see place in Punakha – Chimi Lhakhang Monastery, the café is also a to-go cafeteria with an excellent à la carte menu and buffet style meal ranging from Indian to Bhutanese cuisine. The cafeteria has its view overlooking the stunning mad monk's monastery and rice paddy fields. Do not be shocked when you see several wooden and metallic phalluses in the washrooms.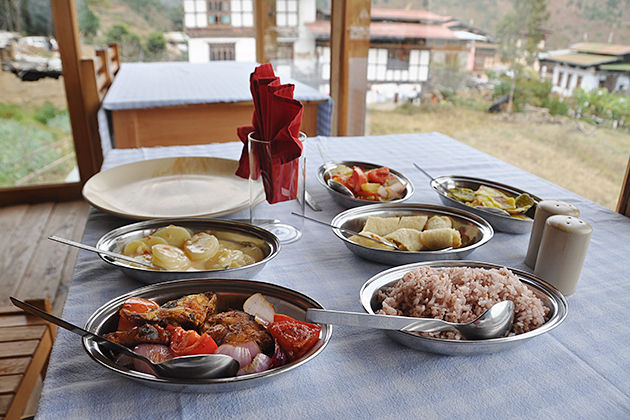 Puenzhi Diner
Standing out of other restaurants in Punakha, Puenzhi Diner is the best place for vegetarians as the restaurant serves various very good vegetarian dishes. Ingredients which are used for cooking in the restaurant mainly comes from the local farm. The buffet meal is available on most days including white rice with lentils, seasonal vegetables, and meat.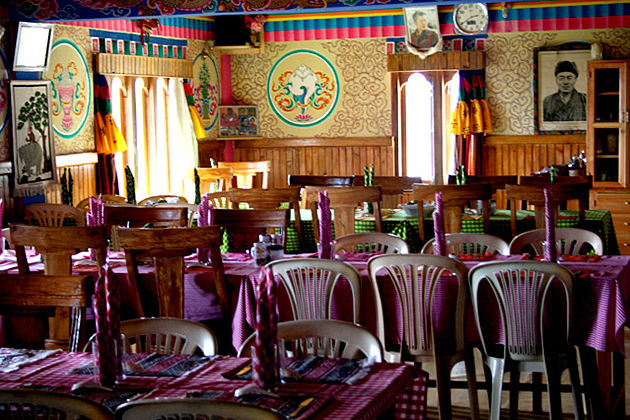 Dochula Resort Restaurant
If you are spending sometimes at dochula pass, why don't you pay a visit to this restaurant as it is considered as a delightful restaurant for a coffee or food break when crossing the dochula pass. The food in the Dochula Resort Restaurant is good, especially local dishes. Besides, café is the must when you are here as once there, you can easily see that most people coming to the restaurant for a cup of coffee or tea. It is not about the taste of these coffee or tea here, but it is all about its smell and can you imagine how perfect it would be with a hot coffee or tea in the cold while indulging in the cloudy ambiance?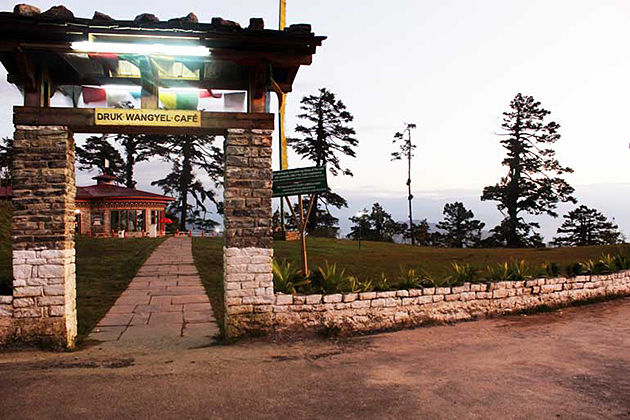 Top 5 Awesome Restaurants in Punakha
TenZin Pizzeria
Without TenZin Pizzeria, you absolutely cannot find any other restaurant selling Italian style Pizza in Punakha. The Devils Pizza, Extra Chilli Pizza, and Veggie Mushroom Pizza are the three best sellers in the restaurant. What's more, the staff there are well-trained and enthusiastic as if you need any help, they will be by your side. Located close to Lobesa hotel, so if you are staying in there and want to try other food without Bhutanese dishes, then TenZin Pizzeria can be your thing.
Rinchenling Cafeteria
Just a few step down from the Punakha main road to Thimphu, then you will reach Rinchenling Cafeteria, one of the finest restaurants in Punakha that you should visit in your Bhutan vacation. Once there, you can savor a range of delicious dishes while witnessing the ambiance of the restaurant as well as an overlooking view of Punakha Valley. Honestly, there is a drawback that food is good, but the portion is small a little bit; however, the owner is a beautiful young lady and she is so adorable and polite.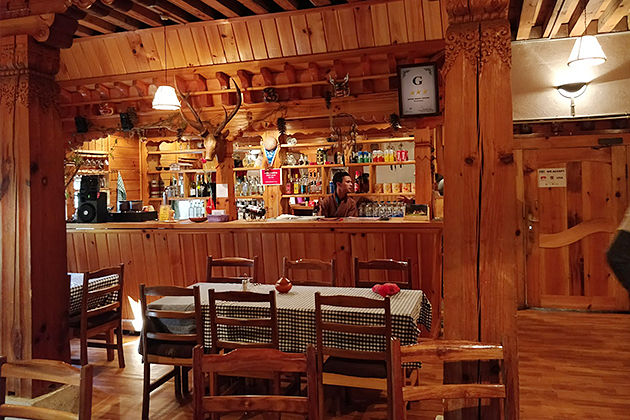 Raven

 

Restaurant
This is a family restaurant serving really good typical Bhutanese food. The owner is really sweet and adorable as once there, besides having a chance to savor delicious dishes, you will experience the warmest smile that comes from the owner. Come and try it, then you will not be disappointed. I swear.
Menchuna Restaurants
If you are on the way from Thimphu to Punakha, do not miss a boat to have a meal in this restaurant as it, actually, is one of the best restaurants in Punakha. The Menchuna restaurant offers vegetation as well as non-vegetation food with excellent quality. Besides savoring food, you can witness and buy handicraft or rare paintings here which are placed on the upper floor. However, the cost of each item is quite hight; hence, be prudent.
Takin Restaurant
After exploring Punakha Dzong, there would be no place better than Takin restaurant. The small unobtrusive restaurant which is on the first floor of the shopping complex nearby can fulfill your hungry stomach with a range of tasty Bhutanese food. Food is good and the ambiance here is cozy enough for you to enjoy the meal with the main colors are yellow and pink. Come and enjoy your meal!