It is no doubt that traveling is a special privilege that human beings can have in this life. No matter how rich we are, it is all about how much vehement passion that we have; then we travel, we see something new, even the weirdest things in life, after everything, we enrich our souls and our horizons about the world around us. If you are in a spree to find something to get away from the fast pace of the modern age, a Bhutan vacation will be what you are looking for, at least my friend told me that. Sitting on a good transport, immersing our souls in the very beautiful view of the little Himalayan country are solaces for us in a painful life. Bhutan does not have many flights or trains operating across the country; however, the ultimate good Bhutan bus services are ready to meet your demands whenever you need it.
We understand that you may be worried about the ongoing outbreak of coronavirus in China. Bhutan, Myanmar, and Laos, in contrast, are still safe and sound from this global pandemic. Click here to see the reason why Coronavirus cannot reach these countries and what makes them stronger.
Travel from India to Bhutan by Road
You can travel to Bhutan by bus from Kolkata and Siliguri. These buses are run by Royal Bhutanese Government. From Kolkata, buses run by Royal Bhutanese Government depart from Kolkata's Esplanade Bus Terminal at 7:00 PM on Tuesdays, Thursdays, and Saturdays and charge BTN 653 for journey till Phuentsholing. The whole journey takes almost 1 day and since the buses are really comfortable, you can get a decent amount of rest en route. Otherwise, the roads are a bit curvy and thus getting sound sleep is a hard nut to crack.
Apart from this, buses also run from Siliguri Tenzing Norgay Central Bus Terminal to Phuentsholing every day in the morning (7:30 am) and in the afternoon (1:30 pm). It takes about 5 to 6 hours to reach Bhutan (the trail can be rough). It costs roughly BTN 200 for the journey.
Public Bus Service in Bhutan
There are several transport companies operating the bus service in Bhutan include Meto, Master, Khorlo, Pelyab, Sernye, Dhug, Bumpa. Dungkhar, Tamshing, Lhakhpa, and Kuenphen. Bhutan also has some different kinds of buses which are Coaster, 20-seater, 50-seater, Eicher buses, and so on.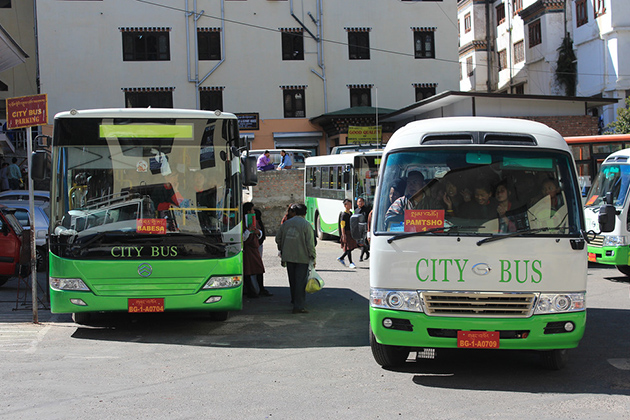 Public Bus Servies in Central Bhutan
Buses to and from Phuentsholing
The most regular bus operators that you can find when you arrive in Phuentsholing are Meto, Khorlo, and Dhung Transport whose buses go towards Thimphu, Paro, Wangdue, Punakha, Kamichu, Samdrup Jongkhar, Tendu, Haa, Dagana, Tsirang, Bumthang, Gelophu, and Phobjikha.
Buses going from Phuentsholing to Thimphu take roughly 6-7 to complete and frequently run every day; hence, you can catch a bus at any time of the day. Consisting of 20 comfortable seats, the buses, somehow, reduce the inconvenient of the rough route during transferring for people, especially for those who easily get car sickness. The fare is roughly Nu 180. To reach to Phoentsholing, coaster buses run every day from Thimphu at 7:00 am.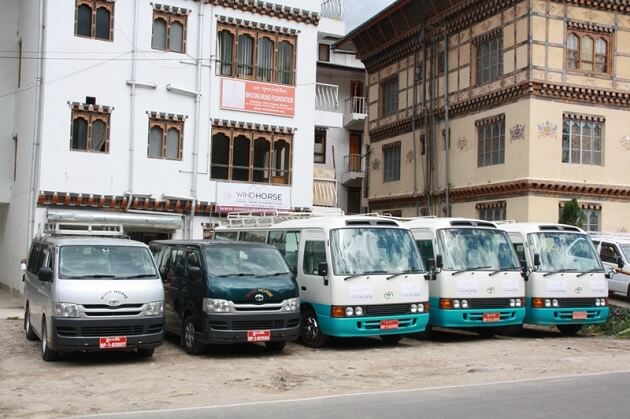 You have 2 bus services, both 20 seaters running daily at 9:00 and 8:30 am taking 5-6 hours to reach to Paro. The fare is around Nu 200. To reach to Phuentsholing from Paro, coaster buses regularly run at 9:00 am and 8:30 am and take six and a half hours to reach the destination.
Along with Meto Transport offering a 12-hour journey with a 50-seaters bus runs from Phuentsholing to Samdrup Jongkhar on Monday, Wednesday and Saturday at 6:30 are, Bumpa Transport runs a 31-seaters every day at 5:30 am. To reach to Phuentsholing from Samdrup Jongkhar, buses run every day at 6:30 am.
Bus Services in Western Bhutan
Buses to and from Thimphu
There are different transport services operate to Thimphu Bus Terminal which goes to every town of Bhutan consisting of Tashigang, Paro, Gelephu, Lhuentse, Mongar, Samdrup, Jongkhar, and so on.
To reach to Trashigang, except on Thursdays, coaster buses run every remaining day at 7:00 am and complete at 5:30 pm the following day. For an overnight journey, it will halt at Bumthang where passengers can hire hotel rooms to have a comfortable sleep. Coaster buses run every day at 6:00 am from Trashigang to Thimphu.
Coaster buses, operated by Bumpa and Sernya Transport, run every day at 7:00 am and take roughly 10 hours to reach to Gelephu from Thimphu. There are several coaster bus services go to Gelephu every day at 7:00
On Mondays, Thursdays, and Fridays at 7:00 am, a 34-hour long journey to Lhuentse is launched by coaster buses with a night halting at Bumthang. Meto Transport, similarly, offers an overnight journey to Mongar on Mondays, Wednesdays, and Fridays at 7:00 and halt at Bumthang. Coaster buses by Dhug Transport run on Tuesdays, Thursdays, and Sundays at 7:00 am from Thimphu to Mongar taking 34 hours of drive. A journey from Mongar Base to Thimphu will start every day, except on Mondays, at 7:00 by coaster buses. Coaster buses from Lhuentse Base go to Thimphu from Thursday to Monday at 6:00 am.
Buses run every day to Bumthang at 7:30 am and some buses depart at 7:00 am every day, except on Mondays. For a full journey, it will take around 11 hours to complete. From Bumthang, Meto Transport offers a coaster bus runs every day at 7:00 am.
To reach a stunning valley, Haa, a 6-hour long journey is offered by Senrya Transport buses run every day at 1:00 pm and 9:00 am. To return to Thimphu, Senrya Transport offers a bus runs every day at 9:30 am, except on Sunday.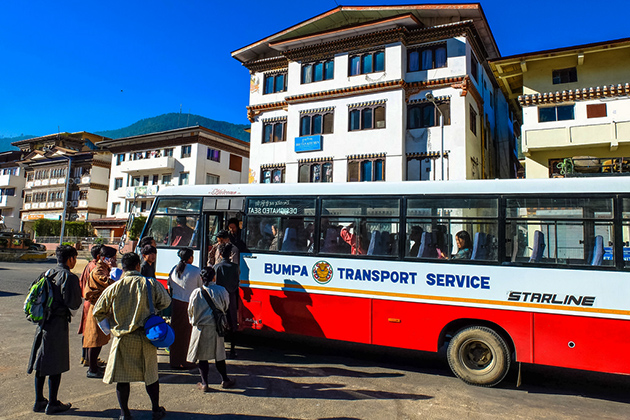 Buses to and from Paro
Although being an important economic zone and one of the most popular tourist destinations of Bhutan, only three Transport companies Dhug, Meto, and Khorlo runs very few buses to Phuentsholing, Thimphu, Haa, and Samtse.
Coaster buses by Khorlo Transport run to Samtse on alternate days from 7:00 am to 4:00 pm, then run back to Paro on Monday, Wednesday, and Friday at 7:00 am.
On Monday, Wednesday, and Friday at 9:00 are, a 6-hours long journey to Haa valley will be started with a 22-seater bus, then turn back on Tuesday, Thursday, and Sunday at 9:00 am.
Bus services in Eastern Bhutan
Eastern Bhutan is considered the most gorgeous part of Bhutan with hilly regions and high mountain range. Although the region experiences some of the toughest winters and the transport services there are not as good as others, there is still a good way of connectivity from Samdrup Jongkhar and Trashigang.