Bhutan, a landlocked country in South Asia, is one of the most wonderful nations in the world containing its own stunningly untouched heritage sites along with the unique architectures that can be seen nowhere else in the world.
The national religion is Buddhism, the Bhutanese people are taught to do the nice things in life to be a good person; hence, while traveling to Bhutan, you are surely welcomed as their family members making the homelike feeling.
All these things sound beautiful and paradisiac – and the fact that – yes it is – but there are still several things that you should take in consideration before planning your Bhutan vacation.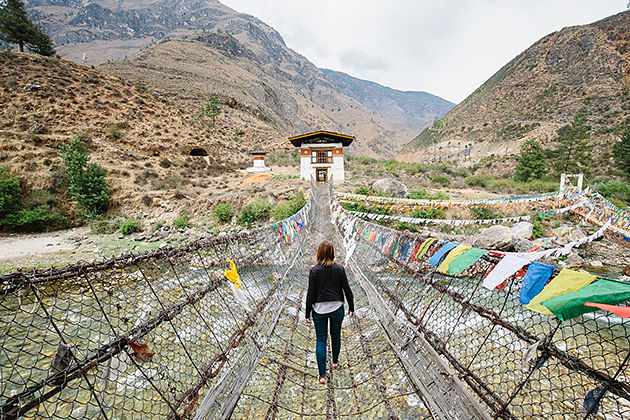 1. Obtaining Visa is the Must
Unlike Indians, Bangladeshis, and Maldivians who can enter to Bhutan by flying in or just go to the border with a passport minimum valid in six months, other national people must require a visa and get permission via tour company to enter Bhutan.
At the point of entry, you will be asked for showing your visa clearance letter which you will receive via email from your travel agency after sending the photo-page to them.
Documents required including:
• Recent passport size photo
• Voter card/ Passport
• Hotel booking proofs
• Itinerary with dates
2. Cost of Traveling
The Bhutanese government has tried to preserve their untouched tradition and culture; thus, the number of tourists traveling to Bhutan is always limited each year, and the daily fee of tourists is costly. In the peak season (in spring and autumn) it will cost you averagely $250 and $200 in the low season (in summer and winter); however, it covers the cost of hotels, tour guide, transportation, meals, and entrance fees. Once you have paid this fee, you would not pay any extra money for buying souvenirs, asking for extra food, then you recognize that Bhutan may not expensive as you thought it would be.
If you travel in a group of three or more than that, you absolutely get a discount. Here they are:
Season Group of three or more Group for two Individual
Low Season USD 200 USD 230 USD 240
Peak Season USD 250 USD 280 USD 290
3. Carry Cash
The thing you should remember is that do not trust ATMs in Bhutan. ATMs is limited in this kingdom that you can only find a very few of them in Thimphu and Paro, and withdrawing via these ATMs would trouble you in some cases. The credit card can also be a problem as it is only available in high-end hotels and very few shops. Hence, cash will suit your Bhutan trip better than any others.
4. Do not Believe in the Weather Forecasts
The weather in Bhutan is capricious that it can easily change with the wind without any warning sign and the forecast seemed always to be the opposite of reality. When the sky is clear, it can immediately be rainy – and vice versa. If you are planning Bhutan trekking tours, be careful as the weather can change quickly at high altitudes.
5. Visit anywhere you like in the country
As we said before, traveling to Bhutan makes you comfort as it offers a homelike feeling due to its hospitability among the locals. Beside visiting popular destinations as your tour company suggests, it is possible for you to go anywhere by telling your travel agency the places you want to go to. If you want to go to a different zone than planned, you need to wait for your guide to rearrange and get zone permits, especially if it is a special destination. What's more, if you change your plan on the same day or the day before, you must pay the hotel cancellation fees for this inconvenient.
6. Preparing yourself with really spicy food
You are a spicy food lover? Do you want to try something new with spicy flavor? Then, Bhutan is absolutely your heaven. The fact that meals without chili pepper are considered unworthy in Bhutanese people's beliefs, then once visit Bhutan, you surely recognize that chili appears in every daily meal of the locals from breakfast, snack, lunch, to dinner. If spicy food is not your thing, it is still okay that you can ask for non-spicy dishes while ordering food.
Your guide, in addition, will ask you on the first day in Bhutan if you have any dietary restrictions or allergies, then it would be great for you to tell your guide your problem with spicy food or anything else. Most meals in Bhutanese restaurants are served with buffet style cooked with some spice. Pre-order your dishes if you are a non-spicy eater. For the restaurants which are non-buffet style, your meals can be served within 45 minutes up to an hour after ordering.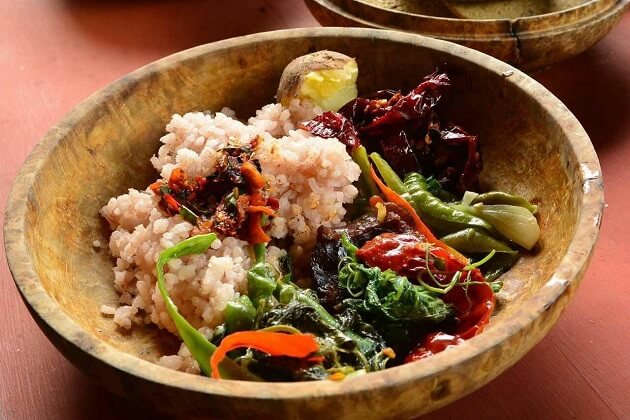 7. Phallic Symbols & Wooden Phallus
It is not porn, it is part of Bhutanese culture and religion. The phallic symbols, in Bhutanese belief, expresses the fertility; since then, you will see penises painted in doorways, across the walls and even some wooden phallus placed in monasteries, especially in Chimi Lhangkha, a monastery in Punakha valley worshiping Lama Drukpa Kuenley, a legendary saint in Bhutan teaching Buddha through sex. People across the country, especially couples who have infertility issues visit the Chimi Lhangkha temple to pray for kids. If you don't mind, you can buy a wooden phallus as an interesting souvenir.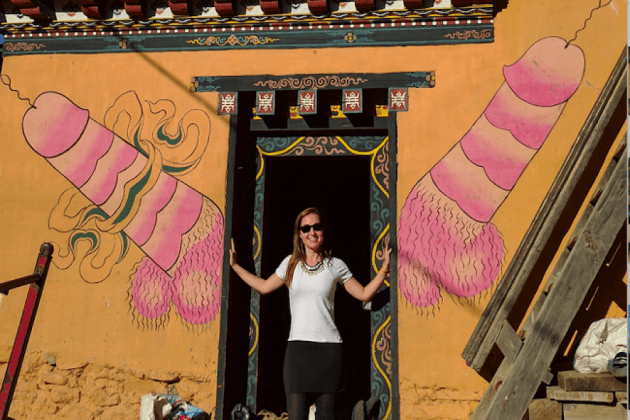 8. Do not Smoke Weed
Although being easily found almost everywhere in Bhutan, cannabis today is banned by the Bhutanese official. One can be jailed in 5 years if he is found smoking weed. The fact that not until 1999 when the internet came in Bhutan did the Bhutanese know about smoking weed through watching Bob Marley on Tv. Interestingly, before discovering the magical usage of weed, the locals used to collect it, chop it, boil it, then feed to the happiest pigs in the world.
9. Wifi in Bhutan
If you are a social networking addict, your Bhutan vacation can be a big deal that wifi in Bhutan is extremely limited. Thus, instead of trying to stay connected with the social network, why don't you look at your time in this kingdom as a great opportunity to switch off and enjoy what is happening in the beautiful country rather than looking at the screen. In fact, the internet is still installed in hotels; however, its quality is not good. Instead of using Wifi that can drive you crazy sometimes because of its loading-speed, why don't you use mobile data via Bhutan SIM cards? I promise that it is so much better than wifi.
10. Do not disrespect the Royals
Bhutan, in the past, was an absolute monarchy then reformed to a constitutional monarchy in 2018; however, the Royals are still seen as an incarnation of omnipotent gods, so criticizing them as akin to blasphemy. Your guide will answer all the questions you have about the country; however, be mindful and stay away from asking your guide about some topics related to politic as they will steer away from them.