Bhutan, a landlocked country in South Asia, is one of the most wonderful nations in the world containing its own stunningly untouched heritage sites along with the unique architecture that can be seen nowhere else in the world.
The national religion is Buddhism, the Bhutanese people are taught to do the nice things in life to be a good person; hence, while traveling to Bhutan, you are surely welcomed by your family members making a homelike feeling.
All these things sound beautiful and paradisiac – and the fact that – yes it is – but there are still several things that you should take into consideration before planning your Bhutan vacation. Let this Bhutan Travel Blog helps you to discover things to know before going to such a country.
Top 10 Funny Things to Know Before Visiting Bhutan
Obtaining Visa is the Must
Unlike Indians, Bangladeshis, and Maldivians who can enter Bhutan by flying in or just going to the border with a passport minimum valid in six months, other national people must require a visa and get permission via tour company to enter Bhutan.
At the point of entry, you will be asked for showing your visa clearance letter which you will receive via email from your travel agency after sending the photo page to them.
Documents required include:
• Recent passport size photo
• Voter card/ Passport
• Hotel booking proofs
• Itinerary with dates
Cost of Traveling
The Bhutanese government has tried to preserve their untouched tradition and culture; thus, the number of tourists traveling to Bhutan is always limited each year, and the daily fee of tourists is costly. In the peak season (in spring and autumn) it will cost you an average of $250 and $200 in the low season (in summer and winter); however, it covers the cost of hotels, tour guides, transportation, meals, and entrance fees. Once you have paid this fee, you would not pay any extra money for buying souvenirs or asking for extra food, then you recognize that Bhutan may not expensive as you thought it would be.
If you travel in a group of three or more than that, you absolutely get a discount. Here they are:
Season Group of three or more Groups for two Individual
Low Season USD 200 USD 230 USD 240
Peak Season USD 250 USD 280 USD 290
Carry Cash
The thing you should remember is that do not trust ATMs in Bhutan. ATMs are limited in this kingdom that you can only find a very few of them in Thimphu and Paro, and withdrawing via these ATMs would trouble you in some cases. The credit card can also be a problem as it is only available in high-end hotels and very few shops. Hence, cash will suit your Bhutan trip better than any others.
Do not Believe in the Weather Forecasts
The weather in Bhutan is capricious in that it can easily change with the wind without any warning sign and the forecast seemed always to be the opposite of reality. When the sky is clear, it can immediately be rainy – and vice versa. If you are planning Bhutan trekking tours, be careful as the weather can change quickly at high altitudes.
Visit Anywhere You Like in the Country
As we said before, traveling to Bhutan makes you comfortable as it offers a homelike feeling due to its hospitability among the locals. Besides visiting popular destinations as your tour company suggests, it is possible for you to go anywhere by telling your travel agency the places you want to go to. If you want to go to a different zone than planned, you need to wait for your guide to rearrange and get zone permits, especially if it is a special destination. What's more, if you change your plan on the same day or the day before, you must pay the hotel cancellation fees for this inconvenience.
Preparing Yourself with Really Spicy Food
You are a spicy food lover? Do you want to try something new with a spicy flavor? Then, Bhutan is absolutely your heaven. The fact that meals without chili pepper are considered unworthy in Bhutanese people's beliefs, then once visit Bhutan, you surely recognize that chili appears in every daily meal of the locals from breakfast, snack, lunch, to dinner. If spicy food is not your thing, it is still okay that you can ask for non-spicy dishes while ordering food.
Your guide, in addition, will ask you on the first day in Bhutan if you have any dietary restrictions or allergies, then it would be great for you to tell your guide your problem with spicy food or anything else. Most meals in Bhutanese restaurants are served buffet style cooked with some spice. Pre-order your dishes if you are a non-spicy eater. For the restaurants which are non-buffet style, your meals can be served within 45 minutes up to an hour after ordering.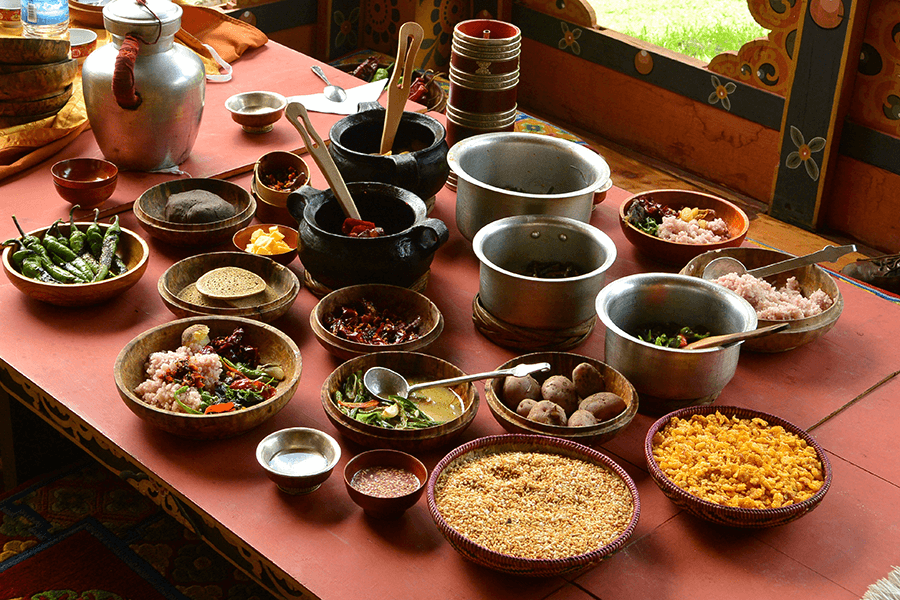 Phallic Symbols & Wooden Phallus
It is not porn, it is part of Bhutanese culture and religion. The phallic symbols, in Bhutanese belief, express the fertility; since then, you will see penises painted in doorways, across the walls, and even some wooden phallus placed in monasteries, especially in Chimi Lhangkha, a monastery in Punakha valley worshiping Lama Drukpa Kuenley, a legendary saint in Bhutan teaching Buddha through sex. People across the country, especially couples who have infertility issues visit the Chimi Lhangkha temple to pray for kids. If you don't mind, you can buy a wooden phallus as an interesting souvenir.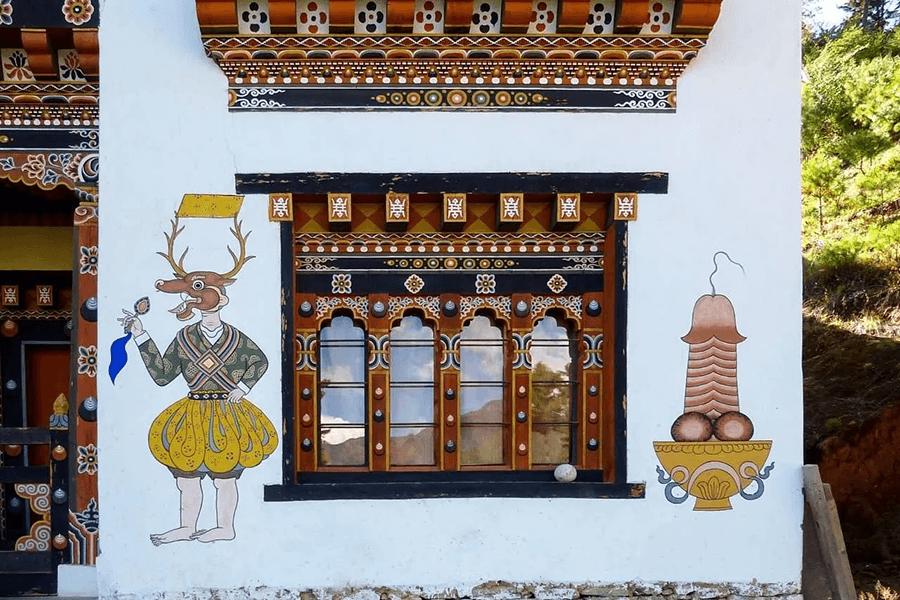 Do not Smoke Weed
Although being easily found almost everywhere in Bhutan, cannabis today is banned by Bhutanese officials. One can be jailed for 5 years if he is found smoking weed. The fact that not until 1999 when the internet came to Bhutan did the Bhutanese know about smoking weed through watching Bob Marley on Tv. Interestingly, before discovering the magical usage of weed, the locals used to collect it, chop it, boil it, then feed it to the happiest pigs in the world.
Wifi in Bhutan
If you are a social networking addict, your Bhutan vacation can be a big deal the wifi in Bhutan is extremely limited. Thus, instead of trying to stay connected with the social network, why don't you look at your time in this kingdom as a great opportunity to switch off and enjoy what is happening in the beautiful country rather than looking at the screen. In fact, the internet is still installed in hotels; however, its quality is not good. Instead of using Wifi that can drive you crazy sometimes because of its loading speed, why don't you use mobile data via Bhutan SIM cards? I promise that it is so much better than wifi.
Do not Disrespect the Royals
Bhutan, in the past, was an absolute monarchy then reformed to a constitutional monarchy in 2018; however, the Royals are still seen as an incarnation of omnipotent gods, so criticizing them is akin to blasphemy. Your guide will answer all the questions you have about the country; however, be mindful and stay away from asking your guide about some topics related to politics as they will steer away from them.
Essential Things to Know Before Going to Bhutan
Bhutan Cities & Major Town
Paro
Situated at 2280meters, the Paro Valley is home to the kingdom's only international airport. The National Museum of Bhutan and many of the oldest temples are found here. In a picturesque terraced valley, red rice crops form a golden blanket throughout the valley in autumn. Taktsang or 'Tigers Nest' Monastery is located 800 m above the valley floor in the upper Paro Valley. Many of the treks depart from Paro including the Lunana Snowman and Jhomolhari trek. An enchanting valley with great half & full day hiking opportunities, mountain biking, and scenic nature walk.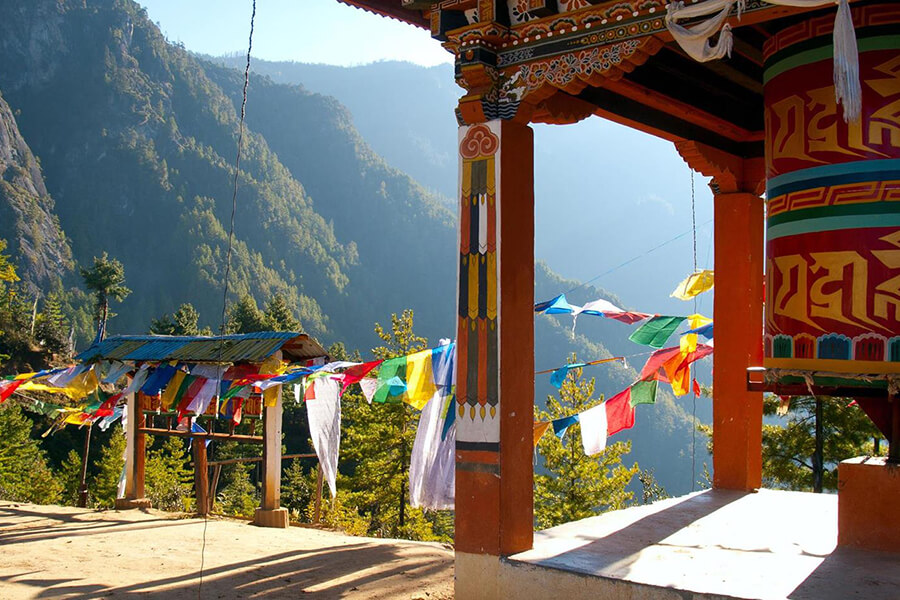 Thimphu
Bhutan's capital is home to the royal families, ministers, and the oldest fortress in Bhutan the 17th-century SimtokhaDzong. Situated at 2350meters and 65kms from Paro, the capital offers many day hike opportunities to small temples nestled in the surrounding forests. This broad valley houses many attractions and is well worth a few nights stopover.
Punakha
A warmer valley positioned at 1350 m and 76kms from Thimphu, Punakha was once the capital of Bhutan and is still the winter residence of the central monastic body. The Punakha Dzong is situated at the confluence of two rivers and is perhaps one of Bhutan's most imposing structures. This region is renowned for its rafting and mountain biking opportunities. Low altitude treks begin or end in the Punakha region.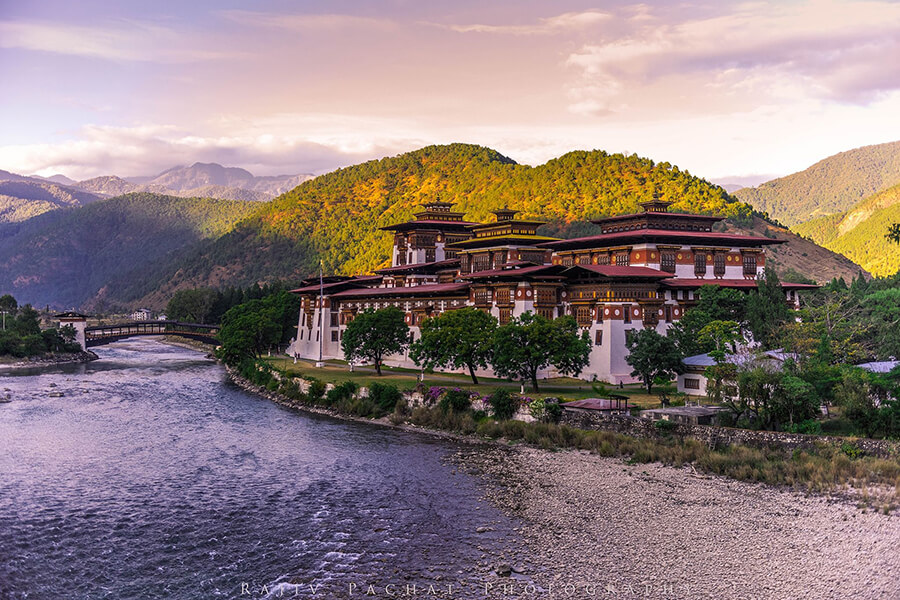 Wangdue Phodrang
This district covers a large area, from the northern snow-capped mountains to the glacial valley of Phobjikha. The Phobjikha Valley is the winter home Of the black-necked crane, this conservation area, also known as Gantey is a broad and picturesque valley. Situated on the slopes of the Black Mountains, the center of the valley is wetlands, and viewing of the endangered cranes is facilitated from an observation center from late October to mid-March.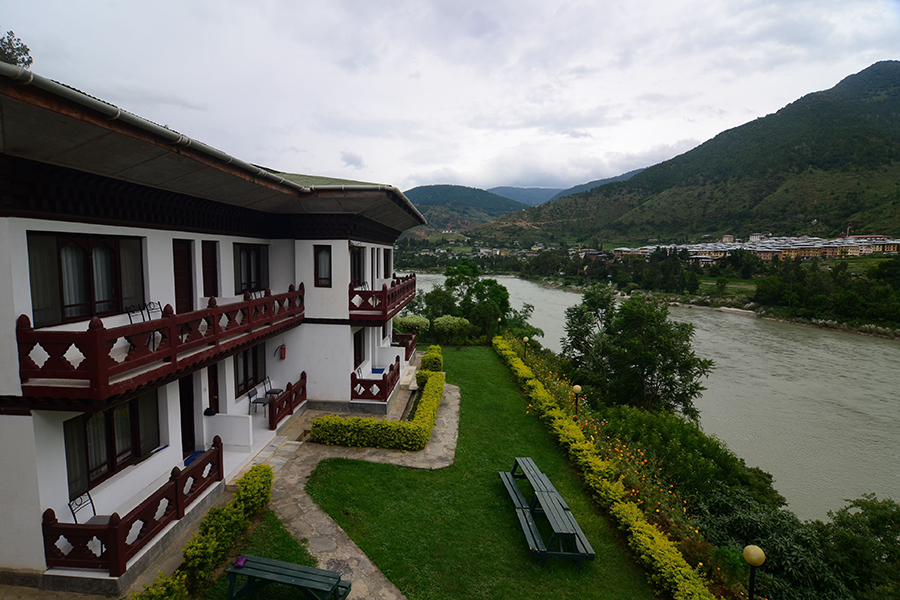 Bumthang
This region is comprised of 4 major valleys: Choskhor, Tang, Ura, and Chumey day hiking, trekking, and mountain biking are popular activities in this district. Yathra or yak wool weaving is specific to the region, yak herders migrate to these valleys and similar during winter. The main town of this region Jakar is situated at 2580mts, purple flowering buckwheat crops sweep the valley floor and apple orchards cling to the sides. Small industries produce apple juice, clover and buckwheat honey, cheese, and local spirits. Numerous religious sites are scattered throughout and Bumthang is renowned for having the greatest number of holy sites in the Kingdom, some dating back to the 7th century.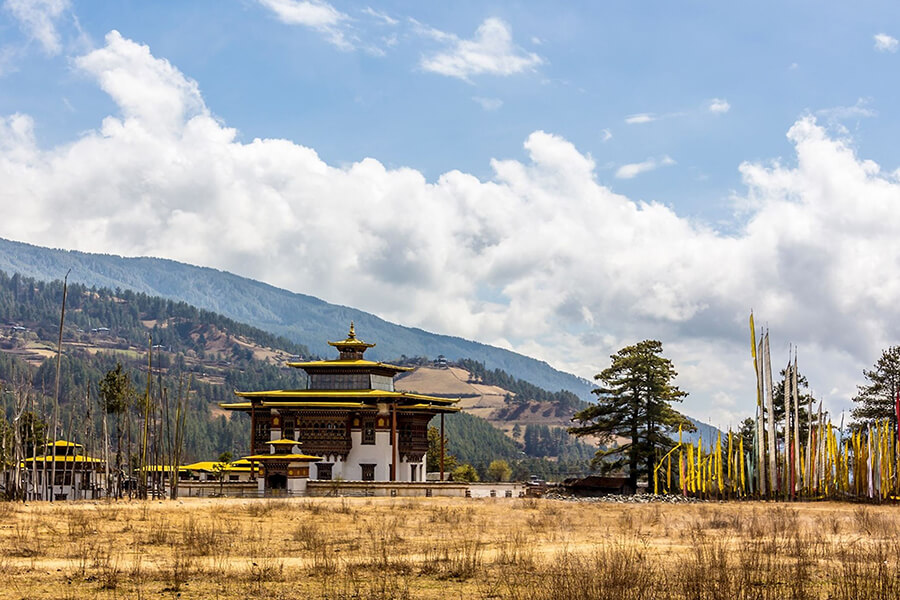 Trongsa
Located in central Bhutan at 2180 m, this district is separated from both the east and west by high mountain passes.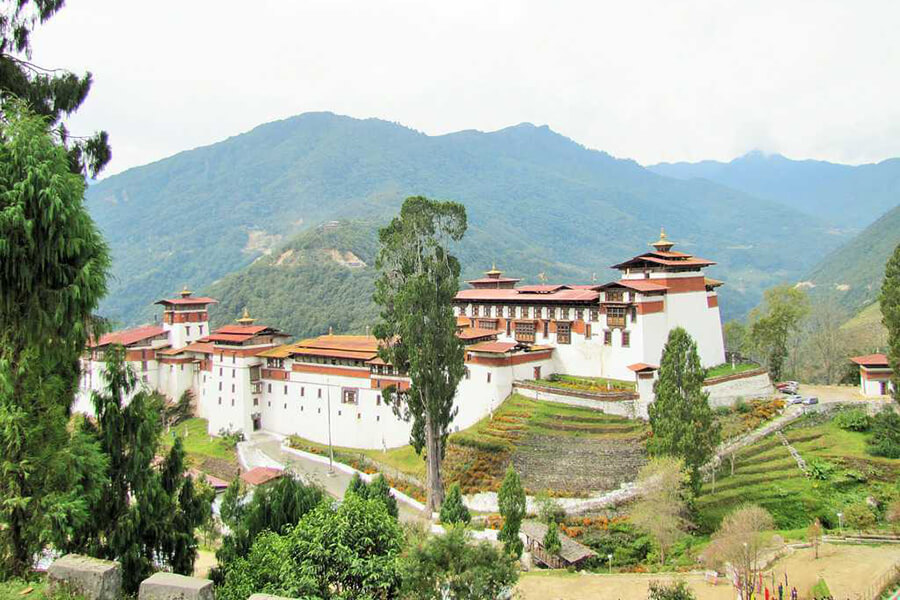 Mongar
193kms from the Bumthang region, the Mongar district lies in eastern Bhutan, once an important trade route between India and Tibet, the East is remote and isolated and home to many ethnic minorities.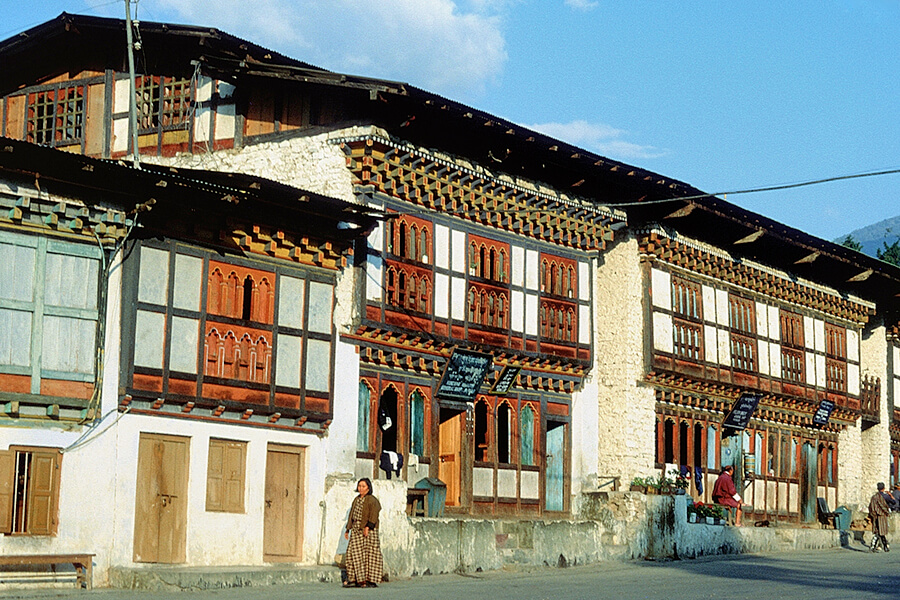 Trashigang
Situated 547kms east of Thimphu, the journey to this eastern region as dramatic as it is beautiful. A trading center for hill tribes and the gateway to eastern India, a central point to explore the outlying villages and cultural treks.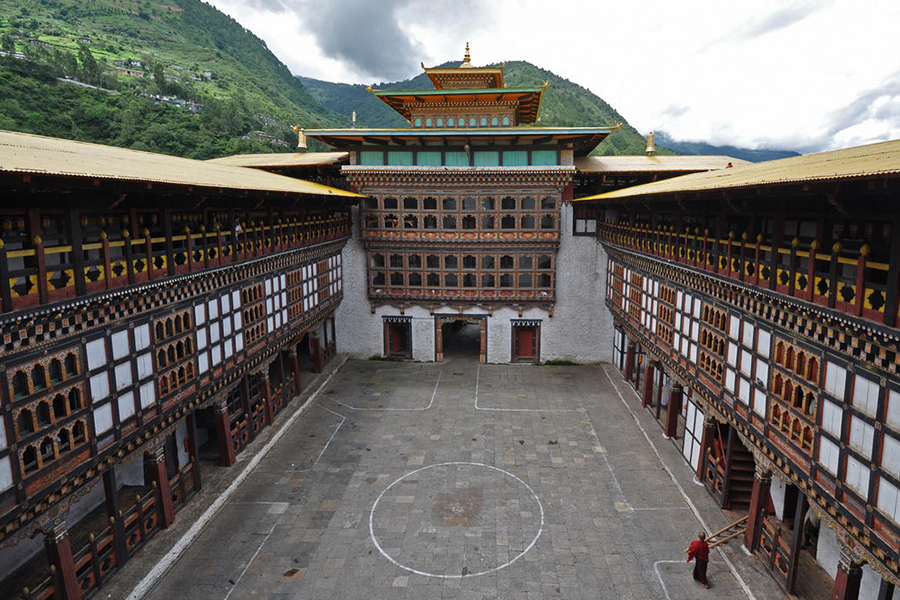 Activities in Bhutan for Tourists
Recreational & outdoor activities abound in Bhutan ranging from pleasant and scenic day hikes, and awesome high-altitude remote trefs to an exhilarating mountain bike ride through the extraordinary landscape. Some of the listed recreational activities are already included in our itineraries some or all of these activities can be included in your Bhutan journey, please contact us for a tailor-made journey itinerary.
Trekking
Trekking in Bhutan is something special leading you through this kingdom of raw natural beauty is a rewarding and stunning experience. Trekking routes in Bhutan range from two to nine days and up to 28 days, treks are available to suit different levels of ability and interest. Trekking routes pass by 7000-meter-high majestic mountains with permanently covered snow peaks, nomadic herders, hot springs, high-altitude lakes, and stunning landscape, each trek is a unique experience of discovery.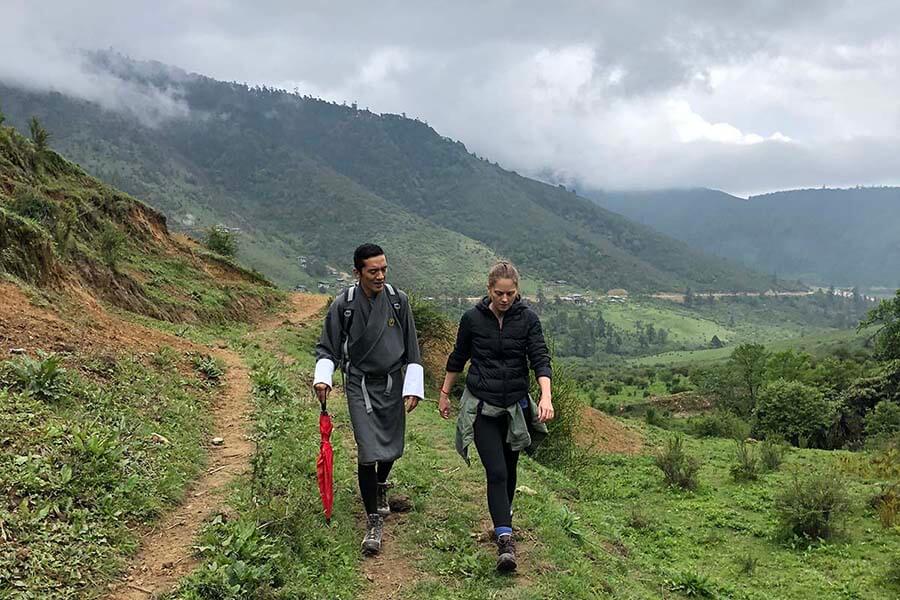 Mountaineering is forbidden in Bhutan, local belief holds the mountains to be home to holy deities and as such these religious sanctities should not be disturbed. Go Bhutan Tours offers a variety of trekking options, both small group departures and independent/tailor-made. Trekking in Bhutan can be physically challenging, an average level of fitness is required for the moderate treks, With a good level of fitness for longer and more arduous treks. Equipment and personal belongings are transported by pack horses/ponies and in higher altitude treks by yaks.
All trekking equipment is supplied and included in trekking itineraries. Go Bhutan Tours has trained chefs and cooks to cater to wholesome meals for our clients, including special dietary requests. General Trekking Seasons: mid-March to mid-May and mid-September to mid-November, there are some treks better suited to Summer or Winter, please refer to trekking Itineraries for recommended departure dates/months.
Day Hikes
An opportunity for an excellent insight into the unique way of life, to experience the landscape and local village life, and to unearth an amazing array of personal experiences. Day Hikes are graded into categories of difficulty, your guide will determine the best fit for you and tailor it to your interests. In some instances, such as the half-day trek to 'Tigers Nest Monastery' – Taktsang, ponies are available for the ascent. Most itineraries included within this brochure have some form of day hiking, whether a few hours or a full day, all are optional, for guests with physical limitations and who do not wish to partake in walking activities, alternative options will be presented.
Mountain Biking
For the explorer and keen cyclist, there is no better way to view the kingdom than on two wheels.  Being well-known as one o the most thrilling Bhutan adventure tours, all biking trips are accompanied by experienced cyclist guides and a full support vehicle – whether a leisurely cultural ride or a full biking tour. Mountain biking tours are available for groups or individuals. Go Bhutan Tours supplies mountain bikes or you may choose to bring your own, explore this alpine setting through river valley circuits, and off-road trails and admire the magnificent views on the mountain descents.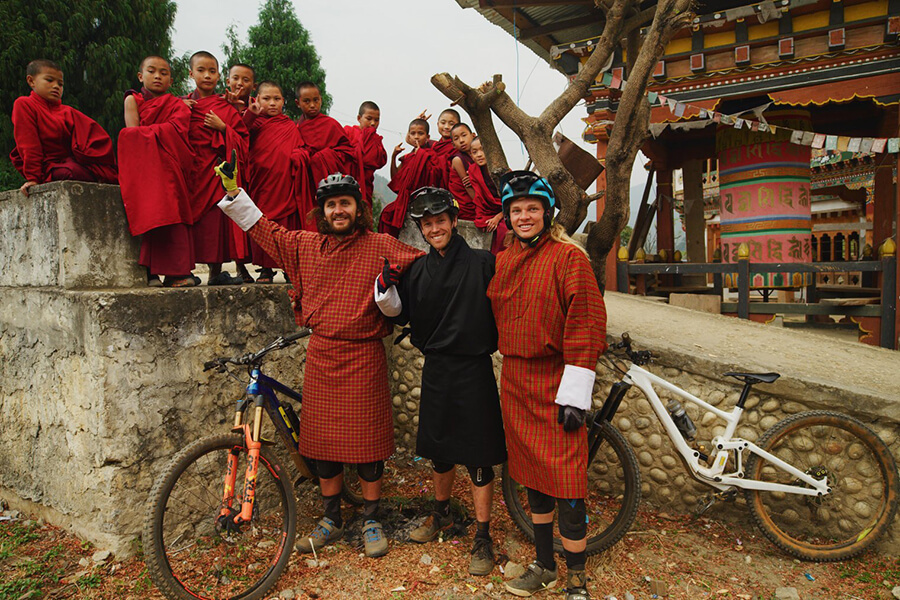 Golf
Pleasantly situated overlooking the imposing Thimphu Dzong, the Royal Thimphu Golf Club offers a 9-hole course. Go Bhutan Tours can organize club hires, tee timings, and caddies. The approximate price for 18 holes all-inclusive is $100 USD (subject to change).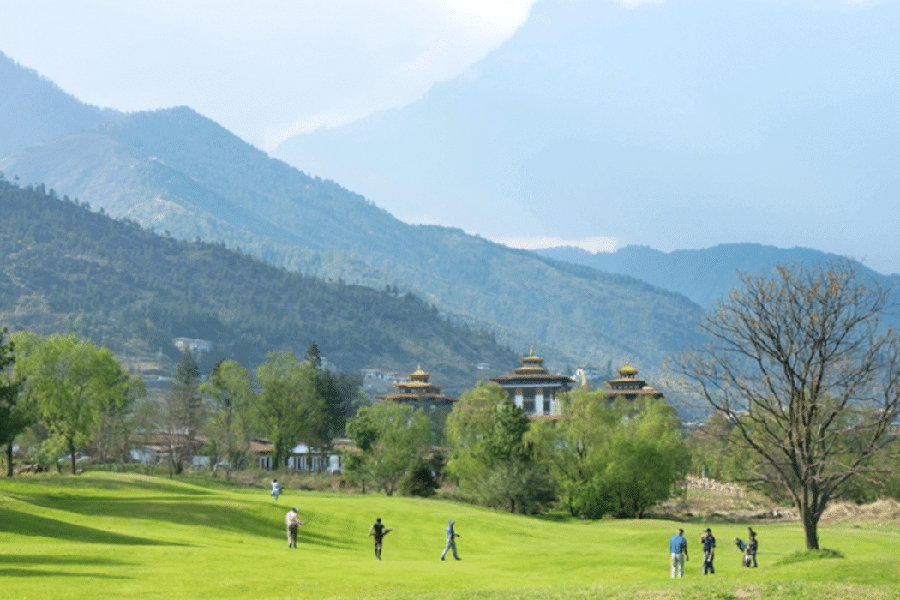 Fishing
Go Bhutan Tours encourages a 'catch and release culture. High altitude lakes and river valleys set in a stunning pristine environment offer good fishing opportunities. All fishing activities require a pre-organized permit, these are subject to auspicious dates and certain months – dates vary throughout the year. Go Bhutan Tours organizes equipment and permits with prior notice. If you are interested in fishing, let's take a look at our Bhutan Fishing Tour.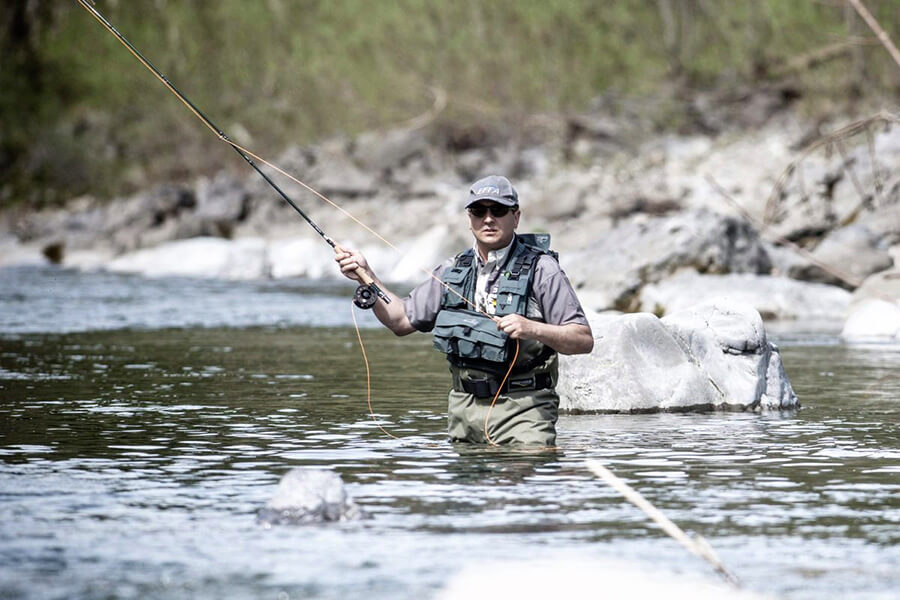 Rafting
Generally conducted in the Punakha Valley, ranging from white water rafting to hour-long pleasant rafting drifting through the valleys and farmland. The time of year will determine the river and the grade of the excursion. Go Bhutan Tours guides will advise the most suitable for your interest and ability.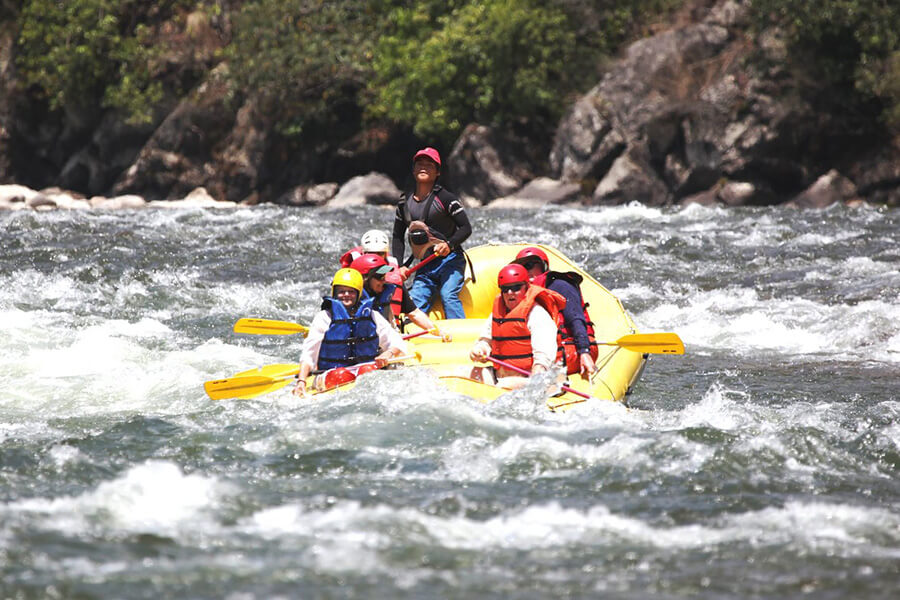 Archery
The national sport of Bhutan 'Da', archery is played extensively throughout the kingdom. Archery ranges are found in every town, this entertaining and popular sport was and still is played with bamboo bows. More recently imported compound bows have been introduced, and numerous tournaments are held throughout the country, with competitors using both bamboo and compound bows. With colorful displays of dancing, jesting, and cheering with a cheer squad of women, this sport is a vibrant and exciting display of skill.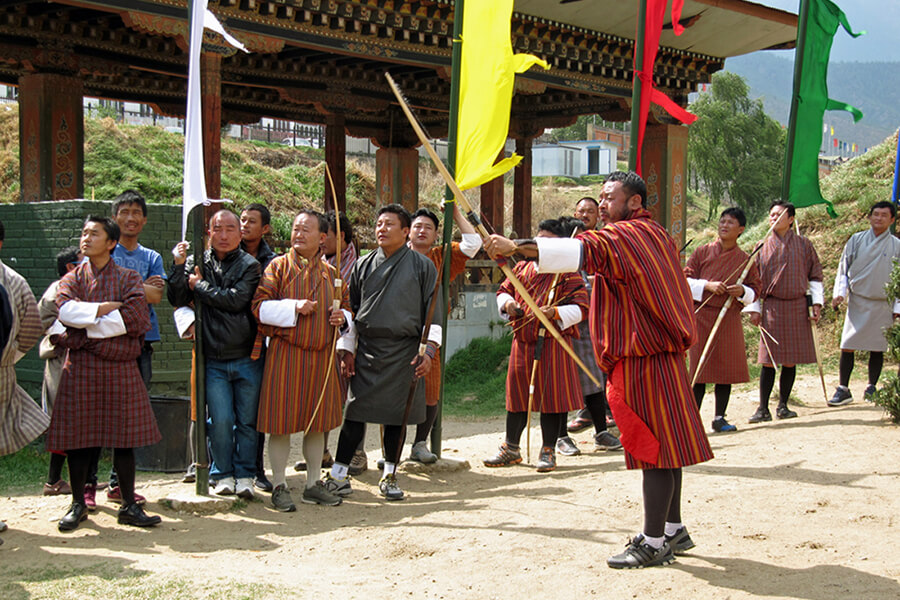 Bird watching
Recognized as one of the global endemic bird areas, this extraordinary habitat is a haven for over 650 species of birdlife many of which are globally threatened; thus, Birding tours in Bhutan can be the best vacation packages that you should enjoy. With its extensive nature reserves, strict conservation policy, and vast forest cover this rich and diverse natural habitat offers numerous bird watching options. Spring and Autumn are superb bird-watching seasons with day hikes through valleys of blooming rhododendron, broad-leaved evergreen forests, and pleasant weather. Winter sees the internal migrant from high altitudes into lower-level altitude regions, additionally the annual migration of the endangered black-necked crane. This elegant bird escapes the harsh Tibetan winter and makes its way to three valleys in the Bhutan Kingdom – Phobjikha, Bomdeling, and Gaya. Bird watching can be incorporated into your journey in numerous ways, as part of your journey through this majestic kingdom, many species can be seen traveling throughout the different regions either from the roadside or on short walks/hikes.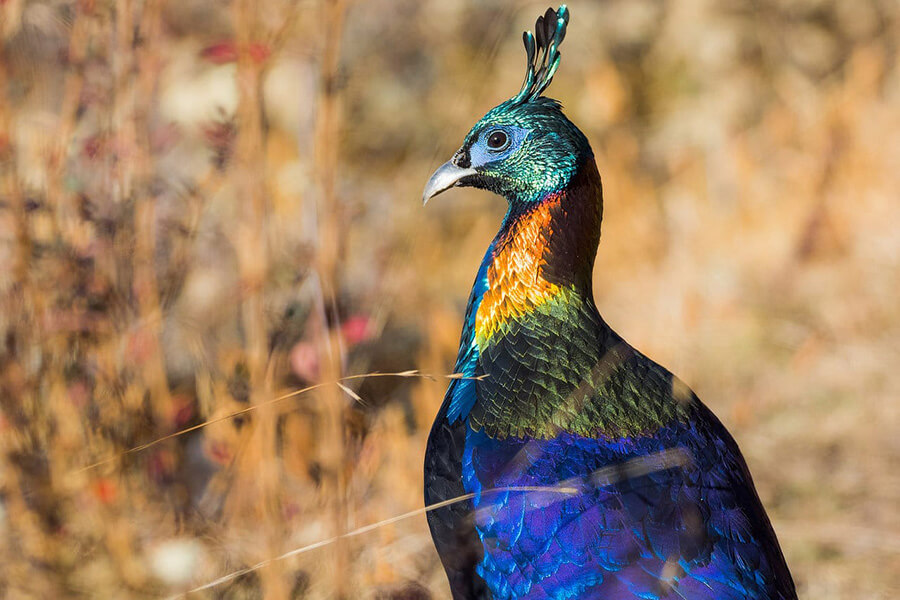 Photography
Colorful and vibrant with a stunning landscape this Kingdom is a paradise for the keen photographer. A journey into Bhutan offers a plethora of photo opportunities, with its diverse landscape, natural beauty, and exotic masked festival dances, providing a kaleidoscope of color and stunning photo shoots. Autumn in particular heralds clear skies, Panoramic mountain views, and a fabulous photographic journey. Private photographic journeys for the individual traveler or small groups can be organized, with research and permits organized by Go Bhutan Tours, including an experienced Bhutanese photographer to accompany you throughout your journey.
Camping
Experiencing the natural and pristine beauty of the outdoors does not have to involve days of trekking, overnight camps are available with a few hour's walk. Various locations throughout this Buddhist kingdom enable an overnight retreat into pine-clad valleys, majestic hinterland or hill spurs with endless views, and a haven of still and scenic beauty. Private journeys can include overnight camping retreats, ranging from I night to the entire journey, please contact Go Bhutan Tours to discuss your requirements.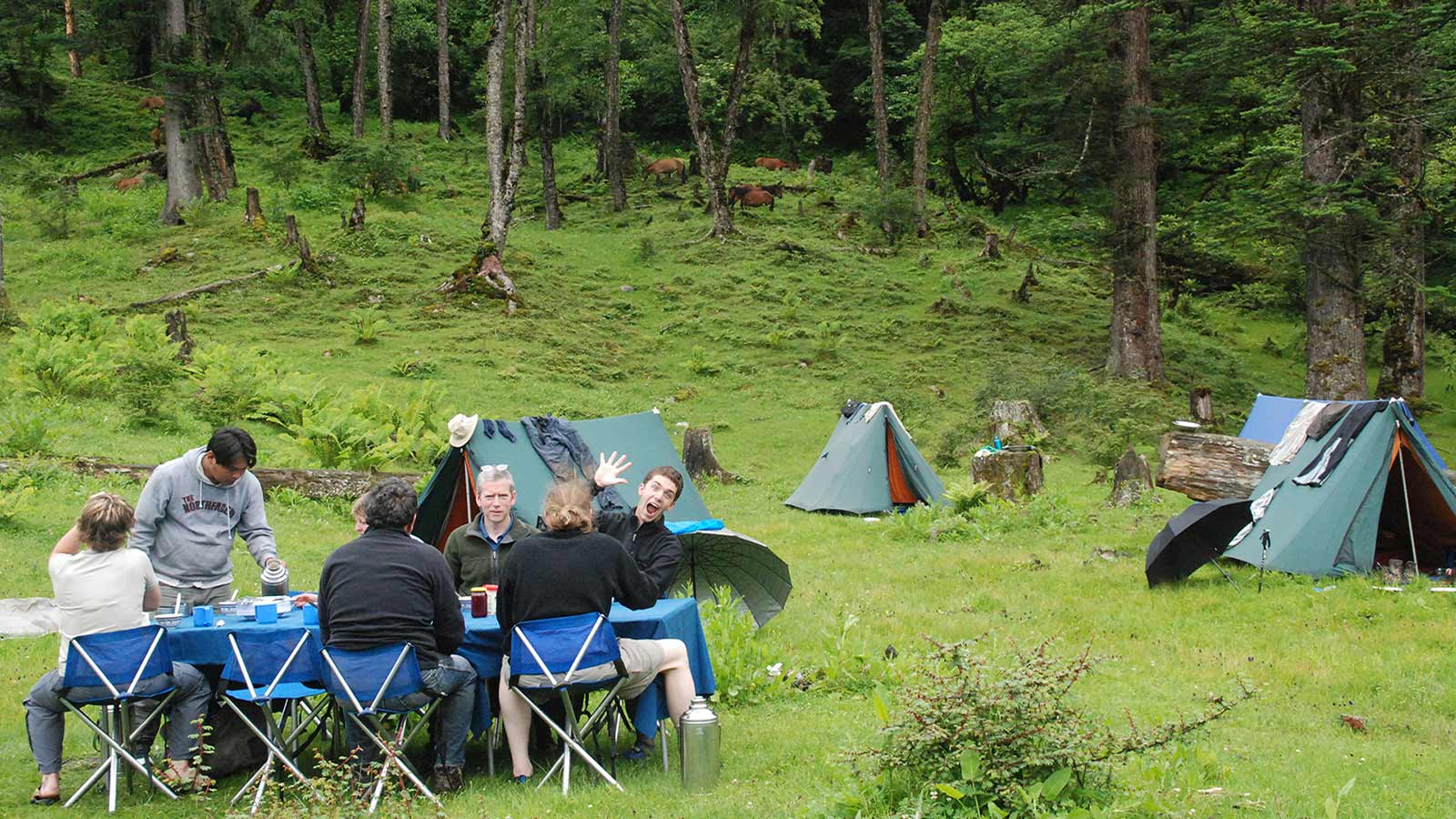 Important Things to Know about Bhutan Before Visiting
Bhutan Accommodation
Accommodation in Bhutan can vary greatly, ranging from luxury properties to intimate farm guesthouses. Go Bhutan Tours has experienced all of the properties we use and takes great care in ensuring the appropriate standard is provided as per our guests' expectations. Grading of accommodation in Bhutan is not widespread and we have taken the liberty of formulating our own Go Bhutan Tours grading system. Travel into outlying/remote areas the accommodation and facilities are limited to some extent.
Health
Go Bhutan Tours strongly advises travel insurance for all our guests. Prescription medication should be brought with you accompanied by a letter from your doctor stating the medical condition and prescribed medicines. We encourage our guests to seek up-to-date medical advice on vaccinations. Hats and sunscreen are essential items for all seasons, we encourage our guests to actively protect themselves. All Go Bhutan Tours staff have access to first-aid kits and medical hospitals/clinics are available in most districts. For your own personal safety and to enable us to ensure your health and safety, we encourage all guests to provide information on existing medical conditions.
Traveling with Disabilities
Hotels, guesthouses, transport, and sidewalks traditionally do not have a wheelchair or disabled access. Traveling to Bhutan for guests with physical disabilities is possible, although specific challenges may be experienced. Go Bhutan Tours will endeavor to provide our guests with the required assistance to accommodate your needs. Please contact Go Bhutan Tours to discuss your travel requirements.
Currency
The official currency of Bhutan is the Ngultrum (Nu), it cannot be used outside of the Kingdom. The Indian Rupee and US dollar are generally widely accepted in Bhutan, most other major currencies/travelers' cheques can be exchanged at banks, most hotels, and at the airport. Credit card facilities are very limited and ATMs for overseas banks do not exist.
Tsechu (Religious Festivals)
Tsechu is held across the country in each district annually with varying dates. Generally conducted within the grounds of the Dzongs (fortresses) and monasteries. The Tsechu is a homage to Guru Rinpoche, the founder of Buddhism in the Kingdom. Tales from Buddhist history and mythology are told through a variety of spectacular dances. Monks generally perform the colorful dances and local residents travel from far and wide to receive blessings and demonstrate their deep sense of respect for Guru Rinpoche and Bhutan Buddhism.
The dancers assume the personas of the deities which they represent in the performance, in a state of meditation. A religious tradition, Bhutanese dress in their finest clothes, a colorful and vibrant occasion, a visual kaleidoscope of color. The folk dances can vary in each district of Tsechu, a majority of the dances incorporate ornate masks and colorful robes/dresses. A Tsechu program with an explanation of the dances is provided to all Go Bhutan Tours guests attending a festival. Tsechu meaning 'tenth day is observed and celebrated on the 10th day of a month based on the Lunar calendar.
NOTE: Tsechu dates are subject to change.
Religion
The major religion of Bhutan is a tantric form of Mahayana Buddhism, introduced by the 8th Century saint Guru Rinpoche or Precious Master. The influence of Buddhism is visible in the everyday lives of the Bhutanese, colorful prayer flags adorn rooftops, and mountain passes and are strung across valleys. Monasteries and temples house sacred religious treasures from centuries gone by ornate and detailed artwork of deities and gods adorn the walls, the spiritual values enshrined in this Buddhist art. There are approx. 2000 monasteries of varying sizes and ages in this Kingdom, the values of Buddhism permeate not only the daily lives of the Bhutanese but all sentient beings. A journey through this Himalayan kingdom can provide a deep insight into Buddhist philosophy.
Architecture
Bhutanese architecture is unique, Dzongs (fortresses) are impressive in design and are constructed with intricacy. They are located in commanding locations, generally on hilltops or spurs with views of the valleys and in centuries gone by, a fortress against invading armies from Tibet and beyond. Houses are constructed in the typical Bhutanese design, typically each home will have an ornate prayer room. Traditionally houses had wooden shingles, held down by river stones, nails were not used in the construction of any abode or Dzong. Materials utilized to construct houses vary according to the region and can range from bamboo, river stones, rammed earth, and wood. Most houses are ornately decorated both internally and externally with symbols of lucky signs and protecting deities.
Climate & Season
Bhutan is an all-season destination, climate variations differ between regions due to the altitude, offering a variety of activities throughout the year in this small kingdom.
The southern region is subtropical and experiences a monsoon in the summer with rainfall experienced almost daily, generally in the latter part of the day. The northern Himalayan region is snow-covered year-round, experiencing monsoonal rains in summer and heavy snowfall in winter, a harsh climate with mountain passes generally impassable during winter. Central Bhutan experiences a semi-tropical climate, winter can be very cool, especially early morning and night time- Western regions and upper eastern regions such as Paro, Thimphu, Haa, Trongsa, and Bumthang experience some snowfall during winter.
Sept – Nov: Autumn offers clear skies, good trekking conditions, and snowcapped mountain peak views with warm sunny days and cool nights. The highest number of tourists travel within this period. Low rainfall and clear days ensure spectacular mountain views.
Dec – Feb: Winter is a dry season with a clear sky and little cloud cover in Bhutan. Below freezing temperatures can be experienced at night, snow-covered mountain ranges, and some snowfall in certain regions. Pleasant conditions are experienced in the subtropical southern regions, winter is a good trekking season for southern lower altitude regions. Good weather for day hikes, lower altitude trekking & mountain views, bird watching, and viewing of the endangered Black Necked Crane in the Phobjikha Valley.
March – May: Spring is recommended for guests with flora and fauna interests, experiencing some rainfall in late spring. A good season for trek enthusiasts with blooming rhododendrons and trekking in moderate altitudes.
June – Aug: Summer is monsoonal with rainfall experienced most days, although generally in the latter part of the day. Central & Western regions enjoy pleasant temperatures and rainfall for short periods with mild nights.
NOTE: High demand for flight seats and hotel accommodation is experienced in March, April, May, Sept, Oct & Nov – early booking is highly recommended.