Bhutan Economy Facts
Bhutan is one of the world's smallest and least developed countries with the fact that 45 percent of GNP comes from agriculture as well as livestock raising. It is said that about 79% of people's main source of livelihood is agriculture and 95% of the earning women in Bhutan work in the agricultural sector. In Bhutan, several major crops grown by Bhutanese farmers are rice, maize, wheat, cardamom, potatoes, oranges, and apples.
Over the decades, there have been some significant changes to the economy of Bhutan as the result of the socio-economic plan in which hydroelectric power, wood-based products, minerals, horticulture products, cement, and carbides have become the country's main exports. Additionally, hydroelectric power is a sustainable, renewable, and environmentally friendly energy and also is an advantage for Bhutan to boost its economic potential. Besides exporting goods, Bhutan also imports consumer goods and essentials like salt, oil, kerosene, and petrol, and surprisingly, although being an agricultural nation, Bhutan has still imported rice.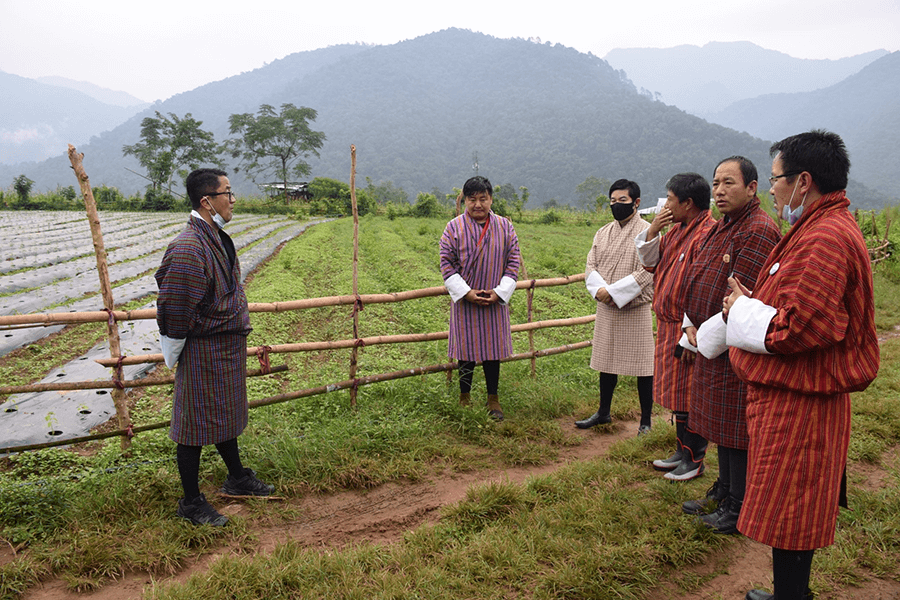 Bhutan's tourism industry is the field that brings the highest source of hard currency to Bhutan's economy. However, the government officially issues a policy of limiting the number of tourists visiting Bhutan each year to preserve the country's environment and the untouched culture & tradition as well. One of the policies relating to the Tourism industry is an expensive tariff that visitors have to pay up to $250 for a day in Bhutan.
The major trading partner of Bhutan is India as the two countries have a free trade relationship agreement. The fact that the hydro-power that Bhutan annually exports to India has boosted the country's overall growth although the GDP fell in 2008 caused by a slowdown in is the predominant export market – India. Bangladesh also has a preferential trade agreement with Bhutan. In addition, Bhutan has developed diplomacy with countries across the world; however, the detailed controls and uncertain policies in areas like industrial licensing, labor, trade, and finance have still hampered foreign investment.
Types of Industries in Bhutan
Industry
In the late 1980s, there was only 1% or even less of the workforce was involved in industry and construction and in 1991, the industrial production and construction only represented 14.2% of GDP projected. In that period, the major industries in Bhutan were handicrafts, cement, food processing, wood milling, and distilling. There were roughly 400 small-scale cottage and industrial units, in the late 1980s, and also existed 2 cement plants under the pendent Cement Authority; a joint venture, as well as, the factories for processing fruit, manufacturing paper pulps, wood veneers, and particle boards; and the Bhutan Carbide and Chemicals calcium carbide plant. Also, there were 3 distilleries, a salt iodization plant, and other small industrial enterprises that manufactured consumer goods like soap, confectionaries, and furniture.
Commerce
In Bhutan, Commercial service was projected to produce 7.4% of the GDP of the country in 1991 and much of Bhutan's commerce revolved around hotels, restaurants, and wholesale & retail trade made up the balance. In 1980, the Bhutan Chamber of Commerce and Industry which was established with government sanction and leadership severed as a formal conduit between government and private-sector businesses. In 1984, a unit of the Department of Trade and Commerce that provides trade and commercial information to both the public and private sectors, the Trade Information Centre, was established via the first meeting between Chamber members and heads of government departments. In 1987, the Bhutan Chamber of Commerce and Industry was reorganized with a vital role in coordinating activities in the government and private sectors as well as promoting socio-economic development. In 1988, in spite of being criticized for its extremely poor performance by the Druk Gyalpo, the Bhutan Chamber of Commerce and Industry still remained 40 members in 1989.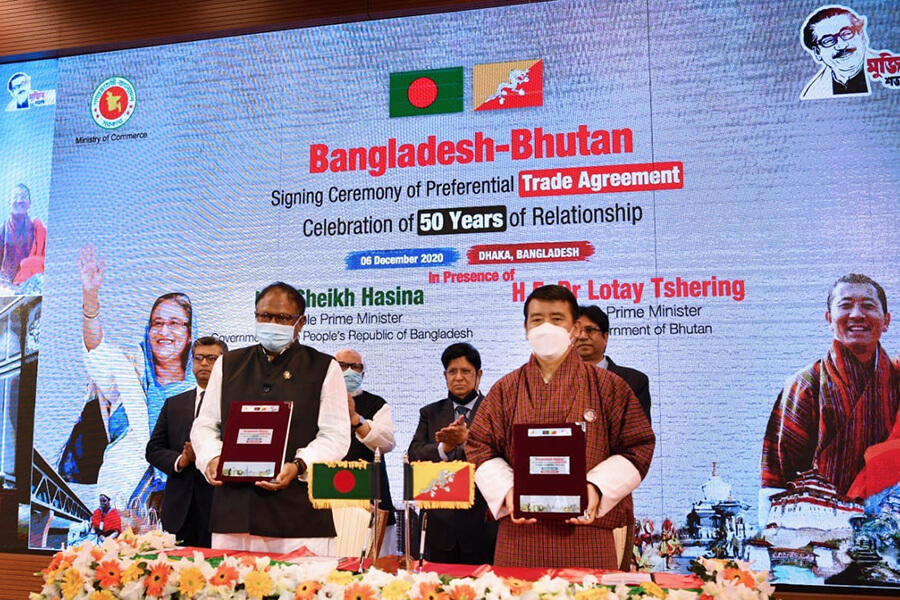 Mining
1.5% of GDP was projected to be produced by the mining and quarrying industry in 1991. In the mid-1980s, limestone was used in cement production and clay was the major mineral that was extracted along with other minerals such as marble, dolomite, graphite, and slate. Additionally, there were many other deposits that have been found via an exploration program initially operated by the cooperation between the Geological Survey of Bhutan and India, including gypsum, copper, tin, lead, zinc, and tungsten, beryl, coal, mica, tufa, pyrites, and talc. Due to the contributions to the ferrosilicon industry of high-quality limestone deposits in Bhutan along with energy resources, they were expected to take on increasing importance in the 1990s.