History of Jakar Dzong
Jakar Yugyal Dzong, or popularly known as Jakar Dzong (one of the famous Bumthang attractions), is believed to be constructed by Lam Ngagi Wangchuck (1517 – 1554), a Tibetan, who came to Bhutan in order to spread the Drukpa Kagyupa Buddhist order. Oral legend had it that a white bird once flew away and perched on where the Dzong stands today and a group of Lamas and the elders considered it was a good omen then, they left the old site and moved to the new one at the eastern area of the Bumthang Valley.
According to some sources, the Tibetan military attacked the Dzong thrice. Phuntsho Namgyel, the ruler of Tsang in Tibet, twice sent an army to destroyed Zhabdrung in the 17th century but was defeated. The third subjugation concurred under the dynasty of the 3rd Desi, Minjur Tempa. It was believed as a difficult battle that was only won with the arrival forces of Lam Ngawang Rabten. After the victory, the Dzong, we know today, was renamed as'Jakar Yugyal Dzong' and in English, it means ' the Victorious Fortress of the White Bird'.
Jakar Festival
Jakar Festival or Jakar Tsechu is an annual event held inside the massive Jakar Dzong. During the festival time, the whole district of Jakar or Bumthang will be closed for three days to witness the vibrant festival. Tshechu is always celebrated on the 10th day of the Bhutanese calendar due to the fact that the term Tsechu means the tenth, which is organized as the Birth Anniversary of sain Guru Rimpoche – the Second Buddha of Bhutan.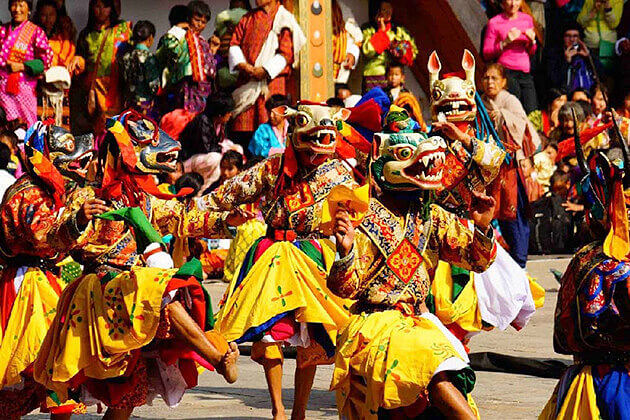 Each year, the Jakar Festival draws a large number of people from the valley or even from other regions coming to the event to receive blessings for peace, long life and prosperity. Enjoying the Tsechu, there will be an opportunity to marvel at both mask dances by Monks along with songs and dances from the locals. It also a chance to indulge in the picturesque vista surrounding the Jakar Dzong offering an overlooking the lush Chamber Valley. In short, the Jakar Festival would be a majestic experience that you have to enjoy once in life. Such a vibrant festival and so many things to learn, so do not miss any chance to go there in your Bhutan tour packages.