History of the Tiger's Nest Monastery
As I told you before, the Tiger's Nest Monastery or Taktsang Goemba built-in 1692, is a sacred site as well as an iconic attraction in Paro, cliffing on the 3120-m rock above the Paro valley. Legend had it that sain Guru Rinpoche, the second Buddha and patron saint in Bhutan, flew to Bhutan while sitting on the back of a tigress and defeated the demon spirit at there, then meditated in the cave on the cliff where the Tiger's Nest stands nowadays. Also, the cave has been very well-known as well as the holiest sites in Paro.
On 19th April 1998, the temple was damaged and destroyed by a huge fire caused by a butter lamp; however, luckily, the relics and statues were not eliminated. The Taktsang Goemba was reconstructed in 2000 and recreated its splendid and competed origin in 2005. Overall, the Taktsang Goemba – Tiger's Nest Monastery is a cultural icon of Bhutan and you should visit it and have an unforgettable time in life.
How to reach Taktsang Goemba – Tiger's Nest Monastery
To reach the place, the first thing you need to do is to take a pretty drive roughly 35 minutes from the lower Paro and about 20 from upper Par to the camp base offering gorgeous vistas of lush forests. Once in the camp base, you can choose to participate in hiking up on foot or riding horses to the Taktsang Cafeteria. The hiking trail stretches uphill approximately 4 km; hence, if you have not ever taken a hiking trip before, I recommend you to enjoy horse riding that costs you 600 INR/ person or if you still want to hike on foot, you can hire a trekking stick which costs 50 INR/ person to support you.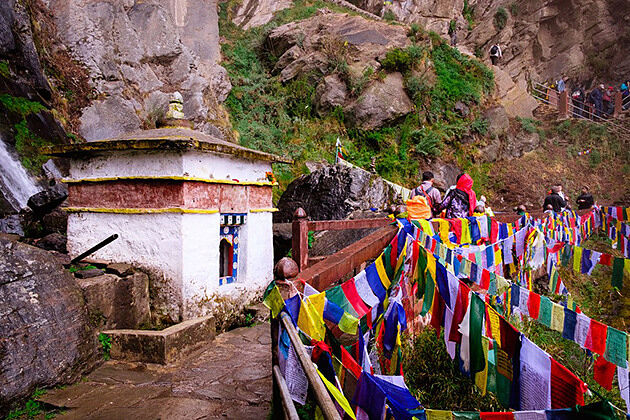 When you reach Taktsang Cafeteria, it will be your time to refresh and have lunch. Do not forget to enjoy the special ambiance in an umbrella-shaped structure besides the cafeteria that will give you the right atmosphere to just let loose. One more thing you should know when you enjoy the trip to this Paro tourist attraction – Taktsang Goemba is not to choose a heavy meal because there is a sharp hiking trail ahead that is only able to be accomplished by foot.
It will take you 2 hours to hike till you reach the Tiger's Nest Monastery. Hiking up for 2 km and walking downward for 1 km, and then, you will reach the marvelous array of steps leading you to the Taktsang Monastery. Generally, a hiking trip to the Tiger's Nest Monastery can be easily added to any Bhutan vacation, especially to the Bhutan Trekking Tours. Perhaps, it is all about you need to know about the Taktsang Goemba – a sacred attraction in Paro. Wish it would be helpful for you.