Taa Dzong is situated about 6 km away from the main Paro town and 500 feet from the Rinpung Dzong. The Dzong is the national museum in Bhutan which houses on the 17th-century watchtower where offers the beautiful panoramic view across the Paro Valley. The Taa Dzong is published in 1968 and today, it is famous for collections of bronze, painting, and art. Besides, there is a section of stuffed butterflies, animals, jewelry, handicrafts, and all textiles across Bhutan. Standing outside the Dzong, one can witness a round-shaped structure resembling a conch shell that makes the Dzong more charming to both the Bhutanese and foreigners.
Museum Gallery of Taa Dzong
As Buddhism is the state religion in Bhutan; thus, the Taa Dzong is home to weird festival masks and carvings of teachers and saints from the region. Also, there are several weird objects in the heritage gallery like a horse horn, an egg claimed to have been laid by a mule. Although the Dzong is one of the impressive attractions in Trongsa, it also contains several attractions inside it. There is the Tamchhog – an iron bridge, which is housed in the Taa Dzong making this place be an important historical destination. Next, there is an underground tunnel which connects the museum with the Pa Chhu river. Highly recommend exploring this tunnel because it will make visitors thrilled.
Structure Building and Renovation
The structure of the building was old & weak and during the reign of the father of modern Bhutan – King Jigme Dorji Wangchuck, a renovation of the Taa Dzong was launched. Amazingly, during the renovation, they found that the original structure of the Dzong was designed with stone and wood without using any single nail. After being renovated, the structure of the museum was more stable and strong. As you might not know, the Taa Dzong survived the earthquakes occurred in 1714 and 1896.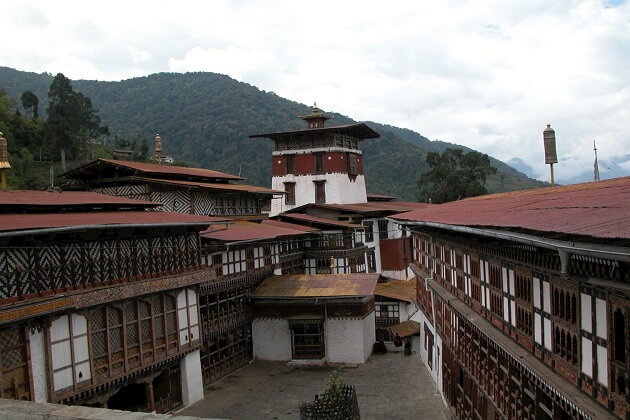 How to Reach Taa Dzong
By taking a pretty drive through a 4-km loop into Dop Shari valley, you will reach the Taa Dzong. When you are at the museum, you can go to the town as you walk down a path passing through the Dzong and you will have an opportunity to enjoy the breathtaking views of the valley and the Ugyen Pelri palace as well. If you want to enjoy something exciting, let enjoy a short hike to the Zuri Dzong.
Overall, Taa Dzong is an interesting and historic attraction that you should visit once enjoying Bhutan Tours.
Taa Dzong – Timing and Entry Fee
Once in Bhutan, you can visit the Taa Dzong every day but, except on local and government holidays. There are 2 opening hours depending on seasons:
• Summer (March – October): 9 am – 5 pm
• Winter (November – February) 9 am – 4 pm
About entry fee, the price that you pay depends on who you are:
• Monks, nuns, lay monks (Gomchens) and under-10-year-old children: Free
• Bhutanese Student: NU 5
• Local: NU 10
• SAARC Country Citizens: NU 25
• Non-SAARC Country citizens: NU 150