The Ngalop ethnic group of Bhutan, settling in the west of the country, are people of Tibetan who migrated to Bhutan in the ninth century. For this reason, they are referred to the name Bhote which means people of Tibet. In the past, the Ngalop was the pioneer who introduced Buddhism and Tibetan culture to the kingdom. So far, the Ngalop culture and linguistic have created significant influences in modern Bhutan and thus they are often recognized as the Bhutanese people. Here is some worth information that gives you a glimpse of the ethnic group of the country.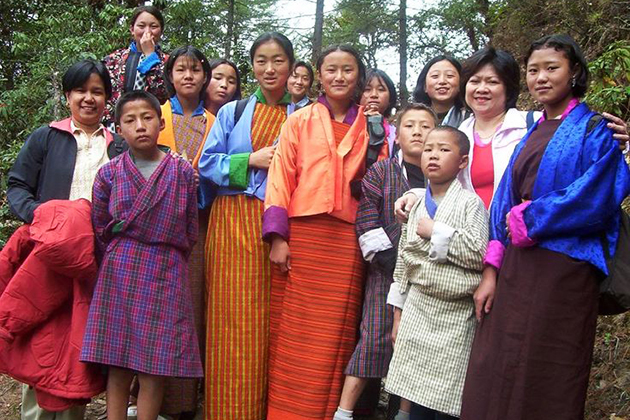 Ngalops Population
Nowadays, the Ngalop mainly populate in the West and the North of Bhutan. According to the demographic statistic in 1981, the Ngalop took about 17% of the Bhutan population.
Ngalops Language
The main language of the Ngalops is Dzongkha (meaning the language of the district) which was spoken by approximately half of the Bhutanese people around the country. As the dominance of the Ngalop throughout the country, Dzongkha has become the national language of Bhutan since 1971.
Ngalops Religion
Most Nalops practice Tibetan Buddhism with the Drukpa Lineage of Vajrayana form that appreciates the important role of the Avalokitesvara Bodhisattva to the spiritual life of people. Faith plays a significant part in the Ngalop's culture, customs and way of life. Through the ups and downs of the historical journey of the outside world, the Ngalops still maintaining their un-spoilt Buddhism as a mental treasure of the Thunder Dragon Kingdom in the Himalayas. Buddhism encourages people to live in harmony with nature and pay reverence to the motherland where they were born. This can be reflected in some of the certain rules when visiting Bhutan that visitors are hoped to follow. For instance, tourists are proposed not to pick up any stones and throw them into the lake because it is considered a disrespect to the sacred land.
Ngalops Agriculture
The agriculture sector plays a crucial part in the daily life of the Ngalop people. Their staple products are Bhutanese red rice, potatoes, barley, and several seasonal crops.
Ngalops Culture & Lifestyle
Normally, the Ngalops retaining the Bhutanese lifestyle. That, along with the rapid pace of social development, they are not looking to be a modern country. People live in a house made of stone, clay, brick, and wood. Additionally, it is compulsory for people to wear their traditional dress in everyday life and formal celebrations as the pride of the nation. Furthermore, the people remain their composure and thus it is hard to witness hurried people rushing on the street or crazy cars warming at the pedestrians like other parts of the world.