Tour Highlights: 
Hike to the Taktsang the Tiger Nest Monastery, a 17th-century monastery built cliffside with spectacular views.
Engage in an early morning meditation class in the Thimphu valley
Lunch in the picturesque valley of Paro in a traditional farmhouse surrounded by rice fields
Explore the therapeutic properties of a traditional hot stone bath
Start/End: Paro/Paro
Duration: 6 days/5 nights
Tour route: Paro – Haa Valley – Thimphu – Taktsang Goemba – Paro
Brief Itinerary
Day 1: Paro Arrival
Day 2: Paro – Thimphu Valley
Day 3: Thimphu Valley – Paro
Day 4: Taktsang Goemba Hike
Day 5: Discover Paro
Day 6: Paro Departure
Day 1: Arrive Paro
Upon arrival, our representative will be waiting to warmly greet you and escort you to the hotel. Once you've settled in the hotel, relax at leisure as the rest of the day will be yours.
Overnight in Paro.
Day 2: Paro – Haa Valley, 62 km, 2 hours
This morning, we commence our road trip to Haa Valley and Chele La pass. The road to the Haa Valley is a scenic drive through small and hamlets, winding through these side valleys we make our way into the Haa Valley, the road cut into the hillsides above the Haa river.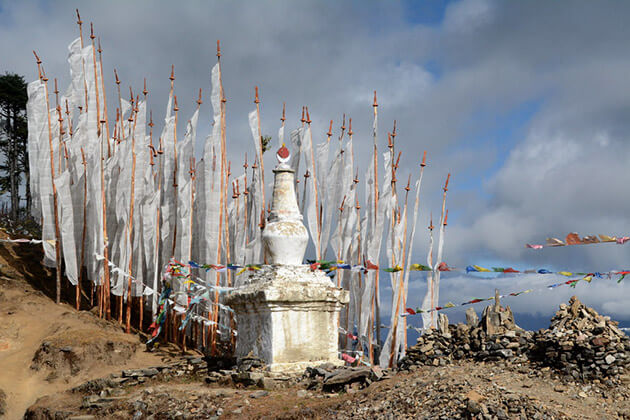 Exploration of this isolated traditional settlement, situated south of Paro and only recently opened to tourism, take in the sights of the many temples and Lhakhang dotted throughout the valley. Winding back out of the Haa Valley, ascending to Chele La Pass at 3990 meters offers views of the magnificent Mount Jhomolhari and Haa Valley. Taking in the scenery with an offering of prayer flags, a Buddhist ritual to gain merit for the next life. Descending through oak and pine forests from the pass drive to Haa Valley. There is an option for a mountain bike ride.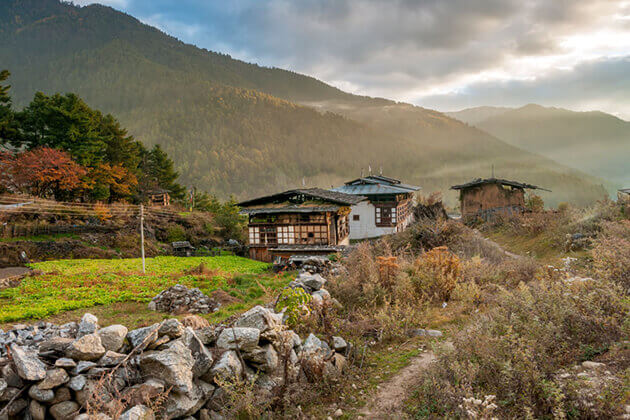 Day 3: Haa – Thimphu, 124 km, 3-4 hours
Drive to the capital Thimphu via Chele La Pass again and through traditional settlements and terraces of rice fields. The capital lies in a steep valley with alpine forests and golden topped monasteries scattered throughout. Thimphu with its bustling and colorful main street, a meeting place for many and the center of commerce for most.
A leisurely walking tour in the main center of this sprawling city at 2350 meters, through alleys and laneways with its tiny shops, teahouses and handicraft emporiums. Exploring the handcrafted artisan produce at the local farmers market with freshly churned butter, forest mushrooms and a vast array of chilies both fresh and dried. This afternoon is full of opportunities including the National Textile Museum, the Memorial Chorten with locals engaged in "Kora" – a circular pilgrimage with offerings of butter lamps.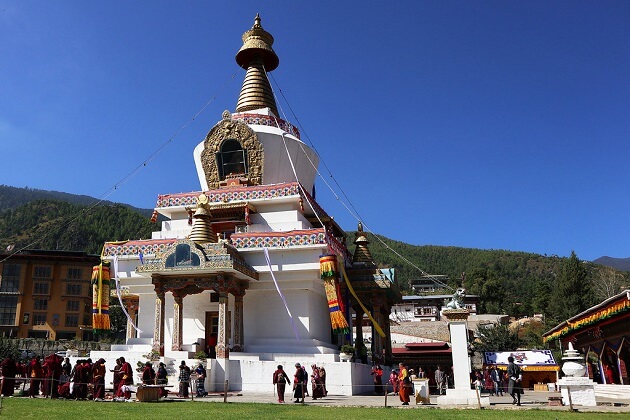 Day 4: Thimphu – Paro, Taktsang Monastery Hike
Day 4 begins with a hike to the magnificent Taktsang Monastery at 3140 meters. Perched cliffside, it is believed this is the meditation site of Guru Rinpoche, who flew on the back of a tigress in the 8th century. An important Buddhist pilgrimage site in the Himalayas, with its stunning vistas and spectacular architecture against a backdrop of sheer granite cliff faces. After descending from Taktsang, enjoy a picnic lunch in the Paro Valle or in the Taktsang Cafeteria. After lunch, the descent back to Paro.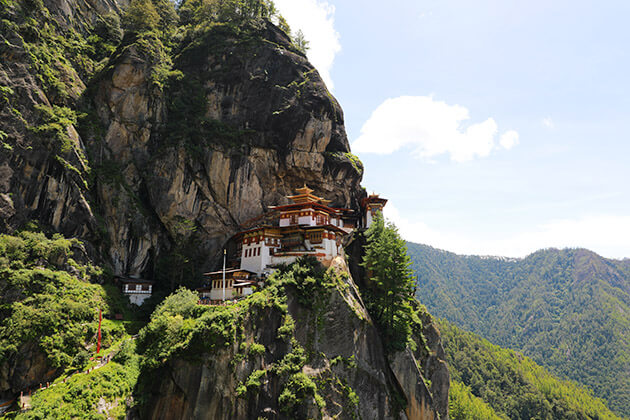 Day 5: Paro Explore and Guided Walking Tour
A guided tour of the enchanting Paro Valley with the 17th century Paro Dzong towering over the valley below. The National Museum housing collections of Bhutanese treasures, colorful Buddhist artworks, and weapons from centuries gone by. Next visit Kyichu Monastery, this 7th-century temple is highly revered not only for its antiquity but its religious importance. Later drive out to the northern end of the valley to the ruins of the 17th century Drugyel Dzong. With background views of the great Jhomolhari peak, this Dzong was originally constructed to commemorate the victory over the Tibetan army.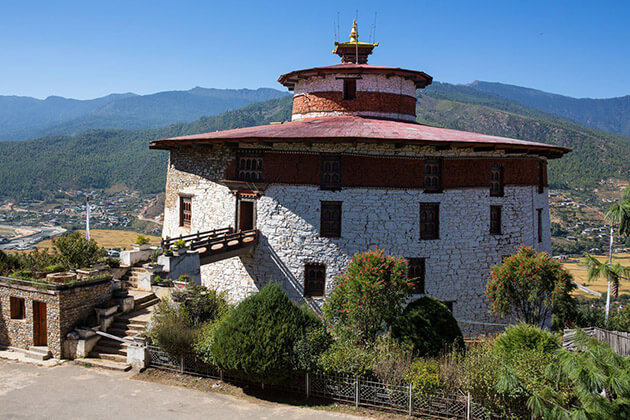 After lunch walks through Paro, the township is lined with willow trees, a large white monument tower over the town local archery field, over a beautiful traditional bridge and into the heart of the valley. Leisure time, perhaps indulge in a traditional Bhutanese Hot Stone bath, partake in Bhutan's national sport 'Da' – archery or a scenic mountain bike ride.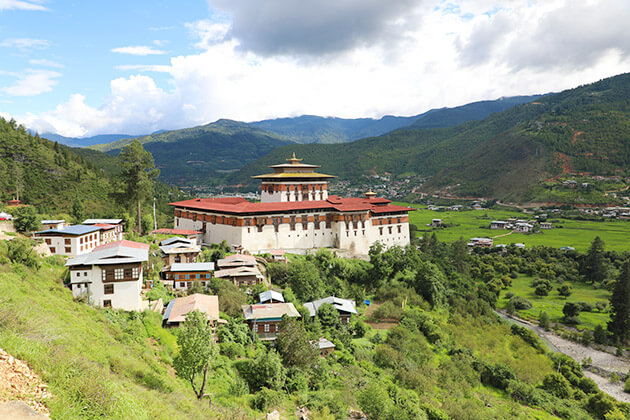 Day 6: Paro Departure
Time to say goodbye Bhutan. Enjoy your last moment with breakfast at the hotel and then, relax at leisure until our representative come and escort you to the Paro International Airport for a flight coming home. The trip ends. Hope you had a beautiful time and wish that we can serve you next time in Bhutan.