Besides indulging yourself in some of the most Bhutan coziest coffee shops or high on life with the finest Bhutan beer one of the most other expected things that you should not miss in your Bhutan tours, definitely, is finding yourself the amount of high-end Bhutan Whiskeys & Wines. Liquor in Bhutan is surprisingly reasonable and good quality then you can easily find some of several of them in most restaurants and grocery shops in Bhutan. If you don't mind, I and this article will give you a hand to find out more about alcohol drinks in Bhutan.
Wines in Bhutan
Zumzin Peach Wine
Wine is a perfect sidekick whenever I enjoy wonderful Bhutan cuisine. Somehow, the name of this Bhutanese Wine – Zumzin gives you a playful vibe. The wine itself is a product that is made of a natural blend of peach wine, mineral water, and flavor. Zumzin Peach wine has its own special characteristic coming from natural, pure and ripe peach flavor which definitely leaves a deep impression in drinkers whenever they take a sip. If you have a chance, just try the strawberry version; however, it is too sweet to me.
Price: Nu 100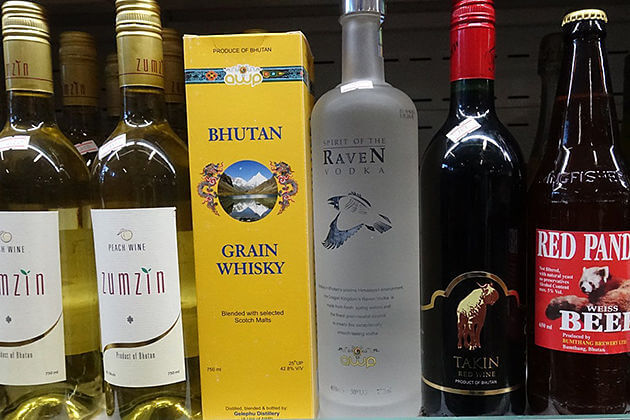 Takin Red Wine
If you have a huge passion for sweet and want to taste the sweetness in the wine, Takin Red Wine must be your choice. Many say that it is rather sweet and contains lots of sugar and to me, yes it is. If I have to rate this wine, sorry for the producer that I will give 1 star for their product. Basically, when I first took a sip, its taste was so weird and did not make sense as I could only feel the sweetness instead of the flavor of the wine. Although the quality of the Takin Red Wine was not really good, or even worse, it gave me a memorable experience when I tried it.
Price: Nu 100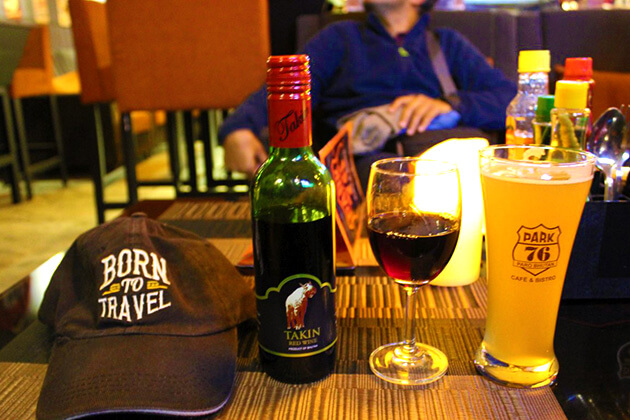 Vintria Shiraz Dry Wine
If you are looking for the liquor that is considered the best wine in Bhutan, then here you are. This wine is the best accompaniment for a light meal such as salads or a bowl of fruit. I wish I could find it sooner during my vacation in Bhutan. With 13.5% alcohol involved, you can get a slightly high when you enjoy the whole 750 ml bottle.
Price: Nu 250
Whiskeys in Bhutan
Bhutan Grain Whiskey
This whiskey which is produced in Gelephu distillery of Bhutan is a magical blend of custom made grain alcohol and scotch malt. The alcohol level is 42.8% for each 750 ml bottle, then be careful if you drink too much. You can find another popular whiskey such as Rock Bee Brandy and Black Mountain Whiskey with reasonable prices which are Nu 100 and 130 (respectively).
Price: Nu 300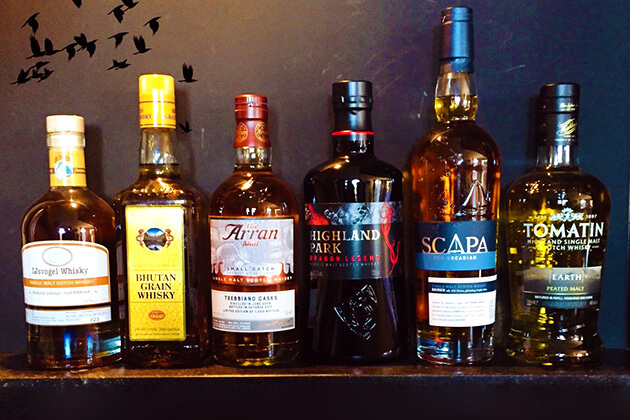 K5 Blended Scotch Whiskey
The special Whiskey – K5 was first produced in 2008 as well as named after the King of Bhutan and is the most popular and the best whiskey in Bhutan. The whiskey is blended from the 8 to 12-year-old malts which are distilled in Scotland and aged in Bourbon and sherry casks. In my very first Bhutan vacation, I had an opportunity to try this drink as my guide brought in this fine whiskey to me. I don't know how to describe its flavor as it is something uncanny that I have never known before. However, I highly recommend this special drink for you.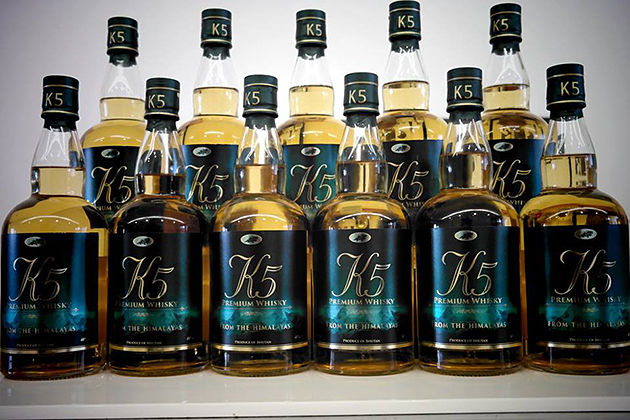 K5 – A Premium Whiskey
Another K5 Whiskey version, K5 Premium it is specially blended and bottled using vatted malt ( from Scotland ), high-quality grain neutral spirit and spring water. The K5 itself is one of the most favorite whiskeys among Bhutan dwellers as well as other visitors. You should try it if you get a chance because it is supposed that the well-known K5–premium whiskey will be stopped producing.
Price: ~ Nu 2000 ($40)
1907 – Limited Edition
1907 marks the momentous and auspicious turning point in the history of Bhutan when the internal conflict ended after years with the election of the first King of Bhutan, the Gongsar Ugyen Wangchuck on 17th December 1907. The 1907 whiskey is blended carefully by using a batch of single malt, aged for 12 years that gives a unique flavor of creamy ripples of hazelnut, vanilla, and toffee. Only 12.500, being packed in the Limited Edition bottle within a beautiful regal jewel box, were produced from 2008 to mark the wonderful occasion of Bhutan.
Price: ~ $140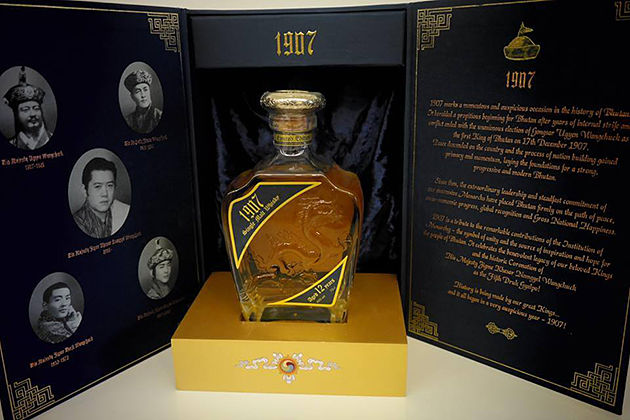 The Silver Jubilee
Most of the whiskey in Butan seem to be related to a national event then the Silver Jubilee is not an exception. This Bhutan liquor was first produced to in 1997 to memorialize the silver jubilee of the Fourth Druk Gyalpo King Jigme Singye Wangchuck. Specially blend of rare vintage scotch malt and neutral grain alcohol, the Silver Jubilee really has a unique flavor with 42.8% alcohol at 25 degrees under proof.
Price: NU 1200
Special Courier
First published in 1983, the Special Courier is really one of the Bhutanese must-try whiskey to whiskey connoisseurs as it will convey the very uniqueness of the Thunder Dragon Land to drinkers. The process of producing this special whiskey seems to be one of the most uncanny things in the world, but it is not a really a matter when the Special Courier has been a whiskey brand of Bhutanese people's choices so far. If you want to try it, hurry up because this whiskey is often out of stock due to its popularity. Although being one of the most favorite whiskey among the locals, the Special Courier itself has an unbelievably cheap price.
Price: NU 300 ($6)
Prophecy
This Bhutan whisky is called as The Taste of an Era. It is said that the Prophecy was just produced in 2016 of limited production & it was not for sale. Just a select few received this very rare whisky as gifts from His Majesty the King of The Land of Thunder Dragon.
Price: not for sale