The capital city where converges not only magical but also mystical things, full of history and distinct culture – Thimphu, perhaps, is the first place that travelers will be there once in Bhutan. On my very first Bhutan vacation, I was literally fell in love with this city as it left me a very deep impression from its temples, architectures, landmarks to the people I bumped into. If it is the first time you visit Bhutan and get stuck with what to do and see in Thimphu, I would like to tell you some attractions in Thimphu that I once experienced and all of them were great to me.
Top 5 Religious Thimphu Attractions
TrashiChho Dzong
You can just simply call it Thimphu Dzong and this Dzong is surely one of the well-worth places to visit in Thimphu. The Trashi Chho Dzong you see today is not original as it was in the past because the Dzong itself has been under the damage of fires almost 5 times till date. It is the main secretariat building that is home to the offices of the King and the Throne Room. Trashi Chho Dzong is a perfect combination of colors ( white – red – gold) and tiered roofs that offers visitors a deep insight into Bhutanese past.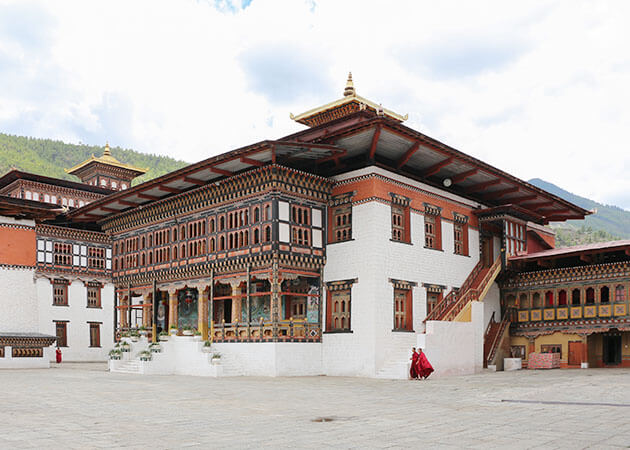 Changangkha Lhakhang
The Monastery was structured in the 12th century by Lama Phajo Drukgom Shigpo from Ralung in Tibet. Parents in Bhutan traditionally come here to receive blessings and auspicious names for their newborn children. Inside the fortress-like structure, there are lots of murals that depict different stories. Once there you will indulge yourself in the tranquility of the land full of black-gold prayer wheels that adds to the whole mystical aura of your visit this place.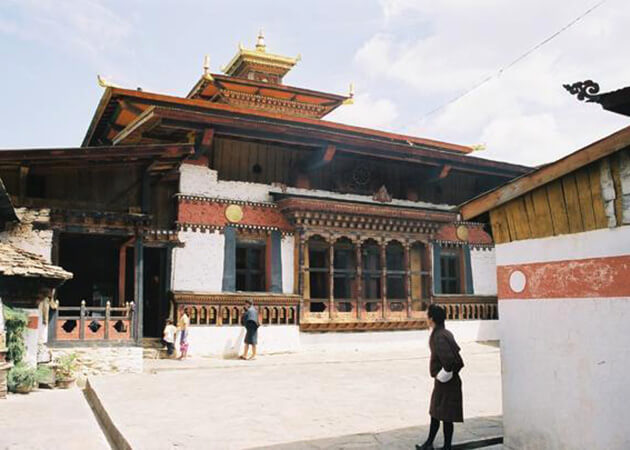 Tango Goemba
Tango Goemba is another Buddhist attractions in Thimphu that was found in the 12th century by Lama Gyalwa Lhanangpa and the present structure was built in the 15th century by Lama Drukpa Kunley. To reach the place, you have to a short trek uphill about 45 minutes. Once there, you will see several attractions in Tango like the meditation cave, chapels, and living quarters. Also, it is an opportunity to marvel at a crystal that was brought from Tibet specifically used for meditation.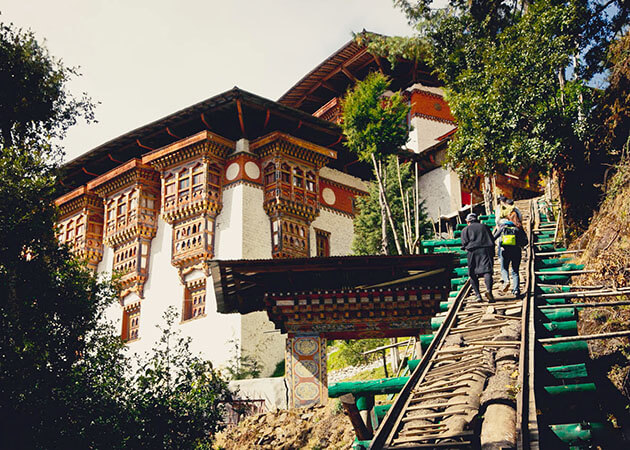 National Memorial Chorten
Perhaps, you might see the name of this place so many times when you search the word 'Thimphu attractions' on Google – and yes, it is because the National Memorial Chorten is actually one of the most popular attractions in Thimphu, without a doubt. The chorten with a design followed Tibetan style is the memorial to King Jigme Dorji Wangchuck – the third Bhutanese King and also the place that is famous for its whitewashed walls and the golden tiered roofs. Day by day, the chorten is visited by the elderlies, kids and others on their way to work, study, or come back home. Visiting the National Memorial Chorten, you will find stunning mandalas and murals here as well as large red- colored prayer wheels which see the hundreds daily who meditate here.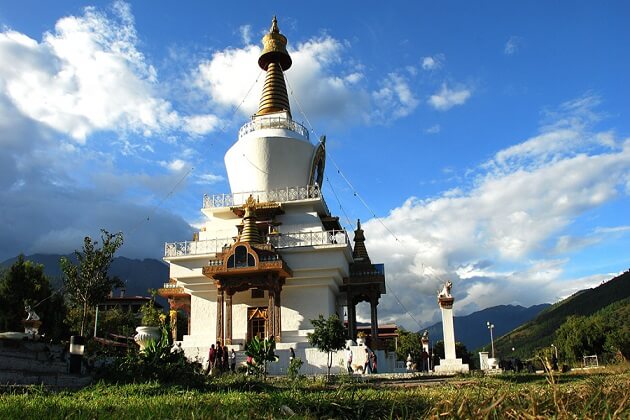 Dechen Phodrang
One of the best religious Thimphu attractions, the Dechen Phodrang is the site of the original Thimphu Dzong built in the 12th century. The Dechen Phodrang you see today is a state school where more than 250 students follow an eight-year course of Buddhist teaching. Once there, you will see the main chapel that is full of murals and painting dating back 800 years.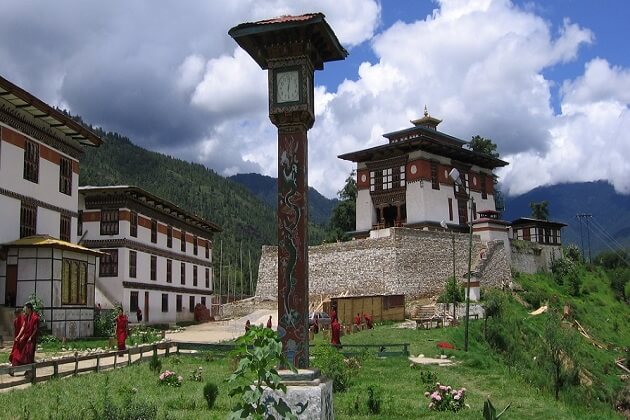 Top 5 Thimphu Famous Places to Visit
Weekend Market
This market is held on the weekend at the Wang Chhu riverbank where different shopkeepers coming from Thimphu and neighboring area arriving in the city on Thursday evening and leave on Sunday night to set up their stalls and sell goods. The Weekend Market is an ideal place to get a thorough idea of culture, food, and lifestyle of the local. There are lots of things for you to explore there as you can find some incense, herbs, saffron, and most importantly, it is a valuable opportunity to experience Bhutanese and Tibetan food items such as wild honey, cheese, red rice, ground barley, pork, and dried fish. Also, you can find some interesting Bhutanese souvenirs there.
National Library
Highly recommend you to visit this Thimphu attraction. The place was structured in 1967 with the purposed of preserving old-aged texts and today, the library is home to most enlightening things that you can see in Thimphu. The architecture of this attraction followed typical Bhutanese traditional style. If you visit such a place, you can see there are books preserved between wooden pieces or wrapped in silk.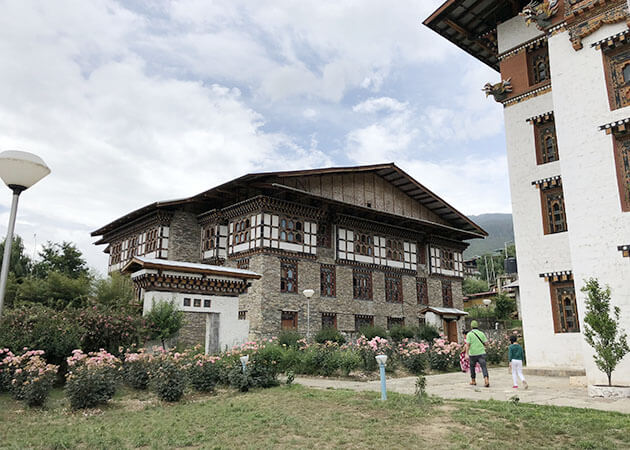 Simply Bhutan
If you want to experience the authentic Bhutanese lifestyle while visiting some of Thimphu attractions, nothing better than heading to the Simply Bhutan where you can dress up like an authentic Bhutanese people, distill arak, enjoy archery tournament. The place has run an inspiring program of promoting Bhutanese youth to preserve the local culture which is one of the four tenets of GHP (Gross Happiness Product) embodied by the Wangchuck.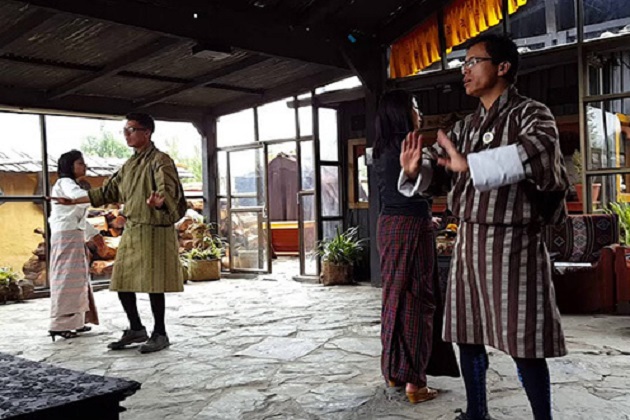 National Institute for Zorig Chusum
This is a painting school offering varied courses from 4 to 6 years to teach student 13 different types of Bhutanese traditional arts. Trust me, when you visit the place, you will be impressed by their diligence and discipline, without a doubt. It is also a chance to buy products made by students there in the showroom.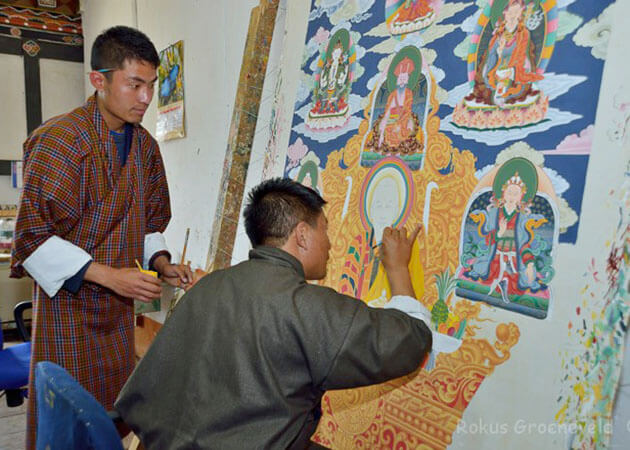 Motithang Takin Preserve
Have you ever heard of Takin – the national animal of Bhutan? Even your answer is yes or not yet, once in Thimphu, the Motithang Takin Preserve will be one of the best attraction you should not ignore. As you visit the preserve, it is no doubt that you can see lots of adorable Takin plays on the ground. The best time to visit this attraction is in the morning when they gather around the fences to be feed.